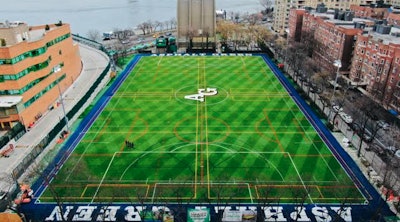 This sponsored content was paid for by IRONTURF. What is sponsored content?
In just the last year, professional teams like the New England Patriots and Sporting Kansas City have started playing and practicing on a first-of-its-kind artificial turf.
That turf, IRONTURF by TenCate, is uniquely designed with fibers that are woven together, interlocking them, eliminating common problems caused by other turf systems.
So what is it about IRONTURF that's making it an increasingly popular turf option?
It's designed to stand up to the toughest sports.
By weaving together the fibers vs. gluing them into the backing, TenCate has created a turf that practically eliminates fiber loss.
The durability has proven to be unmatchable in professional tests. Labosport, an independent testing facility, ran IRONTURF through Lisport testing – the turf industry-standard for assessing durability — and it surpassed 300,000 cycles, an unprecedented ten times the industry standard.
Before choosing IRONTURF for its practice facility, the New England Patriots spent a year testing it alongside other artificial turf brands.
TenCate's tough fibers are so world renowned that other turf manufacturers use the company's yarn in their own products.
It's safer for athletes.
From the turf to the shock pad, IRONTURF's turf systems have three inches of material between the athletes and the solid foundation, decreasing the risks of concussions and other injuries.
Also, IRONTURF's woven design allows infill to move freely, so athletes can cut, pivot and turn with reduced rotational resistance and lower leg stress. (Most artificial turf featured fibers glued in rows, creating "valleys" in between where infill gathers.) Even Charlotte Motor Speedway uses IRONTURF for improving safety to slow down cars in the course's infield.
It's the ideal surface for playing sports.
Like real grass, IRONTURF's woven fibers stand straight up. That means IRONTURF fields offer proper equipment performance, including the best possible ball interaction with the field. Balls will roll equally in all directions; the turf won't influence ball roll or bounce.
It's a good-looking field — for a long time.
In 2018, TenCate created an all-blue field IRONTURF field in Bloom Township, Illinois, to match the team's colors — and it can create fields to match any shade or hue. Also, TenCate offers 10-year warranties on IRONTURF fields — the longest in the industry. And unlike with many competitors, TenCate's warranty is not prorated to lose value as time progresses.
To request more information, visit IRONTURF's website.