From its inception, the Agape Tennis Academy in Decatur, Ga., has been a labor of love for founder Amy Pazahanick. As a former player, she was team MVP at Division I Coastal Carolina University and competed in the 2007 NCAA Championship. She's carried that commitment to and love for the sport of tennis into her work at Agape (ah-GAH-pay), with an aim to give back to her community.
"The first letters of our core values spell the word 'heart,' which was an unintentional thing," says Pazahanick. "When I was creating the organization, I just wrote down five words that were important to me — honesty, excellence, attitude, responsibility and teamwork. Obviously they were not in that order when I wrote them down, but when I realized that they actually spelled 'heart,' it was sort of one of those, you know, crazy meant-to-be moments."
Since its founding in 2011, Agape has won a number of awards for its outreach programs and community involvement. Agape was named the 2019 organization of the year by Tennis Media Group for being "a passionate, caring, supportive, welcoming, community-oriented organization that offers a rich array of tennis programming for the rich array of people that our city represents." Agape is now looking to expand, as Pazahanick and company are in the running to win multiple government bids to take over the management of public tennis facilities in and around the Greater Atlanta area. That kind of sudden growth will require a lot of heart — and hard work.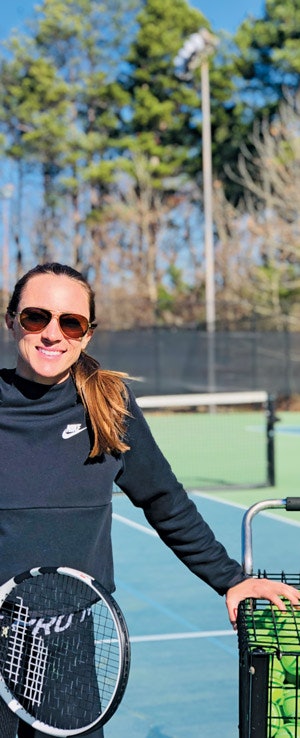 Preparing for growth
"Right now we just have a public tennis center that we manage through a contract with DeKalb County," Pazahanick says. "We're actually quite close to closing on a property, which will be called the Agape Tennis Center, which we'll own and run almost like a public country club, because it has a swimming pool and a gym and all that stuff. But soon we could be managing up to 10 tennis centers."
With its extensive programming commitment, the existing DeKalb Tennis Center is no small feat in facilities management. The center offers 17 hard, lighted tennis courts and a full-scale pro shop with restringing services and equipment, as well as a café. The center offers programming for all ages and ability levels, including group classes, team coaching, private lessons, socials, round robins and other events. With its current responsibilities, the kind of growth trajectory Agape has in mind is formidable and will require management to have its ducks in a row if it needs to scale its operations quickly.
The current DeKalb facility sees a lot of turnover, as it hosts more than 130 league teams, 10 city championships and teams representing four local high schools, and donates time to multiple special interest groups.
Pazahanick says that over time, the academy has developed a proven track record of operating both public and private tennis centers at high profit margins, which means being proficient in every facet of tennis center operations — budgeting, recruiting, training, programming, staffing, court maintenance, purchasing, marketing, communication, pro shop services, court reservations and tennis policies.
"Our facilities management involves everything from the software that we use, the way that we hire, how we interview people — everything we do — from how we put tennis balls into our carts down to every detail of how we operate our organization," Pazahanick says. "We know that growth is coming, and we just want to be ready if we win these bids and suddenly, someone's saying, 'Hey, you've got to manage five more tennis centers.' "

Exporting growth
The new Agape Tennis Center is located in Atlanta. Because it will be owned and not leased, as is the case with the DeKalb center, the new location will act as a home base for operations. Even as it looks for further opportunities, Pazahanick wants to continue expanding Agape's engagement with the city.
"We do a ton of community work through our nonprofit," Pazahanick explains. "We do free tennis programming for Big Brothers Big Sisters of Metro Atlanta. We partner with different organizations and offer scholarships, and specifically in Atlanta we want to reach out to at-risk kids."
Programming is another area where Pazahanick feels there's room to grow.
"We're starting a new senior program, and we're going to get into pickleball," she says. "We just keep expanding on our programming. We offer private lessons, and we measure all that stuff and have goals around that. So, we set goals with every pro on how many private lessons we want to offer."
While Atlanta holds a big part of Agape's heart, Pazahanick's most ambitious goals lie in growth beyond The Big Peach. Her plan involves exporting the academy's own brand of facilities management, which amounts to a reproducible business model that she says can help other facilities grow their community reputation and revenue through a set of best practices that are transferable to public and private tennis facilities.
"I feel that we have a model that works virtually anywhere there's decent demographics to support it," Pazahanick's says. "I feel like once you get big enough, I think we could really go into so many diverse communities. We definitely want to be in Atlanta, but then, you know, I've looked at places in California and in different areas too. But Atlanta is our focus right now."
Automate when possible
A big part of Agape's readiness for change will rest in the capabilities of its facilities management software, which is handled by Club Automation. This type of software can take otherwise tedious tasks — billing, facility access, waitlists, scheduling, report generation — and automate them, freeing operators up to concentrate on what's really important — member experience.
Says Nick Thornton, vice president of sales for Club Automation, "With multisite clients like Agape who are looking to grow, there are three things that we like to focus on: having all your data in one system for easy multisite reporting, simple and automated billing that can be managed by corporate for all sites, and reducing duplicated manual tasks like program and activity management."
Software like Club Automation acts as the control panel for the organization and can allow for the management of multiple sites, a functionality that will be at a premium should Agape land all the contracts it's currently in the running for.
"Club Automation is driven by clubs, many of whom have, or are looking to expand to additional locations, so multisite functionality is always top of mind for our team," Thornton says. "Things like multisite billing support, inventory management, and reporting for club operators and seamless check-ins at any location for members are all things we've built specifically for multisite organizations."
Personalization of a system is also important, especially for an organization like Agape, which might have different needs than a typical fitness club. "We view the launch of Club Automation as the first major step in advancing a club's mission," Thornton says. "Which is why we start by sending a whole team with years of experience to launch their system based on their needs. Prior to configuring a club's system, our team works with clients on an in-depth project-scoping process to optimize a club's current processes, develop standard operating procedures, and implement best practices in order to bring the most value from Club Automation to a facility."
---
This article originally appeared in the April 2020 issue of Athletic Business with the title "How Atlanta's Agape Tennis Academy is prepping for growth." Athletic Business is a free magazine for professionals in the athletic, fitness and recreation industry. Click here to subscribe.