Outdoor fitness has traditionally meant cardio — running, biking or hiking. A portion of the fitness industry is trying to expand those options by building outdoor fitness parks that are free and open to anyone with a desire to work out in the fresh air.
The popularity of outdoor fitness spaces in the United States has grown significantly in recent years. It began with simple parkour and static stations, such as pushup and pullup bars, alongside trails but has since expanded to full gyms thanks to the introduction of dynamic, weather-resistant equipment, and an increasing number of companies in the marketplace.

GameTime started as a manufacturer of playground equipment but has addressed the growing outdoor fitness market with four types of outdoor fitness parks, including youth fitness playgrounds, challenge courses, GTfit Outdoor Fitness parks and THRIVE boot camp training systems. Each park has options for beginners and veterans, and is aimed at providing enjoyment while exercising. GameTime's solutions include outdoor ladders, 40-yard dash courses, climbing walls, agility trainers, moving steps and additional products that allow for preconfigured parks as well as customized courses.
"The market was hesitant and frankly concerned whether the equipment would be vandalized and whether the public would actually use it," says Allison Abel, director of marketing at Greenfields Outdoor Fitness, which also makes outdoor fitness equipment. "As the decades passed and the equipment proved to be durable and functional, it became evident that outdoor fitness areas are a much-needed necessity. Nowadays, the public demands that they be added to their local parks."

Fitness for the public
The growth of the outdoor fitness market has been buoyed by organizations such as the National Fitness Campaign and FitLot that have made it their priority to provide communities with a free solution for people of all ages and ability levels to improve their fitness.
"We just came to realize that outdoor fitness parks as a concept are very popular internationally and do contribute to public health in countries around the world," says Adam Mejerson, FitLot executive director. "In the U.S., it's not as much of a concept. So we started this organization to help further the concept and help communities find the resources they need to help plan, build and program their own outdoor fitness parks."
Mejerson founded FitLot in New Orleans in 2013. In 2018, AARP celebrated its 60-year anniversary by teaming up with FitLot for an initiative that plans to build an outdoor gym in every state, as well as the District of Columbia, the U.S. Virgin Islands and Puerto Rico over a three-year period. The first AARP-sponsored park was completed in St. Petersburg, Fla., in April 2019.
"The (AARP) state office picks which city in the state that they would like to support, and then FitLot works with the city's parks and rec department to select an impactful location," Mejerson says, noting that FitLot and AARP teamed up to build 15 parks in 2019, with 21 more planned for 2020. "We have site-selection criteria and try to guide them toward making a local, but impactful, decision to serve the most people and be a complementary addition to the existing park and resources. We're looking at health outcomes, trails, walkability, population density and other community support systems like neighborhood centers that will help utilize the park and activate it."
The parks are equipped with a variety of equipment, from bodyweight systems, bodyweight leverage systems, resistance-free systems, wheelchair-accessible systems and adjustable resistance systems. Each piece of equipment is designed to encourage visitors to become more active in a setting that might not seem as daunting as a traditional fitness center.
"Greenfields' mission is to promote wellness and fight obesity and inactivity," Abel says. "We do it by designing and building outdoor fitness gyms that are multigenerational and inclusive, but also social in nature, thus creating a community center, and encouraging visitors to exercise for longer periods of time."

Finding the right fit
The location of a fitness park is key, as it should be somewhere the public will see it while going about their day — a place a community can build around. City officials in Janesville, Wis., worked with the National Fitness Campaign in 2018 to build an outdoor fitness park in the downtown area of a city populated by more than 64,000 people.
"The fitness court is right in the vicinity of the town square and the downtown area, so it basically provides free outdoor fitness to residents or visitors to Janesville," says Cullen Slapak, the city's parks director. "It's right in the bike trail system and right near where we anticipate a lot of business happening in the future."
While a relatively new industry, more areas around the country are seeing how free parks can help shape a community.
"Years ago, as part of the planning stage of the project, we visited the 14th Street Median, an inner-city site," Abel says of a site in Long Beach, Calif. "The area was filled with all the negative elements one can imagine. Residents simply stayed clear of that portion of their neighborhood. The city requested to place an outdoor fitness gym in the middle of this area. After the project was completed, we experienced only one single case of vandalism, which, all things considered, is an amazing achievement in itself.
"Three years later, the city called us to add more fitness equipment to the site, which warranted another site visit. Frankly, we were a bit apprehensive, not knowing what to expect. To our amazement, there was no sign of vandalism, and as it turned out, the new outdoor fitness area had attracted all members of the community to come and exercise together, thus pushing away all the negative elements. There is even one lady who, after dropping her kids at school, brings a boombox and holds a daily morning Zumba class for the moms. We turned the area into a community center for all neighbors to enjoy and call their own."
Such gyms aren't just sprouting up in city centers. Outdoor fitness equipment is being installed in suburban parks, senior centers, state parks, and by home owners associations, schools, hospitals and military bases. Budget cuts to physical education programs have led Greenfields to start a school incentive program by installing outdoor gyms at schools.
"We felt it was important to support the schools and give the kids exciting opportunities to exercise," Abel says. "At times, outdoor gyms installed at schools are designated as joint-use areas, allowing community members to use the outdoor gyms when classes are not in session.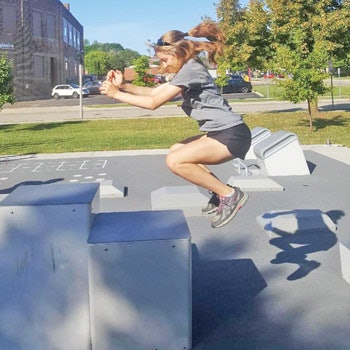 Putting the park together
Working with organizations like FitLot and the National Fitness Campaign makes building an outdoor gym a relatively pain-free process for communities.
"The [Janesville] city manager started the conversation with them," Slapak says of the National Fitness Campaign, which recently built its 100th outdoor fitness facility, in Las Vegas. "At the time, they were trying to get their product out, get their name out. They were contacting a lot of places, and the time was right for Janesville to jump on board. It ended up being the first of its kind in Wisconsin.
FitLot attempts to ease the process by holding a community build day that gathers volunteers to build the park in one afternoon. Fitlot also donates benches, trash cans and bike racks for each property, as well as an ADA-accessible walkway. The lack of a building, staff or bathrooms limits ancillary costs, allowing outdoor gyms to focus on providing quality equipment that will endure the elements. Therefore, once a park is constructed, there is little required maintenance.
"We haven't noticed anything because of the winter months," Slapak says of the equipment surviving Janesville's snowy season. "The project is built really well, and we're not anticipating any issues."
Mejerson says feedback on the projects has been encouraging, noting that FitLot works with playground design firm Landscape Structures. "The equipment's extremely high quality," he says. "Everything is designed and built to last outside for a couple decades. People are thrilled with it so far."

Training the community
The rollout of a new outdoor gym typically includes a day where people can learn how to use the equipment. Janesville's gym is able to continue educating new users through the National Fitness Campaign's Fitness Court Mobile App.
"Most people have their phones with them, so they play music and describe each movement at each station," Slapak says. "It's kind of like having a trainer there with you. And if you don't have the mobile app or don't have your phone with you, there are instructions on the main wall at each station. The nice thing about it is you work at your own pace, and there's a lot of different movements that you can do."
Greenfields recommends that parks post their rules on a large sign, while the company's equipment also comes with instructional signs, pictures depicting the exercises, and QR codes that are linked to demonstration videos.
FitLot's first park — opened February 2017 in New Orleans — serves as a site for free community classes that teach people how to use the equipment. Each park opened by FitLot also has a Free Neighborhood Coach to train users.
"The parks come with three years of programming for the cities to hire local fitness professionals to teach community members how to use the park and how to work out," Mejerson says. "We have training materials for how coaches can run circuits at the parks, and a handful of example workouts. We really standardized the design so that we can help activate the spaces across the board. We want to make sure that these neighborhoods not only have a park but learn how to use them."
The more comfortable people feel using the park, the more they — and the community — will benefit.
"The reality is that life has become extremely sedentary, and the excuses to avoid physical activity just continue to grow," Abel says. "Exercising outdoors is fun, definitely social, the scenery is nicer and you can even bring your companion or a dog."
---
This article originally appeared in the April 2020 issue of Athletic Business with the title "Creating communities through outdoor fitness." Athletic Business is a free magazine for professionals in the athletic, fitness and recreation industry. Click here to subscribe.