Check out these products as seen in the September 2020 issue.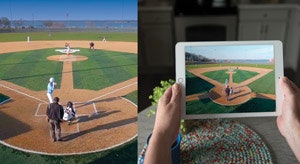 Musco Sports Lighting LLC
Musco's newest innovation, MuscoVision™ automated sports broadcasting, enables facilities to broadcast their games to fans watching anywhere. MuscoVision includes built-in intelligence that understands gameplay for a professional-level production — providing an on-site network for reliable connectivity, and giving fans access to live and recorded content via the web, the MuscoVision app and Smart TVs. Facilities generate new revenue, as no on-site staff is necessary for operation. MuscoVision is backed by a 5-year parts-and-labor warranty.
www.musco.com/muscovision
(800) 825-6030
---
RELATED: Videoboards Reach New Levels of Accessibility
---
CEIA USA
CEIA USA metal detectors combine superior performance with faster screening capabilities to move fans quickly and easily through security checkpoints. For event security, the CEIA PMD2 Plus Elliptic is a well-known, highly rated multizone metal detector with advanced technology to identify common, everyday fan items worn or carried on-person, while simultaneously alarming for true threat items such as guns and knives. Less divesting means greater throughput, with guests spending less time at security checkpoints.
www.ceia-usa.com
(833) 224-2342
---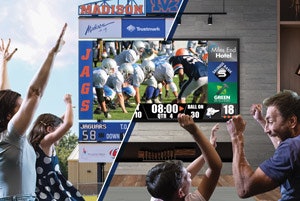 Daktronics
Big Stream from Daktronics will help keep school spirit soaring by taking the game to the fans. Give them the same experience they'd have in the stands by connecting your web stream to your Daktronics display, which can provide live video, game stats, trivia and player highlights directly to fans. Whether you have a Daktronics video board, scoreboard or both, Big Stream brings the big screen to the TV or computer screen.
www.daktronics.com/bigstream
(800) 325-8766
---
RELATED: Find more solutions for your facility in the Buyers Guide
---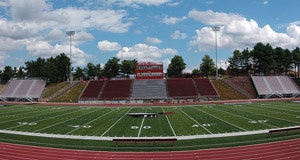 Keystone Purchasing Network
Turnkey athletic installation or renovation can be completed under KPN athletic fields (FieldTurf), tracks and courts contracts. Stadiums can be furnished with bleachers, grandstands, press boxes and benches by GT Grandstands. Minimize project costs with KPN and work with vetted, experienced manufacturers and builders. "We are extremely satisfied with our KPN experience," says school superintendent Sean Bruno. "We highly recommend it to others and look forward to using it again."
www.thekpn.org
(888) 490-3182
---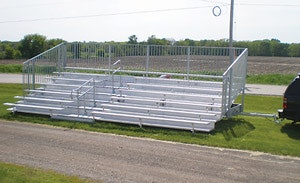 Kay Park-Recreation
Kay Park Speedy Bleachers give spectators more space to spread out at events, and are easily towed between venues as needed. Highway-towable, hydraulic-folding Speedy Bleachers are easily operated by one person and can be set up within minutes. Speedy Bleachers come in a variety of sizes — from seven to 10 rows high and 27 to 45 feet long — to meet various crowd size needs. Heavy-duty galvanized steel and aluminum construction ensure Speedy Bleachers can withstand all weather conditions. Equipped to meet safety codes, versatile Speedy Bleachers will serve fans for years.
www.kaypark.com
(800) 553-2476
---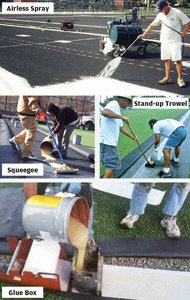 Synthetic Surfaces Inc.
NORDOT® Adhesives are one-part, solvent-based, moisture-cured urethanes with a 47-year history of dependable athletic field installations for professional sports and all other levels of outdoor sports surfaces. The NORDOT® name is well-known for its ease-of-use, superior grab, outstanding water-resistance and long-term durability in all types of climates worldwide. The company's airless spray adhesives are the gold standard for installing large areas of turf fast and efficiently. NORDOT® Adhesives can be used year-round — from sub-freezing cold to intense desert desert heat.
www.nordot.com
(908) 233-6803
---
These products originally appeared in the September 2020 issue of Athletic Business, a free magazine for professionals in the athletic, fitness and recreation industry. Click here to subscribe.