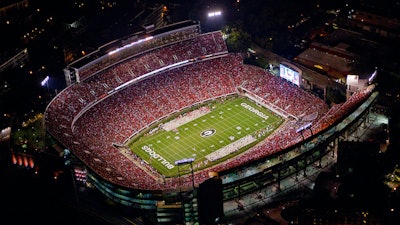 This content was provided by one of Athletic Business's advertising partners. What is sponsored content?
"How much does it cost?"
When it comes to sports lighting and the decision to upgrade to LED, that's always the first question. But what if someone told you there was a better question to ask?
What if, instead, you were to ask this: What is my total cost of ownership?
Those two questions might sound similar but only the latter is an accurate metric. The total cost of ownership of an LED sports lighting system takes the long-term view and factors in costs and potential savings during the life of the system including:
The cost of the system
Installation costs
Maintenance costs
Energy savings
Built-in entertainment functionality
Warranty
In other words, the cost of ownership has far less to do with the initial outlay — and far more to do with the continued rewards of using a quality system, which starts creating a return on the investment immediately.
WATCH: Total cost of ownership considerations
By sticking with an original, or legacy, HID system, facility operators are continuing to commit time and money to control and maintain the lights. Multiple bulbs will always need to be replaced annually, and since it typically costs more than $2,500 in materials and labor to change one single bulb, many facility operators choose to wait until several bulbs are out before taking action. That compromises the quality of lighting on the field as a whole. In addition, it's not uncommon for fixtures to completely burn out, which leads to delayed or canceled games — an expense nobody can afford.
Older HID lighting systems also consume nearly twice as much energy as LED, not just because the bulbs need to burn hotter and longer to achieve the necessary footcandles, but because the lights must always operate at 100%. As a result, many facilities place limits on light usage, creating minimal if any cost savings at the cost of quality usage. (An LED system can be turned down when not in active use to deter vandalism — or to provide a lower level of light that will be sufficient for band practice or other non-game field uses).
There are many advantages to switching to an LED system; however, it is imperative to realize that not all such lighting systems are created equal. In terms of performance, reliability, ease of installation or controllability, all sports lighting systems deliver a different level of quality. Facility operators need to appreciate the importance of a system that is tested and backed by a reputable manufacturer.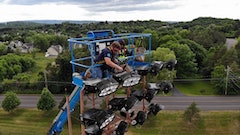 While it's tempting to point and click on those pop-up ads that hawk "Lowest-Cost LED Lights Anywhere," or shop around for the cheapest solution, it takes only a few more seconds to actually think that through — and see the problems waiting to happen. Limited product standards and minimal functionality of cheap foreign imports will result in technological limitations and a number of hidden costs in the future as you seek to upgrade this system. To make sure you don't get tricked into buying a cheap import masquerading as a reputable sports lighting system, ask for the testing and reliability data and find out where the fixtures were manufactured and by whom. If the vendor is not forthcoming (or responsive at all) with the information, it should be a red flag.
A quality system will have been subjected to thorough testing and will be supported by a warranty. And since warranty coverage can vary, it is critical to understand not just the cost of the warranty, but more importantly, to know what is covered, what is not covered and any usage limitations. Some manufacturers will disguise service contracts as 25-year warranties — a technique that gives the buyer a false sense of security. A comprehensive 10-year warranty is one a manufacturer can support with testing and data to create peace of mind for the customer.
Making the correct investment, say lighting industry professionals, creates positive ROI.
"LED sports lighting has changed the way facility operators look at lighting. What was once just a high-maintenance utility that illuminates a field has evolved into a high-tech system that saves time and money, makes their job easier and enhances the event experience for players and fans," said Mike Quijano, director of business development & product marketing for Ephesus Sports Lighting. "If there is one piece of advice I can share with facility operators, it is to investigate options from all of the major manufacturers, understand the differences and pick the best future-proofed system to meet their needs."