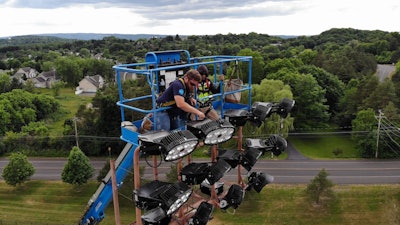 This content was provided by Ephesus Lighting. What is sponsored content?
You've weighed the options, checked your facts and decided to make the switch to an LED lighting solution for your sports facility. You work with your facility operations team, electricians, architects and finance department, to create the specs for the job … and right before you send out the RFP, someone suggests asking for a 25-year warranty.
Everyone in the room laughs and points out that nobody would dare offer a 25-year warranty when the industry standard for sports lighting is 10-years — the numbers just don't add up. It's clear that a 25-year warranty is simply a marketing gimmick.
Here's why a 25-year warranty on lighting is laughable. A warranty, by definition, is a document guaranteeing that a company will fix or replace a defective item it sells to a consumer. And for lighting, that 10-year figure is determined by extensive product reliability testing that determines the small percentage of fixtures that will fail during the warranty period. It is backed by a financial reserve, a liability on the company's balance sheet, that equates to the cost the manufacturer will likely incur to fix or replace their products during the warranty period.
Still with us? Good. Now because a company uses reliability data to determine a warranty period, anything outside of the ordinary is filled with loopholes and exceptions. In short, it is a marketing tactic. No electronic product can be covered by a comprehensive 25-year warranty as the failure rates for electronics in the last few years of the warranty would be prohibitive.
So, when it is time to discuss the warranty with your sales representative, no matter the length, ask these questions and say you need concrete answers to all of them. Typically, the longer the warranty offer, the shorter the conversation.
1. What is expected failure rates based on reliability testing of drivers, LEDs, optics degradation and other mechanical and electronic components over the period of the warranty?
2. Is your established warranty reserve adequate to cover the replacement costs throughout the warranty period?
3. Is the term of the warranty 25 years with unlimited use or are hours of usage restricted? What are the restrictions? How much will it cost if usage hours change?
4. Is there a spare parts inventory for electronic and mechanical components for 25 years? How will electronics with a 10-year lifetime be sourced to meet a 25-year warranty obligation?
5. Does the warranty cover damage by a force majeure event, such as a lightning strike or heavy rains?
A reputable company will not dangle a shiny warranty, only to do bait-and-switch tactics down the line. Instead they will stand behind a 10-year warranty and provide full disclosure about what is included. It will also work with you to find the best solutions for your lighting needs — without trying to oversell you.
"Rather than disguising a marketing campaign as a warranty, we have focused on designing the most reliable LED sports lighting solutions and testing them to ensure reliability," said Mike Quijano director of business development & product marketing for of Ephesus Lighting. "We make our testing data available to ensure customers know how the length of the warranty was determined and to show the small number of failures that actually occur. But in those instances when they do need to tap the warranty, our customers can be assured that they are covered."
For more information about sports lighting warranties, visit www.EphesusLighting.com