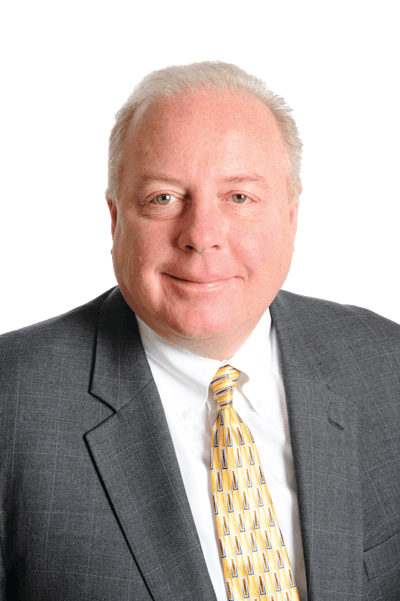 Turner Construction Company has worked alongside some of the biggest names in sports architecture on some of the grandest venues in the game today. For the past seven of his 36 years at Turner, Dewey Newton has served as the firm's senior vice president of sports and public assembly, placing him in the middle of the decision-making process for projects ranging from renovations of hallowed home facilities to the creation of new community icons. In October 2021, he participated in a Turner-hosted panel discussion titled "The Future of Sports Facilities" with experts from the Nashville Sports Council, Gensler and Legends. On the heels of that event, AB senior editor Paul Steinbach asked Newton for an inside look at the creative process from the construction side of the equation.
What specific role does Turner play in the building of any given sports venue?
We serve as construction managers or the general contractor on a project. We come in early. When the architect's hired, we're usually hired at the same time. We work together side by side, so as they're developing the design, we're developing the sequencing and the plan to build it. Then select building trade partners and manage the construction as a general contractor until it's complete. And we take the risk on the delivery of the price and the schedule.
Do you ever influence design in the sense that you know something an architect wants to do is just not feasible?
We do offer feedback on the constructability and cost of design. I wouldn't say "not feasible." It might be something that's cost-prohibitive based on the owner's budget. We see that because architects try to push the limit. Thirty years ago, these sports buildings used to be places to have an event, a sporting event, no matter what sport it is. Now, they're iconic symbol structures in communities. So, architects are really pushing the envelope, and sometimes — you know — it may not be affordable.
What are the main differences between a stadium or arena built in 2022 and one that was built a quarter-century ago?
Well, probably the most drastic difference is, we built the Carolina Panthers NFL stadium about 25 years ago, and I think it was about $150 million, and we just opened up SoFi Stadium in L.A. for the NFL, and that was $3 billion. In general terms, not necessarily arenas, but for baseball and football — because 25 years ago the MLS was nonexistent in the United States — but for baseball and football we see iconic structures instead of a place to go and sit and watch a game. These venues used to be for large outdoor events where you go to the game and then you leave. Now we see more of an iconic look. We see the majority of the buildings are enclosed, and by that I don't mean a roof — I mean the club and suite levels are enclosed. There is vertical transportation that takes you up and down. Remember the old helixes and ramps you used to walk up and down in most stadiums? Those are going away and it's all becoming motorized escalators, elevators, moving walkways — thinks like that. And then the enhancements inside the stadium are completely different. We used to see a small scoreboard at each end zone, and now we see extremely large scoreboards that are interactive, stat boards, ribbon boards around all the ring of the seating bowls, sound systems that you can use for concerts. So very elaborate enhancements to the fan experience at the event.
If zig-zag ramps are going by the wayside, are there cost and space efficiencies realized?
There is, in the actual ramps, because it does take up space. But what we're seeing is when those ramps go away and they get replaced with vertical transportation such as escalators, we also see the building being enclosed. Now all the escalators and all that transportation of the people is inside an enclosed space, and you have curtainwall and roof and flooring. So, I wouldn't say it's less expensive, but it's better space and it's easier for people to get around. There are still quite a few stadiums that have the ramps, so not everybody has done it.
What does $3 billion buy you in a stadium these days?
Well, that one has a roof. It has a scoreboard that's the entire size of the football field, and it's double-sided. Very expensive. Think of it this way, if you bought a stadium 10 years ago and factor 3 percent escalation for 10 years, that's 30 percent. Let's say they built a $600 million stadium, and then add 30 percent or $180 million. If you built a $780 million stadium today, basically you would have a brand-new 10-year-old stadium. I mean, it wouldn't have the scoreboard, the stats board, the ribbon boards, the space, the environment. Think of a big, giant open stadium versus a big, giant closed stadium with enhancements. When the Cowboys' stadium was built, that was 2 million square feet, and now SoFi Stadium is more than 3 million square feet. The biggest drivers of stadium cost are the features inside and size.
When we're talking about that kind of investment, is obsolescence a concern? What's the window of relevance? Are people banking on the fact that they'll have to rebuild or replace in 30 years something they're building today?
We see business models that are 30 to 40 years for the structure, but we also see models that are 10 to 12 for the experience. We did Soldier Field in Chicago. We renovated about 12 years ago and we used the existing structure and put a new stadium on top. And now, 12 years later, they want to do some renovations to the concessions and toilets and the concourse levels because those are obsolete. So, to your question, the buildings aren't really obsolete if you have a good structure, but the things that are in it might be. Think back 20 years ago, you could get a hot dog, hamburger, popcorn or nachos and cheese. Now you can get a turkey leg, gourmet filet mignon. The quality of food and concessions was a big driver of people renovating. We renovated Arrowhead 10 years ago, and we did not do anything to the bowl. We widened the concourses, we renovated the club and suites level, we put all new concessions and toilets in, and then we did upgrade the electronics, but we didn't touch the bowl or the bones of the stadium at all. If you have good bones, you don't have to replace it every 30 years. There are a couple stadiums that are having issues with the structure, so they do have to move, and those are really old stadiums — like 50 years old.
AB Today just reported that, in addition to the changes you mentioned, the latest renovation to Arrowhead included a new press box, and that the Chiefs have renewed their lease through 2031, "but the pace of change in the AFC West has been driven by massive new facilities" in Las Vegas and Los Angeles. Are the Chiefs already getting restless?
I know Clark Hunt, and the Chiefs are one of our clients. We've been working there on and off for the past 10 years. When their lease is up, that stadium will be almost 50 years old. When we did the renovation 10 years ago, it still had very good structural bones, and that's why we didn't touch the bowl at all. And the Chiefs did not want to change the seating bowl, because in that stadium, which is a very good original design, you can seat 80,000 people anywhere in there and there's not a bad seat in the house. That's why we didn't want to touch the bowl. But as it approaches 45, 50 years old, you have to do two things. One is, when you get into structural replacement of these kinds of stadiums, you can't fill them with all the new amenities just with structural renovations. It's actually less expensive to tear them down and rebuild them at the 45- to 50-year mark. Remember, these aren't commercial office buildings. These buildings are out in the weather for the whole 50 years. It's like any bridge or highway, where it requires maintenance, and if you get 50 years out of it, that's pretty good. But when we see enclosed stadiums, such as arenas, arenas will last much longer because they're not exposed to weather.
Arrowhead is also known as one of the loudest venues anywhere. Is that something that's hard to recreate in a replacement venue?
I've been to Arrowhead many times, and I've experienced just what you said. If the opposing team is on the 20-yard line, good luck hearing the plays, because it's so loud. But when we did the new Broncos stadium, probably 18 years ago or so, they wanted to keep the same sound attenuation that they had with their old stadium. The Broncos stadium actually has structural metal risers instead of concrete, because when people bang their feet it has a really intense sound. So, when we rebuilt the Broncos, we did it out of steel and metal instead of concrete for the seating bowl because the owner wanted that brand, so to speak, of creating that sound in a new stadium. It's very doable.
Were you bucking stadium construction norms by doing that for the Broncos?
Yes, but it was an existing building. I often ask, "What does the client want the atmosphere to be?" Because the atmosphere determines the fan experience to a certain extent. The atmosphere at the Broncos was that loud banging of the metal structure. They wanted to replicate that for the fans. We weren't really bucking the system. We replicated what they had, and we did that on purpose.
Are open-air stadiums going to become fewer and fewer in number? Does it just make too much sense to enclose these facilities in a climate-controlled environment from an operations standpoint?
I wouldn't say that's a wave of the future. When I look at roofs and my clients that have or don't have roofs, there are three things that drive that decision. One is history, and that's mostly with the NFL. When Arrowhead was renovated, it went to the voters, because the Chiefs were putting in a certain amount of money and the voters had to do a sales tax for the rest of the money, and there were two questions on the ballot. The first question was, "Do you agree to raise a sales tax for the renovation of Arrowhead up to a certain amount if the team put in X amount of dollars?" And the answer was overwhelmingly yes. And then the second question was, "Would you agree to a sales tax to fund a roof up to a certain amount of money if the team put in a certain amount of money?" And the answer was overwhelmingly no. You try to put a roof on some of these stadiums and it takes away what your atmosphere was and maybe even some of your brand. I know that some of the stadiums are looking for a roof because you almost have to have a roof to get a Super Bowl. So, history is one, and mostly we see that in the NFL. Weather is the second thing we look at, and that's mostly baseball because there are 82 games. You go to Seattle and they have a roof, but it's an open-air stadium. When it rains, the roof slides over and blocks the rain like an umbrella, but it's still an open-air stadium for the days that it doesn't rain. There are no walls. It's just an umbrella. Remember, the Cubs used to play during the day at Wrigley and it was too hot, so we put lights in, and Turner also did that work. So, baseball we see a lot of weather-related considerations. And the third one is regulations. For soccer, you can't cover the field but you can cover the fans, so you won't ever see roofs for soccer, unless you're in a climate like Phoenix, where it's necessary. But the biggest drivers are history and weather.
How is stadium infrastructure changing and how does that influence what you do?
It has changed a lot. Infrastructure involves the things that really create a big part of the fan experience, especially with the younger generation. I tell people, when I was a teenager going to sporting events, if you got an SRO ticket — standing room only — for a couple dollars, it was great, because we got inside the stadium. Now, in new stadium design, we're creating spaces that are technically SRO but they're social places for people to gather. That's why these stadiums are a lot larger in square footage, because the younger generation doesn't stay in their seat for the whole event. They get up and walk around. They see their friends. They hang out in these social areas, and they're there for more than just the event. The robust sound and video systems are infrastructure. The high degree of Wi-Fi and data, so people can communicate quickly and have instant feedback. The scoreboards are all covered in stats and instant replay with multiple cameras. The quality of food has gone from level three to level nine, and so the quality of food needs different types of kitchens to produce that food. Touchless technology, we're starting to put in now or convert. A lot of things like that drive the infrastructure, and that will just keep changing in the future.
What will the stadium of 2030 or 2040 look like? How much more evolution can there be?
I don't know that there will be evolution in the stadium itself, because the event is the event and you have to have sightlines and see it. We're seeing different levels of seating for diversity of crowds. We see individual people being able to buy tickets on the suite or club level, which in the past was highly restricted to wealthy people or big corporate customers. That's changing, because it's hard to fill your suite every week. We see loge boxes. The Texas Rangers have an area that has lounge chairs on the first-base side, where you can sit back and you have a coffee table and you put your beverage on it. It's just incredible. They're trying to make you feel like you're in your living room to a certain extent. Technology-wise, I see ordering your food from your watch and going and picking it up. I see completely touchless transactions where you don't even have to scan your food or beverage in. As you walk by it picks it up and shoots it over to your wristband automatically. When I buy tickets and parking, the parking's right on the app. There's no paper whatsoever anymore.
Are we ever going back to sending bills down the row to the aisle and getting change back?
I doubt it.