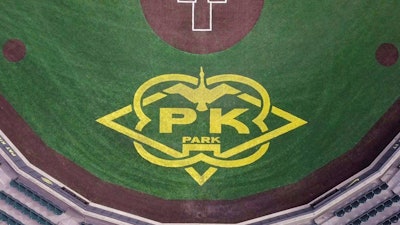 University of Oregon Athletics
The University of Oregon athletic department revealed a new logo for the university's baseball facility, named for former athletic director Pat Kilkenny.
UO announced this week that the new logo for PK Park will reflect Kilkenny's heritage, his hometown and his passion for baseball.
The university said the new design was created by Todd Van Horne, the former creative director at Nike. In October, Van Horne showed Kilkenny the design he was working on. At a university widely known for its relationship with Nike co-founder Phil Knight, clarifying Kilkenny's association with the baseball stadium was part of Van Horne's motivation for updating the logo, UO Athletics said in a news release.
Kilkenny is a proud descendant of Irish heritage, a diehard baseball fan and a native of Heppner, a small town in Eastern Oregon. The new logo imagery includes a shamrock and a baseball diamond, a flying duck and the image of home plate. All of it is linked together in the style of a Celtic knot.
"I got goosebumps," Kilkenny said. "It's very cool, and very special."
The new logo was designed in conjunction with other PK Park upgrades including new turf, a new video board and new outfield fencing. The Ducks will play their first home game in the upgraded facility Friday.
That will be the first chance for fans to see updates to the park, including the new logo. Van Horne has previously done design work for Heppner High on behalf of Kilkenny. He said about 10 years of picking up bits and pieces about Kilkenny's background went into the formulation of the new PK Park logo.
"There's the whole notion of, we're products of where we came from and who we came from," Van Horne said. "You combine 'who' and 'where' and you've got these great plotlines."
The characterization of "home" in the context of both baseball and his roots in Heppner might have been the most meaningful touch to Kilkenny, the former UO athletic director said.
"It never gets old making your family and your parents proud," Kilkenny said in the statement. "That's at the root of everything that's good in our lives. People talk about the 'luck of the Irish,' and I sure have had more than I've earned."