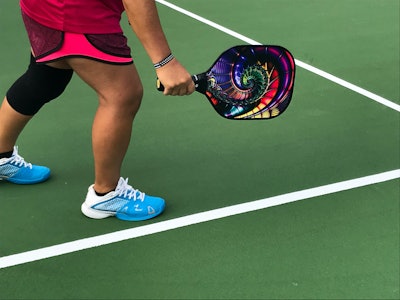 Photo Courtesy of Joan Azeka
A Connecticut town is making the case for accommodating the "fastest growing sport in the United States" with plans to build a pair of new Pickleball courts.
The Redding Parks and Recreation Department has received suggestions from community members that it explore the possibility of installing dedicated pickleball courts as part of an upcoming project to resurface the town's four tennis courts.
If approved, the new courts would allow pickleball players their own space without restricting access for local tennis players.
"We currently have people in their 30s and 40s enjoying it and just like we teach tennis lessons, I am quite sure we are going to have pickleball lessons as well for kids and things like that," Parks and Recreation director Rob Blick told the Board of Selectmen, according to the Fairfield Citizen.
On top of the cost of the court resurfacing, the two new pickleball courts would require around $86,000 in additional funds. The project would be included in the town's capital budget set to be decided in May.
Pickleball has seen a nearly 40 percent jump in participation over the last two years, with almost 5 million players in the United States, according to a February participation report from the Sports Fitness Industry Association.