In the middle of the coronavirus pandemic, Tim Hammond brainstormed ideas for new intramural sports programs that would keep Grinnell College students both engaged and socially distant. He hit the bull's eye with archery.
As the director of Grinnell's outdoor recreation program, Hammond set up an archery range on an underused yet still maintained piece of greenspace at the edge of the small campus. Today, archery is among the Iowa college's most popular intramural programs.
"The pandemic has impacted how our students are interacting on campus. They're very eager to participate in community activities — particularly outdoors — so that they can feel free to be closer to one another," Hammond says. "It's more about just spending time together and having fun together rather than winning. I expect that we're going to — for at least the next year, if not several years — have increased student interest in participating in outdoor field activities more so than we have in the past."
Different campus, different situation
No doubt about it: Demand for field space on college and university campuses is increasing. And because no two campuses look or operate the same, that demand presents its own set of new and distinct challenges.
"It would be great to have one more field," says Ryan Parsons, manager of intramural and club sports at Boston University, which is in the heart of the city and has two synthetic turf fields that are shared between athletics and recreation. One of them, New Balance Field, sits atop a parking garage. "But where are you going to put it? You can't put it on the Mass Turnpike, and you can't put it in the Charles River. At the end of the day, we're all on the same team. Both departments have been able to curate positive relationships, and we've been able to make the shared use as equitable as possible."
Contrast Boston University's situation with that of the University of Texas at Austin, where Recreational Sports owns two synthetic turf field complexes — and when varsity teams want to use them, they must pay a fee. "I don't think a lot of campuses do that," admits E.J. Patterson, associate director of facility operations for UT's Recreational Sports, who helped lead a facilities tour as part of AB Show 2021. "I've worked at previous institutions, and it wasn't that cut and dried."
Recreational Sports oversees the Charles Alan Wright Fields at the Berry M. Whitaker Sports Complex, which hosts a wide range of intramural activities including rugby, ultimate and Quidditch. The large facility is located two miles north of campus and offers six synthetic turf fields and 12 grass fields. City buses and a university shuttle transport students who need a ride to and from the complex.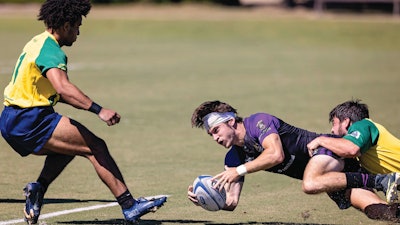 The other field, Caven Lacrosse and Sports Center at Clark Field, is located on campus and not used as often for intramurals as Wright-Whitaker, according to Ian Overman, senior program associate of facilities and programs for UT's Recreational Sports. As such, campus rec staff encourages all students to use that field for informal activities.
The Campus Recreation & Wellness team at East Carolina University also oversees two field complexes that serve multiple user bases. The Blount Recreational Sports Complex boasts four natural grass diamond fields for softball (with dirt basepaths) and one natural grass multipurpose field that is shared with the women's lacrosse and women's soccer programs. In return, club sports and intramural teams can use facilities operated by ECU Athletics when necessary. It's considered an "even exchange," according to Greg Corack, associate director of leadership and programs for ECU's Campus Recreation & Wellness.
Then there is ECU's North Recreational Complex, a 130-acre facility with eight natural grass fields situated about a 10-minute drive from the main campus. The fields can be sized for soccer, flag football, lacrosse, ultimate and rugby, and they double as a youth sports complex that hosts weekend tournaments and brings in revenue for the university.
"That land was for sale several years ago, and we bought it because we realized the five original fields we have aren't big enough for intramural and club sports," Corack says, adding that his department works closely with the Greenville-Pitt County Sports Commission. "Now we have a semi-pro soccer team that plays out there, we have local high school lacrosse clubs that play games there because they don't have their own game-day facilities, we have out-of-state soccer tournaments, and we host a lot of camp activities."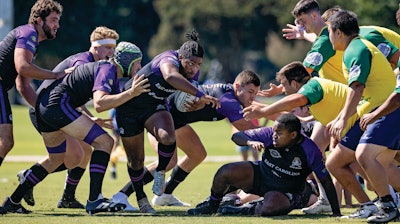 He adds that ECU club sports have first dibs on the fields. Dedicated groundskeepers, managed by the university's facility maintenance department and paid for by Campus Recreation & Wellness, keep the fields in playing condition all year long — overseeding in the winter, irrigating in the summer and painting game lines whenever they're needed.
"We really make a concerted effort to determine what we allow regarding outside groups, to make sure that our fields are still top-notch for our clubs," Corack says. "We don't rent them every weekend, and we don't bring in just anybody who says, 'I want to host a tournament.' Summer is the perfect time for us to rent the fields, because that helps us create a lot of revenue during our downtime, when we don't have club or intramural activity. As long as we give preference to our students, we feel like we're doing our job."
Back at Grinnell, where the overall campus staff is smaller than at ECU (and certainly smaller than at UT and BU), Hammond uses greenspace across the street from the Bear Recreation and Athletic Center for club and intramural sports. Often, cones stand in for painted lines — "We try to have friendly agreements about whether the ball goes out or not," he says — and when that space was dug up a few years back to install underground geothermal wells, Hammond temporarily relocated activities to a long-dormant field on campus that used to be the home of Grinnell women's soccer. The lack of lines and the upheaval of programs doesn't seem to bother students.
"Our students are interested in having a fun experience that's organized and planned for them, instead of them trying to set something up on their own," Hammond says. "A good portion of our intramural participants are varsity athletes who want to do other sports, just because it's fun. And the students who aren't varsity athletes just want a way to interact with each other."
[Photo courtesy of Grinnell College]

Communication, creativity and flexibility
A robust scheduling system is necessary to keep every department, organization, team and activity on track. Software programs shared among departments help tremendously, and so does communication, creativity and flexibility.
"Obviously, we are at the mercy of varsity sports' schedules, as they are set by the NCAA and there's a lot of travel and logistics involved," BU's Parsons says. "We are lucky in that Monday through Thursday, the field is typically ours after 7 p.m. Even though we have a little bit of regularity there, it's not ample time, so our teams end up sharing the field, which we split in half."
When six of the grass fields at UT's Wright-Whitaker Sports Complex were converted from grass to turf in the mid-2010s, practices for some club sports teams had to be relocated to Caven-Clark Field, while other teams had to find space farther off campus — similar to the situation at Grinnell with the geothermal wells. "If your department is going through some type of renovation process, try to be as flexible as possible," Patterson suggests, adding that the increased flexibility ultimately will pay off. "When we had no artificial fields, and it would just sprinkle outside, that would impact our programming. So having the artificial fields has been a game-changer for us."
Just as important as creativity and flexibility is communication, especially in shared-use situations, according to Parsons, who is a BU alum. "My No. 1 piece of advice is to be flexible, even if you have your own fields," he says. "Weather impacts things, COVID impacts things. So you have to be flexible in everything that you do around scheduling.
"My second piece of advice is to keep an open line of communication. The more that you can understand the context of the needs of the program you're sharing a field with — and vice-versa — the easier it will make everyone's life."
Knowing the needs of a given field's users is critical, too. "Have an understanding of what experience your participants want, and what they want to gain from that experience," Grinnell's Hammond says. "And then communicate with the necessary campus partners in order to provide that experience."