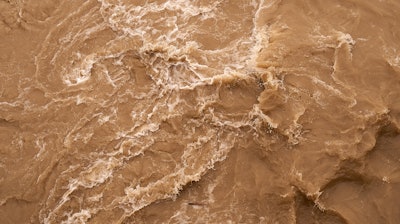 Heavy rains and flooding over the weekend severely damaged the track at the Mitchell Creek Sports Complex in Big Rapids, Mich.
"The flood basically destroyed our track event and practice area, leaving us without a place to practice," CCA track and field coach Debe Mitchell told The Pioneer. "Our pole vault and high jump mats were swept away in the flash flood and our track surface sustained multiple areas of buckling, sink holes, as well as (being) stripped away. It's just gone."
The northwest corner of the track across from the community pool parking lot was severely damaged. The field that the track encircles is filled with sand deposits and doesn't appear to be playable.
"There is a bit of damage done to the track and field," athletic director Jerry Dailey said. "Unfortunately we are not using the field for the rest of the school year. As for sports teams, we are working things out so the sports seasons can continue."
The same field and track were damaged by a major flood back in 1986 when it was used by the Big Rapids School District.