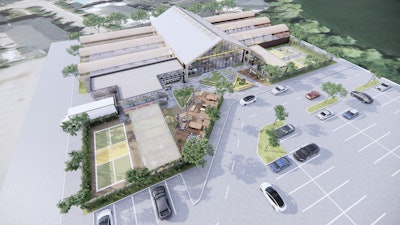 Arslan Guney, a 71-year-old grandfather (also known to friends as the Mayor of Pickleball), was arrested in March after he used a permanent marker to draw small lines on a gymnasium floor to indicate where workers at Denver's Central Park Recreation Center should place yellow boundaries for pickleball matches. The story drew national attention, with a community of pickleball players rallying for the charges against Guney to be dropped. After months of legal drama, the Denver district attorney declined to press charges, and Guney was absolved of any crime.
The quirky story highlights not only the strength of the pickleball community but the need for more courts and facilities to accommodate the sport's growing popularity. According to the 2022 Sports & Fitness Industry Association Single Sport Report on Pickleball, the sport grew in 2021 to 4.8 million players in the United States. That's 14.8 percent growth from 2020 to 2021 and follows 21.3 percent growth the previous year.
Of the 4.8 million total participants, 3.5 million were "casual" players who play one to seven times a year, while 1.4 million were "core" players who play eight or more times a year. While the number of core participants did not grow from 2020 to 2021, casual players grew by 22 percent. Sixty percent of total participants are men, and 40 percent are women, with a slightly faster rate of growth among women.
Stu Upson, CEO of USA Pickleball, the sport's national governing body, says part of Pickleball's popularity lies in its simplicity and the fact that it can be played virtually anywhere — including on a gymnasium floor with a few temporary modifications.
"It's easy to learn and easy to play," says Upson. "You can kind of learn in an hour or so and you're out there playing, and you're not embarrassing yourself, unlike other sports where you have to take lessons and all of that. Also, you can play on existing courts, or you can put up a net and play in the driveway, and that's a key part of it."
While pickleball can be played easily in a gymnasium or on a converted tennis court, players are nevertheless seeking out facilities that offer a variety of amenities, creating a demand that's being met with full-scale pickleball entertainment venues.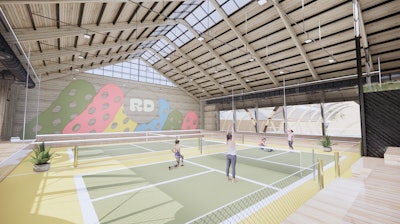 The bowling model
Todd Reed, managing partner at Aimwell Development Co., which is in the process of building two Real Dill Pickleball Clubs in St. Louis, Mo., and Columbus, Ohio, says his company had previously been solely focused on hotels and the hospitality space.
While opening a hotel in Kansas City, Reed and his team were struck by the potential they saw in another venue in the city — Chicken N Pickle — which pioneered the pickleball/restaurant hybrid. That franchise has since expanded with locations in Wichita, Kan.; Overland Park, Kan.; San Antonio, Texas; Grand Prairie, Texas; and Oklahoma City, Okla.
"There's a real natural synergy between hospitality and the gameplay of pickleball," Reed says. "And I think you can really amplify the game a little bit by adding on that hospitality component."
Reed says he expects potential members of the Real Dill Pickleball Clubs to be aged 35 to 55. Each Real Dill venue will have eight to 12 pickleball courts available on a reservation basis. The facilities are designed to accommodate both the avid pickleball player who engages in competitive play, as well as the recreational player who plays mainly for the purpose of entertainment. The clubs will accommodate social and competitive leagues, tournaments and events. They also will offer food and beverage, as well as a family entertainment center with games for all ages.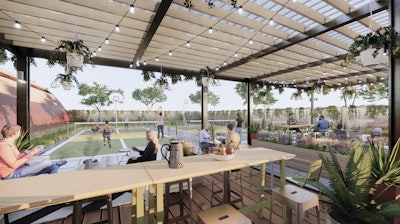 Reed says he expects some players will sign up for $100-per-month memberships, while others may use the club as an entertainment destination outside of their regular day-to-day playing spaces.
"The really core players and people who are really driven by the competitive elements of the sport have a little bit more time during what we call off-peak hours — eight in the morning to four o'clock in the afternoon," Reed says. "Evenings and weekends, it's really more of a social type of atmosphere. So it's families, and it's groups of people who are looking for ways to engage socially."
The Real Dill venues will also have locker rooms and showers available. "The whole idea there is that we want to be able to create a club type of an atmosphere," Reed says. "We want to remove barriers for people who are maybe coming from work or headed to another function afterwards. Maybe I want to still be able to get my game in. So that's kind of essential for us to be able to provide those types of facilities."
Reed says one of the more satisfying parts of the Real Dill project has been understanding the broad appeal of the sport of pickleball. "I think it's been really encouraging to hear particularly families say this is something that they would be interested in and a place that they would want to bring the kids for enjoyment as a family unit. We really want that to be a big part of who we are and what the offering is."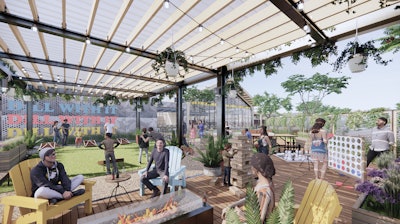 Expanding resources
The growing variety of pickleball facilities is a sign of the sport's maturity, and Carl Schmits, managing director of equipment standards and facility development at USA Pickleball, says he sees more and more communities and private owners looking to pursue new pickleball facilities.
"I probably have no less than one or two meetings per day with new possible venues – that's owner/operators, or those who are speculating on launching a venue," says Schmits. "Most of the time, it's to address a greater demand versus supply situation. And there are some fairly large metropolitan areas where we're seeing this — Chicago, the Bay Area, San Diego and Los Angeles."
Schmits says about 60 percent of the projects he's seeing as of late are new facilities and not conversions, and they come in a variety of forms — from private owners to municipal projects, as well as existing facilities looking to add supplemental space.
Given the demand, USA Pickleball recently launched a facilities development component to their services, which helps potential owner/operators analyze market demand, as well as overall facility feasibility. Schmits says USA Pickleball has access to a variety of resources — from architects to an entity that provides full feasibility studies.
"It varies with each engagement," he says. "With a municipality, they're looking to serve the community, and they'll have a different set of choices. So, we're going to be looking for what the return might be. And we've got numbers, not only from a player standpoint but also what the economic impact would be for hosting tournaments. What facility size might be needed for tournaments of different sizes, and we want to support them in that planning process."
Since 2020, more than half a million Amercians picked up a pickleball paddle for the first time, according to SFIA, with the activity's overall participation doubling since 2014. Clearly, America's fastest-growing sport will only continue to thrive with expanded access to additional and diversified accommodations.