The St. Cloud State University hockey program recently received gifts totaling $1.8 million, an investment designed to provide a significantly better experience for fans, secure the men's team as a perennial top 10 program and boost the performance of women's hockey.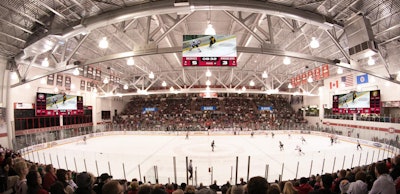 Thanks to gifts totaling $1.3 million, the fan experience is expected to improve significantly with the start of the 2022-23 season. The old analog video scoreboards will be replaced with the latest digital technology, providing a bright, bold and interactive experience that will amp up the energy in the Herb Brooks National Hockey Center. The gifts will also allow for significant improvement in the audio and acoustics in the Hockey Center, taking the already frenetic energy up a notch.
"Our fans will notice these upgrades immediately and the experience will mirror what they have grown accustomed to in other venues," said Heather Weems, director of athletics. "This improvement marks the third significant capital investment in the Herb Brooks National Hockey Center over the last decade, which, along with the major expansion and modernization in 2013 and the addition of the strength and conditioning center in 2019, positions our men's and women's programs for future success."
The hockey program acknowledged a leadership gift of $500,000 from Foundation 94. Foundation 94 was established by Henry and Angelena Blattner.
The gift from Foundation 94 will provide important ongoing operating support for hockey, including the funding of an all-important strength and conditioning coach — considered essential to performance optimization in the hyper-competitive environment of men's and women's hockey — and support of student-athlete mental health and leadership programming, areas Foundation 94 deems essential to a well-rounded and responsive hockey experience. — St. Cloud State 
---
The University of Tennessee at Knoxville unveiled concepts for Lindsey Nelson Stadium renovations with plans to incorporate fan feedback into the future changes.
"We don't have to be the biggest stadium in college baseball," UT athletics director Danny White said. "But let's be the best — the most unique. With our fans, we can do that if we do this project right."
UT released renderings prior to its 10-0 win against Alabama State to open the NCAA Tournament.
The renderings feature drastic changes to the current design of Lindsey Nelson Stadium, which has been a focal point for White, Vols coach Tony Vitello and the athletic department.
"I just really applaud the administration and the idea of working hard on this so maybe if we're able to get it out on a day like today, the timing is perfect," Vitello said. "My phone was blowing up and I think everyone is very impressed. It's hard to get into the exact details right now of 'What's this road going to be called?', but just to see the grand scale of it lets people know how serious everyone around here is in investing in baseball."
Total capacity after the renovations is not set. UT lists the capacity at 4,283. The conceptual renderings are aimed to give fans a first look and an opportunity to give feedback about what types of seating options they would want to purchase.
The initial offerings on the Tennessee Fund website, where the stadium renderings were released, indicates six suites and 300 club seats are available for purchase. White said those numbers are fluid and will be based upon fan desires.
Changes will not be made prior to the 2023 season.
Renovations to Lindsey Nelson Stadium were the focal point of the University of Tennessee at Knoxville's proposed budget for 2022-23 fiscal year, which had $56.8 million aimed toward the baseball stadium. The project description indicates the funds would aid in "construction of additional amenities including a new indoor infield facility along with expanded site improvements," while enhancing existing spaces and services. — KnoxNews.com
---
The University of Virginia has started construction of a $80 million state-of-the art football operations center.
The two-story, 90,000-square foot training facility will include locker rooms, a 14,000-square foot strength and conditioning center, nutrition spaces, team meeting rooms, sports medicine areas for treatment and recovery, as well as coaches' offices, video operations and building support spaces.
"Every area of what it takes to build a championship program, this facility enhances that for us to give our coaches and student-athletes a chance to compete," U.Va. Director of Athletics Carla Williams said during a press conference.
With a projected completion date of 2024, the football operations center is the second phase of a three-phase master plan to replace existing facilities that are either undersized, outdated or in need of improvements.
Phase one of the project included, among other things, the expansion of a natural grass practice field for Olympic sports, renovations to Memorial Gym to accommodate wrestling and construction of two natural grass football practice fields.
Phase three will be a renovation of the McCue Center and a centrally-located Olympic sports center that will begin construction next spring with an anticipated completion of spring 2025.
Virginia aspires to compete for championships in football. Facilities upgrades are a vital component of that goal.
New head coach Tony Elliott said he hopes the facility acts as a "rocket launcher for the program." — DailyPress.com