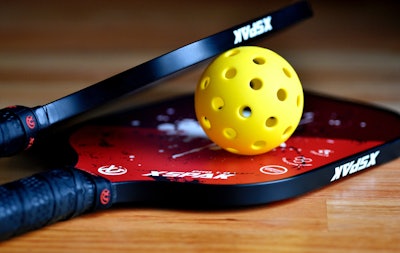 The City of Asheville, N.C., has a growing community of pickleball players, and they're speaking out about their community's lack of dedicated courts for the sport. 
There are 12 outdoor pickleball courts in the city and six indoors. None of them have permanent pickleball nets, and players must bring their own. 
USA Pickleball Association ambassador for Buncombe County, Yira Pia Sanchez, told the Citizen Times that finding space to play in Asheville is always an issue. Sanchez noted pickleball is the only sport without a dedicated area in Asheville.
"I get emails and phone calls from everywhere," Sanchez. "And I'm embarrassed to say, 'We love Asheville, it's a beautiful town, we have a beautiful pickleball community, but sadly we don't have a place for you to play.'" 
Sanchez says those who do play have to lug around 40-pound nets and are often competing with tennis players for space. Sanchez says she's been advocating for dedicated pickleball for the past six years.
There has been some movement, as the Stephens-Lee Community Center and Recreation Complex recently refinished its gym and added permanent pickleball lines. The same was done to the gym at Linwood Crump Shiloh Community Center and Recreation Complex, but both facilities share space with other sports. 
Citizens are now lobbying the city council for new courts dedicated to the sport of pickleball. 
"We are in it for the long haul with you," Christina Dupuch told City Council on the first of many evenings. Behind her, fluorescent orange pom-poms rippled from an energetic cheer squad of players. 
Dupuch and others like her are now working with the the parks and recreation department on a plan. They're asking for all tennis courts to also be lined for pickleball, 10 dedicated pickleball courts at Murphy-Oakley Park and, long term, a pickleball facility with the capacity to host tournaments.  
"We have been in communication with the group of pickleball advocates, and those conversations have been fruitful and positive," Wayne Simmons, programs and operations manager with athletics and receation, said in an email to the Citizen Times. "Although we are not in a position to fund and maintain a new dedicated pickleball facility at this time, we are open to exploring alternative means of achieving the goal of dedicated courts through partnership with the community utilizing private donations, grants and other funding sources."