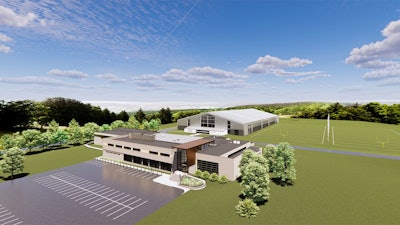 Courtesy of Lehighsports.com
An ambitious renovation of Lehigh University's Goodman Campus Athletics Complex in Bethlehem, Pa., was launched thanks to an anonymous $8 million gift made by parents of a current Lehigh student-athlete.
The gift will provide for the renovation and expansion of the Cundey Varsity House, and also allow the university to move forward on design plans for a new indoor field facility, which will be located on Goodman Drive South directly behind the varsity house.
Together, these two projects will comprise an ambitious $30 million capital renovation and expansion of Goodman Campus that will transform the Lehigh Athletics experience.
The Cundey Varsity House will offer a new hub for services and resources for athletes, creating efficiency and building camaraderie and community. Improvements include an expanded sports medicine facility, a new and significantly expanded strength training area, a high-tech pitching and hitting facility, a student-athlete nutrition lounge and new or improved locker room facilities for all of the Lehigh sports programs based on the Goodman Campus.
In the new field facility, athletes will be able to train year-round, regardless of the weather, substantially increasing their capacity to enhance their skills and perform at the highest level, both individually and as a team. The new indoor field facility will house a roughly 94,000-square-foot turf field, able to accommodate full-scale training for all Lehigh field sports, including lacrosse, soccer, field hockey, and football. Baseball and softball will also be able to conduct full indoor practices.
Together, these projects will help Lehigh athletes become even more competitive and build the reputation of our programs, and help recruit and retain talented student-athletes looking for opportunities to play their very best. In addition, because these projects increase the physical training space for our athletes, access to facilities space becomes more abundant for club sports and recreational activities for all Lehigh students. — Lehigh University Athletics
---
Illinois State Athletics will officially dedicate the Aaron Leetch Stadium Club prior to the Redbirds' first home football game Saturday.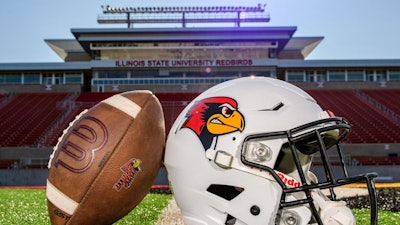 Illinois State University received $1.5 million in combined gift commitments for the Indoor Practice Facility from an anonymous pair of donors, with the intent of the gifts to honor the legacy of former Deputy Director of Athletics Aaron Leetch by renaming the club in Hancock Stadium the Aaron Leetch Stadium Club.
The Indoor Practice Facility will be a heated, opaque dual-membrane fabric air dome with insulation pockets for planned year-round use.
Construction began in spring 2022.
Original commitments were made to benefit the Indoor Practice Facility, with additional commitments made at a later time to specifically find a way to honor Leetch's legacy at Illinois State. The Illinois State University Board of Trustees officially authorized the Athletics Department to proceed with the naming of the Aaron Leetch Stadium Club in a meeting on Feb.18, 2022.
---
A $3 million donation will fund an upgrade to the baseball and softball facilities at Crown Point High School in Indiana.
The upgrade will include brick dugouts, stadium-style seating and new entrances, ticket booths, press boxes, lights, walkways and gathering spaces that will allow spectators to watch a game while eating at picnic tables or sitting on the grass berm beyond the outfield.
The Crown Point Community School Corp. announced the donation in August, saying the donor, a CPHS alumnus, wishes to remain anonymous.
The design includes elements inspired by Chicago ballparks. The entrance booths recall the old Comiskey Park entrance, and brick walls behind the outfield resemble Wrigley Field's famous ivy walls, the school corporation said. The outfield scoreboard, vintage-theme light pole banners and iron fencing also are meant to echo classic Chicago baseball stadium features.
The school corporation has solicitied bids for the project. The timeline is tentative, it said, but work will likely be completed for the spring 2024 season, and will not impact this year's home schedule. — Nwitimes.com