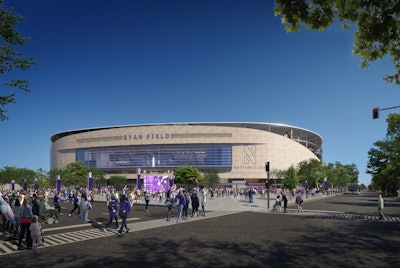 Courtesy of Northwestern University
Northwestern University has released renderings of a schematic design for the new stadium to replace the current 97-year-old structure.
The new Ryan Field campus will be funded entirely with private dollars — requiring no taxpayer financing — and will create a world-class home for Northwestern University Athletics.
When complete, the new stadium will create a best-in-the-nation football experience for fans, student-athletes and the community.
Proposed design highlights include:
A more intimate setting: Significantly smaller crowds — designed for a maximum capacity of 35,000, more than 12,000 fewer than the current Ryan Field, with a state-of-the-art canopy designed to focus noise and light on the field;
New community assets: The new Ryan Field is being developed as a modern stadium campus with beautiful plazas, an exceptional new community park as well as other publicly accessible greenspaces for residents to enjoy year-round community activities;
Accessibility: The new stadium will apply Universal Design standards and will set a new standard for accessibility and inclusivity, making it among the most accessible stadiums in the country; and
Sustainability: The project is designed to achieve Gold LEED certification.
The new stadium will be fan-centered, with the best sight lines in college football and a premium experience, including chair backs, for every fan as well as an innovative student section modeled on other sports; cutting-edge technology and scoreboards; upgraded concessions featuring food from local restaurants; and iconic design features inside and out. — Northwestern.edu
---
In recognition of a leadership gift, the new state-of-the-art ice hockey arena at the University of Connecticut being constructed will bear the name Toscano Family Ice Forum.
The naming of the new arena, which will have a total capacity of 2,600, was approved by the Institutional Advancement Committee of the UConn Board of Trustees.
The Huskies' new ice hockey home, located adjacent to the current Mark Edward Freitas Ice Forum in the athletics district along Jim Calhoun Way, is scheduled to open in January 2023.
In the spectator bowl, seating will consist of 80% with seatbacks and 20% on benches. The new facility will also have a large center-hung display scoreboard with perimeter ribbon boards, designed to create an outstanding experience for fans with state-of-the-art sound and lighting features.
The team facilities feature full training and support for women's and men's student-athletes, including team lounges, locker rooms with video displays, training space with a hydrotherapy area, and a strength and conditioning room. It will also include areas such as coaches' offices, a media working room, dining area, academic counseling/study room and support services areas.
The arena, which will host games by UConn's men's and women's Division I hockey teams and also be used by its club hockey programs, will feature a premier club area with 145 cushioned, comfortable seats at mid-ice and an ice-level lounge behind the home goaltender with café table seating and food and beverage service. A student-only standing room deck will also be situated behind the opposing goaltender. The final design includes aspects to make the facility as efficient as possible in energy and water use, in keeping with the University's commitment to make its capital projects as environmentally sustainable as possible. — Uconnhuskies.com
---
In Grand Forks, N.D., the University of North Dakota Director of Athletics Bill Chaves announced on September 30, 2022 the master facilities plan, providing a vision for the future of UND Athletics.
The announcement comes on the heels of the groundbreaking of Memorial Village on Aug. 25, which is expected to be completed in 2024 and will provide a new space for student-athlete academic services, new offices for football, track and field, men's and women's golf and softball, administrative offices and pay tribute to the vaunted history of North Dakota Athletics with a display honoring the UND Letterwinners Hall of Fame through a public-private partnership.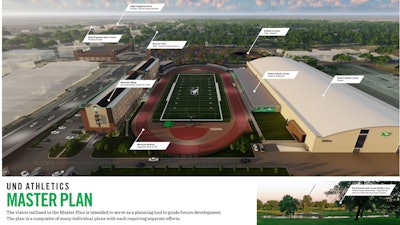 "Breaking ground on Memorial Village is the first domino of what we anticipate being several dominos that will enhance and transform the student-athlete experience for all 17 of our programs, said Chaves. Many of our current facilities have served us incredibly well for many, many years, but as we look ahead to not only the next year but the next several years, this athletic vision will allow us to recruit and retain the best student-athletes possible. Finally, all these projects will not be funded identically. Some may be a public-private partnership model while others may be 100% philanthropic."
Other projects are listed below with details and are depicted graphically to show what is visually planned.
Frederick "Fritz" D. Pollard Jr. Athletic Center Addition (Phase II – Philanthropic)
Expected to break ground in Spring 2023
Connected to Memorial Village via indoor "Hawkway"

Provides new locker rooms for cross country, football, softball and track and field

State-of-the-art weight room

New sports medicine/treatment areas

Replacement to the turf and track on current Memorial Field
Softball Complex (Philanthropic)
Still actively fundraising

Located between 2nd Avenue and University Avenue

Would bring the softball program on campus for first time in program history
Bronson Soccer Field – Soccer (Philanthropic)
Still actively fundraising

Working to bring improved amenities to both playing surface and seating area
Recently hosted first regionally televised game in field history with record crowd vs. Minnesota
Ralph Engelstad Arena and Betty Engelstad Sioux Center (Partnership with REA, Inc.)
REA will continue to see upgrades to provide for hockey and soccer programs

New weight room and training facilities set to be completed in 2022 for hockey and soccer
Addition of practice court to the Betty

Re-imagined endzone seating for basketball and volleyball games