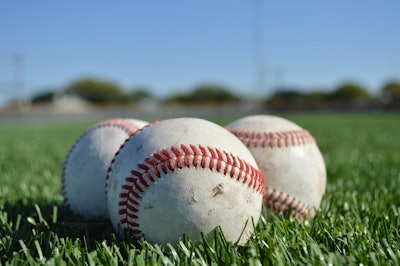 File Photo/UnsplasH
Installation started Monday for a new state-of-the-art scoreboard donated to a local park to replace the five-decades-old baseball scoreboard.
The new scoreboard will keep track of balls, strikes and runs at the baseball field at Rogers Park, the News-Times of Danbury reported Monday.
The Danbury Westerners Baseball Club — which calls the field home — donated the 10-inning, LED scoreboard to the city by covering the $72,000 cost for the scoreboard and installation, said Jon Pitser, president of the club.
"We're pretty happy and excited to have a new scoreboard to replace the old one," Pitser told the News-Times. "The old scoreboard (nearly 50 years old) is pretty beat up and we had to do a good deal of patchwork over the years to keep it going.
The donation is part of nearly $130,000 upgrades to the baseball field that the Westerners have covered over the last three years that include new perimeter fencing and new bullpens added in 2021, a new batting practice cage in 2022 and a new shed to house field maintenance equipment earlier this year.
Pitser said about half the cost of the scoreboard and installation was raised through sponsorships from Danbury Youth Baseball, Danbury Old Timers Athletic Association and Texas Roadhouse, plus a $10,00 donation from Westerners President Emeritus Paul Schaffer.
"This is all part of our goal to move our baseball team to the next level," Pitser told the News-Times. "Basically, we break even financially every year. We're a nonprofit with a staff comprised of volunteers. But I would like to see us get to the point where we have a paid staff. We also have plans for more upgrades."
Pitser said the scoreboard will be completed in about a week for use when the season starts on June 7.
An official dedication of the scoreboard, with specifics to be determined, will take place June 22.
The Danbury Westerners is all-volunteer college summer baseball team and a 501(c)3 nonprofit. The Westerners also use the help of 12 interns each summer.
The Westerners begins its 29th season in 2023 in the New England Collegiate Baseball League.
The News-Times reported that Pitser said typically about one-third of its players each season move on to some form of professional level in the United States or overseas. Overall, 275 Westerners have gone on to play professional baseball with 26 reaching the major leagues. There are three former Westerners in Major League Baseball now with New York Mets reliever Adam Ottavino (played in Danbury in 2004), Washington Nationals starting pitcher Josiah Gray (2016) and San Francisco Giants third baseman David Villar (2016).
Pitser said the next planned upgrade will be to convert the old shed that was used to house maintenance equipment into a new and bigger snack bar. The old snack bar will be converted into a Westerners merchandise store.