With municipal budgets in crisis, operational partnerships with nonprofits can help keep recreation centers active.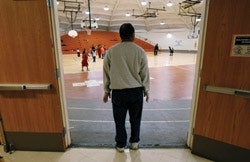 PARTING SHOTS
The Barack Recreation Center, shown during its last day in operation, was one of 14 recreation facilities in Columbus, Ohio, that was shuttered to save money.
It was a grim day in February when the lights were turned out for the last time at a full one-third of the city-run recreation centers in Columbus, Ohio.
"I think it's bull," 16-year-old Jodeci Tatum told the Columbus Dispatch when asked about the closing of the Barack Recreation Center, one of 11 rec centers and 14 rec-department-run facilities overall that were closed after the administration identified a nearly $100 million citywide budget shortfall for 2009. "If they shut it down, what's going to happen to kids in the neighborhood?"
The question is not lost on Columbus Department of Recreation and Parks director Alan McKnight, to whom the city finance department gave the unenviable task of slashing nearly $5 million in parks and rec spending from the previous budget. Shuttering the facilities eliminated approximately $2.5 million in expenses.
"We have some pretty significant budget challenges right now, and we had to make a lot of tough decisions," says McKnight, adding that the facilities remaining open were chosen in order to maximize participation throughout the most even coverage area. "My primary concern has been what opportunities are going to now be missing for our youth who may not have access to the remaining facilities. We provide a safe harbor for a lot of these kids once they get out of school. They may not have a great home environment, and these centers are places they can go that are safe, where they can feel comfortable and have some positive experiences."
One month after the majority of the centers closed, Columbus Mayor Michael B. Coleman proudly announced that the Tuttle Recreation Center, among the city's most popular, would be reopening. The city had reached an agreement with the Central Ohio Council of Campfire USA, a youth-centered nonprofit group that focuses on developing self-esteem and leadership skills through nature-based and other recreational programs. Under the agreement, Campfire USA will pay to staff and operate the center and its programs, while the city will pay only for utilities and maintenance of the grounds and exterior.
The partnership and subsequent reopening of the Tuttle center represent what McKnight has described as a "silver lining" to Columbus' budget woes. And since rec departments are often first on the chopping block when cutbacks must be made, many administrators are reexamining the prospect of getting help from other community groups in order to keep facilities open and maintain some level of recreation programming for the communities they serve.
"In the cases in which we've created partnerships, we were either looking at dramatic reductions in operating hours, or, as in the past, we've had buildings that we've had to close," says St. Paul (Minn.) recreation services manager Kathy Korum, adding that 10 of St. Paul's 33 municipal rec centers are now operated by nonprofit partners, including private sports organizations, youth organizations, YMCAs and even a charter school. Seven of those partnerships were established last year in response to a citywide budget shortfall of $16.5 million, and more partnerships may be in the works this year.
"If the building can become revenue-neutral for us, then we've achieved our goal. We can maintain access and provide some kind of recreation programming without having to have the city pay the costs to make that happen," says Korum.
Although it may seem counterintuitive, Korum says that many nonprofits are eagerly seeking to move into city buildings because of, not in spite of, the current economic climate. "In times when everyone is challenged budget-wise, you can find agencies that want a building - they may want three buildings instead of two - but they can't afford to start from the ground up," she says. "They can't afford to build a building, and we can't afford to operate all of ours, so it works out great."
Basic considerations for all lease/operational agreements for city rec centers include: what the protocols are for interior maintenance issues, both major and minor; what level of community access the municipality expects; what type and level of insurance is required for the lessee; and what the penalties are for delinquent utility or lease payments. "Our agreements are pretty straightforward - three pages," says Korum. "We've never had a single issue with them."
One element that distinguishes St. Paul's operational arrangements as partnerships rather than privatizations is a stipulation in the city charter that prevents lease agreements at city buildings from exceeding five years. Korum says the rec department may offer a shorter agreement with its newer partners. "We're looking for partners with solid community-based programs - Boys & Girls Clubs, YMCAs, arts organizations, teen service organizations," she says. "Many of them have programs that have been established in the community for a long time, and they're looking to expand."
McKnight says Campfire USA makes for an ideal partner because of the popularity of their programs, which also happen to be ideal for the Tuttle center's site, situated within city-run parkland and open space. However, popular and mission-compatible programming is not all that should be displayed on a potential partner's résumé. "The local nonprofit that has never operated a facility may not know the basics of how to maintain or schedule buildings," says Korum. "They are going to have more trouble being successful."
Success also depends on a certain amount of community support for the partnerships - even for the very idea of municipal partnerships. "We have a public process for each one," says Korum. "We'll have public meetings, and many times we'll have to look at a plan B. Some communities may actually prefer significant reductions in operating hours to someone else coming in and building three tennis courts or taking over the gym. We work with the public, but the reality for us is that we often can't continue to operate our buildings in the way we have been."
When a partnership clicks, it not only can serve to keep a facility up and running while negating the city's expenses, it can even improve the delivery of services. "These agencies are focusing their staff and their energy on one space, and we were trying to manage 35," says Korum. "Quite frankly, in some cases, they are able to do more in a building than we were."
Despite his department's dramatic budget reductions, McKnight believes that his city's newfound interest in partnerships may be helping lay a foundation for sustained success. "This is a new kind of relationship for us and these relationships may continue to help us deliver services in this community," he says. "I've been in the business for 30-plus years, and I've seen the ups and downs. This is obviously a more significant economic downturn than any of us have seen in our lifetime, but we have to believe that the economy will turn around." After all, says McKnight, "If I didn't believe that, then I couldn't be doing what I'm doing right now."