"Powerful" came to the mind of more than one judge when describing the North Kawartha Community Centre, which stands not only as a community focal point at the edge of a public park district, but as a multiuse regional destination. One panelist went so far as to term the architectural expression in relation to its site and program "primal."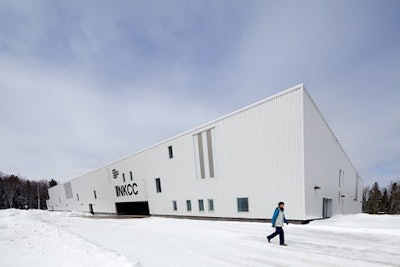 Located near acres of glacial outcroppings, the canted prism form of the building exterior is reminiscent of a rock promontory, but is highlighted by windows of varying size and location. Expanses of double-layered translucent polycarbonate provide diffused natural light into all major program areas, and allow for public skating without the need for electric light. Interior spaces are likewise stark and simple, lending more power to bold wayfinding graphics.
View the full photo gallery
Judges' Comments:
An excellent use of a tight budget - not a dollar was wasted. Strategic use of limited windows.
–David Bock
A very fitting solution for the particular site. Well detailed for the budget. Bold exterior.
–Greg Garlock
Powerful project. Simple and efficient plan. Stunning exterior that expresses program and context with the site. Robust and transparent interior - simple but appropriate.
–David Dymecki
Architect of Record:
MacLennan Jaunkalns Miller ArchitectsToronto, Ont.
Cost: $11.3 million
Square Footage: 62,000
Funded By: Government funds
Major Facility Components: Arena with NHL-size ice pad and seating for 400; community center with fitness spaces, multipurpose rooms and administrative offices; concourse that doubles as walking track; banquet hall
The 2013 Athletic Business® Facilities of Merit™awards were recently selected by a panel of sports and recreation facility architects during two days of judging in Madison, Wis. The 10 winners are being announced in this space during these two weeks, and profiles of all 10 will appear in the November issue ofAthletic Business. The awards will be presented to the facility owners and architects at the Athletic Business Conference & Expo in San Diego on Friday, Nov. 22.