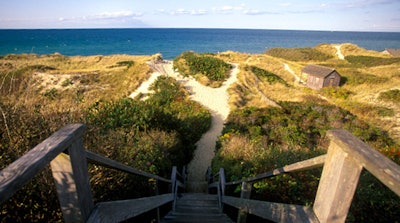 I'm heading down to Nantucket next week. That's not unusual. I head down to Nantucket every week, since we're building a Boys & Girls Club addition there. But doing business on Nantucket is very unusual — and it drives home the message of how construction projects play out in different locations.

Prospective building owners often assume that you can take a $10 million rec center in one location, plop it down in another location, and it'll still be a $10 million rec center. Many of them are surprised to hear that a 14-month construction schedule in one place might — with the same program, square footage and materials — be a 16-month job in another. Nantucket is the proof that there is no "normal."

The nature of working on an island is that everything costs more and takes longer. This can also be true of other more-remote, rural locations. But Nantucket has other issues, too. Tourism is its primary source of revenue, and it's seasonal revenue. To protect its tourism interests, there's a local statute that bars construction within the downtown commercial district during the summer. This not only shortens the construction season to eight and a half months in that area, it eliminates the prime construction season.
RELATED: Understanding Bids and Specs: Get the Best Value When Building

The year-round population has doubled since 1980, to around 10,000. The summertime population is 55,000. If you are in an area where construction can proceed during the summer, as our project is, that means transportation snags and bottlenecks, and inevitably higher prices on goods and services. In the winter, weather can wreak its own havoc on transportation, and the availability of on-island labor can drop in sync with the seasonal population drop.

When we estimate costs on a proposed project, we take all of these things into account — the distance that labor and materials must travel to reach the job site, expected weather patterns, local laws that might impinge on the project, costs associated with different trades or unions, and many other seemingly minor aspects of management. It's particularly helpful when prospective building owners have an understanding of the local political culture and an awareness of regional differences that could account for variances in cost. We cover this early and often, describing what we see as the unique local variables that go with each project — the kinds of things that owners might not, but should, think about.
More from Ralph Agostinelli:
---
Ralph J Agostinelli, PE (ragostinelli@stanmar-inc.com) is senior project manager at Stanmar Inc., a Wayland, Mass., design-build firm specializing in athletic and recreation facilities.