Breaking Ground
Construction is under way on Beverly Morgan Park Gymnastics Center and Ice Arena in Chicago.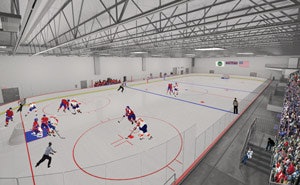 The 64,000-square-foot facility will cater to the increased interest in gymnastics and hockey throughout the city. The state-of-the-art indoor ice rink will offer seating for 850 to 1,000, skate rentals, concessions areas, meeting and party rooms, viewing areas, offices, restrooms and team locker rooms. The $16 million project, designed by Studio GC of Chicago, is being funded through a combination of state, park district and special-taxing district funding and is expected to be completed next summer.
The University of Colorado Colorado Springs kicks off an expansion of its recreation center this fall. The building will remain open, with existing programming impacted as minimally as possible. The design, created by Barker Rinker Seacat architecture of Denver and Hughes Group Architects of Sterling, Va., includes construction of additional fitness space for weights and cardio, fitness studios, locker rooms and two basketball courts. When completed in September 2015, the expanded recreation center will be easier to navigate and less crowded. A new intramural sports-specific area and service desk will accommodate anticipated expansion of intramurals due to increased student enrollment and expanded campus housing.
---
First Pitch
The Edmonds (Wash.) School District has approved funding for upgrades at three of its high schools. Edmonds Stadium will see replacement of its turf, track surfacing and field lighting, while Mountlake Terrace and Meadowdale will have their turf replaced and their tracks resurfaced. The school board has authorized the district to hire D.A. Hogan & Associates of Seattle for consultant services. All three projects are scheduled for the summer of 2015... The University of Oklahoma Board of Regents has approved a $370 million upgrade to the school's football stadium. The project will include construction of a new weight room, an equipment room, team areas and coaches' offices, as well as replacement of the press box and expansion of fan concourses. New fan plazas and additional restrooms, concessions stands, guest services and team stores also will be included... The Ypsilanti (Mich.) City Council has approved the sale of 4.1 acres of land to the Washtenaw County Parks and Recreation Commission for the construction of Eastside Recreation Center, with the stipulation that the constructed facility be at least 35,000 square feet and oriented adjacent to Michigan Avenue to better fit with existing downtown buildings.
---
Grand Openings
The Olathe Community Center (pictured) is now open in Olathe, Kan. The $28.5 million community center is the city's first, featuring a three-court gymnasium with an elevated jogging track, a fitness center, group exercise studios, an indoor playground, community rooms and an aquatics center. Designed by Denver-based Barker Rinker Seacat Architecture in association with SFS Architecture of Kansas City, the center also includes an "outdoor living room," an amphitheater and a great lawn... A dedication ceremony was held last month for the Daniel L. Haggerty Jr. Pavilion at the Junior Champions Tennis Center in Cadwalader Park, N.J., marking the completion of the largest junior short-court facility in the country. The first phases of the public-private redevelopment project, undertaken by Trenton-based nonprofit National Junior Tennis & Learning, included refurbishing six existing hard courts and converting six clay courts into 14 courts for 10-and-under play. A principal of Trenton, N.J.-based Clark Caton Hintz donated the design for the pavilion, which can accommodate up to 40 people on its second-story deck... A new athletic facility is making its debut at the College of Idaho this fall. The 22,300-square-foot Marty Holly Athletics Center offers a cardio balcony, a weight room, locker rooms, a therapy pool, training rooms and coaches' offices. The two-story facility will be open to all students and also serve the school's football team, resurrected after a 37-year hiatus, as well as lacrosse, softball, baseball, cross country and men's and women's soccer teams. Designed by Hummel Architects of Boise, Id., the $3.4 million project is expected to be followed by construction of an outdoor education center, to begin after funding for the $1.2 million project is secured... A new $5 million athletic complex opens this month at HINGHAM (Mass.) HIGH SCHOOL. The complex features a stadium and multipurpose synthetic turf field, resurfaced tennis courts, a new softball field, a reconstructed baseball field, a renovated and expanded track, new landscaping, additional parking, an improved gymnasium, a scoreboard, a sound system, and a concessions stand.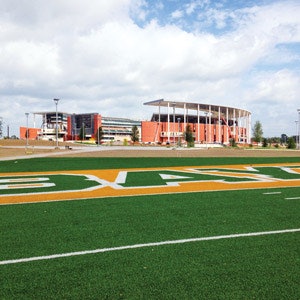 Designed by Gale Associates of Weymouth, Mass., the new facility will allow the school's athletic programs to serve more students than it previously had the resources to handle... Baylor University's McLane Stadium opened last month. The $260 million stadium is one of the smallest in the Big 12 with 45,000 seats, with focus instead given to amenities that enhance the fan experience, including a new scoreboard, club seating, boxes and suites, and shaded canopies and concourses. Inside, the 7,500-square-foot players' locker room features wood lockers and a lighted "BU" logo, and a "recruiting room" offers field-level gameday views. Designed by Populous of Kansas City, Mo., the 93-acre site also features a permanent tailgating area with power outlets, a pedestrian bridge, boat slips for anticipated "sailgating" on the Brazos River and a boardwalk.