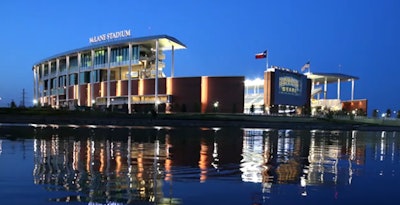 It's a great time to be a Baylor Bear. The Bears open the football season ranked in the nation's top 10, but perhaps more important, the university opens brand new McLane Stadium. In the video below, watch more than two years of work go by in just two minutes.
The Populous-designed stadium brings football back to campus in Waco, Texas after Baylor played more than 60 seasons at Floyd Casey Stadium located a few miles away from campus. Sitting along the banks of the Brazos River, Floyd Casey's $266 million replacement has a capacity of 45,000. The stadium features six founder's suites, 39 luxury suites, 79 loge boxes, 1,200 outdoor club seats, 168 concession stands (compared to just 32 at Floyd Casey), state-of-the-art locker rooms and a high definition Daktronics scoreboard.
The stadium is connected to campus by a large pedestrian bridge, which AB featured in this February 2014 story.
RELATED: Man Dies in Baylor Stadium Construction Accident
As a former employee in the Baylor Athletic Department, it's hard to explain how much this stadium means to the university and the city as a whole. Floyd Casey Stadium was a small and antiquated stadium, perhaps best known for the tarp that covered up about 5,000 empty seats in the south end zone. Located in a residential neighborhood, it lacked the "big game" feel of a football Saturday on many college campuses. As a former employee in the communications department, the stadium's single elevator that brought fans, coaches and athletic department staff up to the stadium's lone press tower/ luxury seating area was a particular problem.
RELATED: Discussing Heisman Trophy Campaigns With the Man Who Planned RG3's
With head coach Art Briles leading Baylor's resurgence, the defending Big 12 champs now have a home that matches the quality of their play on the field. Located on campus, along the river and near Waco's resurgent downtown area, Baylor officials expect the stadium will have a ripple effect throughout Central Texas' economy. At 860,000-square feet, McLane Stadium is the largest project in Central Texas history. The school expects new hotels, restaurants and shops will soon surround the stadium.
Baylor opens McLane Stadium this Sunday when the Bears host Southern Methodist University. For an interactive look at the sightlines from any seat in the stadium, check out this 3D seat viewer.