Baylor University is building a beautiful, on-campus football stadium that is set to open this fall. As a former employee in the Baylor athletic department, I know how excited the people there are about this new facility and how much it will mean to the Waco community.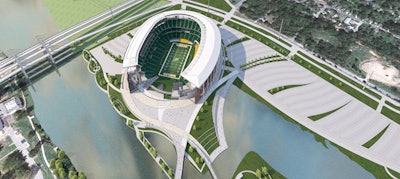 However, the towering stadium that is nestled along Interstate 35 and the banks of the Brazos River was the site of an ugly incident on Tuesday. A stadium construction worker was killed when a freak accident sent him plunging to the bottom of the river.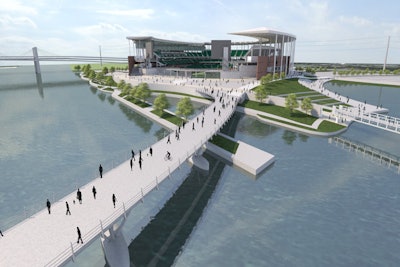 According to the Associated Press, two men were working on a pedestrian bridge over the river when they were pulled into the water. The men were harnessed to some construction equipment that fell from a floating dock and into the river.

One of the men was able to unfasten his safety harness and reach the surface. He was treated for hypothermia and released from a nearby hospital. Jose Dario Suarez, a 55-year old from Manor, Texas was not as lucky. He died Tuesday night.

McLane Stadium, which will hold 45,000 people and is being built at a cost of $250 million, is set to open this fall. The Bears previously played their home games at Floyd Casey Stadium, which opened in 1950 and is located a few miles off campus.

This isn't the first stadium construction death to make the news recently. Here are several that have occurred within the past three years:
For more information on McLane Stadium, check out Baylor's interactive stadium website.
3:04 p.m. Update:
Baylor has released a statement on the incident.
"Our thoughts go out to the Suarez family at this terribly sad hour," said university president and chancellor Ken Starr. "All of Baylor Nation extends our deepest sympathies as we remember in our prayers Jose Suarez and all those whom he loved."