The new $1.2 billion home of the San Francisco 49ers is supposed to be one of the best stadiums in the world when it opens next season, but the construction process has been marked by two ugly incidents.
According to the Associated Press, a delivery truck driver was killed Monday when he was crushed by a bundle of rebar being unloaded from his truck. From the AP's report:
An ambulance rushed the severely injured worker to a local hospital, where he died, according to a spokesman for Turner/Devcon, the construction company building Levi's Stadium.
The spokesman, Jonathan Harvey, said state workplace safety officials said Monday that while their investigation is ongoing and could take months, "the jobsite has been deemed safe and is permitted to reopen."
This is the second death suffered during the construction of the stadium, which is being built in Santa Clara, Calif., about 40 miles south of the 49ers current home at Candlestick Park. In June, 63-year-old elevator mechanic Donald White was killed when he was struck by a counterweight while working in an elevator shaft.
White had worked as an elevator mechanic for more than 40 years.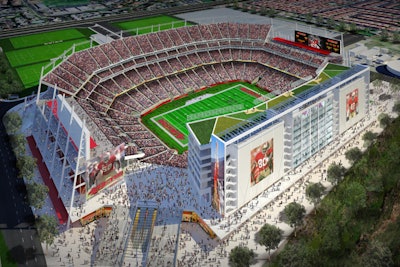 The stadium project is expected to be completed in 2014. The stadium will offer many high-tech features for fans and will have the largest lower bowl in the league, ensuring the 68,500 fans are close to the action.
The construction costs are being paid by $800 million in seat and luxury box sales, along with a 20-year, $220 million naming rights agreement with Levi Strauss and Co.