A 22-year-old man working on the construction of a soccer stadium in Brazil fell nearly 115 feet and died on Saturday. According to Reuters, Marcleudo de Melo Ferreira was working on a World Cup stadium in Manaus, Brazil when a cable snapped, sending him off the roof of the building. He died hours later in a local hospital.
This death is just the latest in a line of incidents that have plagued Brazil's hosting of this summer's World Cup. From Reuters:
Workers had already been killed at three of Brazil's 12 World Cup stadiums. Fatal accidents have occurred in Manaus, Brasilia and most recently in Sao Paulo, where two people died on Nov. 27 after a crane collapsed in the arena that is to host the opening game on June 12.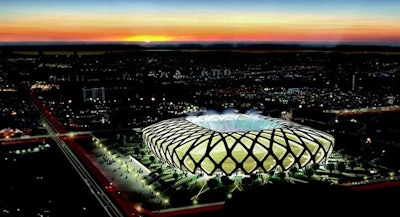 A rendering of Arena Amazonia in Manaus, Brazil

Preparations for the World Cup have also been plagued by delays, accidents, cost overruns, and public anger over government waste that contributed to massive nationwide street protests last year.
Half of the 12 World Cup stadiums are behind schedule. In response Melo Ferreira's death, a court in Brazil has stopped construction of the stadium in Manaus until the contractor, Andrade Gutierrez, presents a detailed report on the site's safety conditions.
According to the BBC, Brazil authorities say the working conditions are "unacceptably dangerous."
Manaus, located nearly 2,000 miles northwest of the country's capital of Brasilia, is set to host four World Cup matches including games involving England, Italy, Portugal and the United States. According to FIFA.com, the stadium, Arena Amazonia, will hold 42,377 fans and feature restaurants and underground parking.
Update 3:40 p.m.: The Associated Press and other news outlets are reporting construction workers have walked off the job at the World Cup stadium of Manaus. An earlier report says the approximately 1,800 workers walked off the job Monday morning in protest of the safety conditions and what they described as pressure to speed up the project.