When Levi's Stadium in Santa Clara, Calif., hosts its first San Francisco 49ers football game later this year, it will represent a substantial upgrade over storied Candlestick Park in many ways. Boasting nearly twice the square footage of the Niners' old home, Levi's Stadium will offer more of just about everything except seats — from elevators and escalators to concessions points of sale and restrooms. It will also offer more parking — 21,000 spaces compared to 18,000.
However, a combination of rail transit, shuttle busing and thousands of spaces leased from a neighboring Great America theme park has allowed stadium designers to avoid construction of any new parking spaces surrounding the $1.2 billion venue, according to Tim Cahill, national design director for architect HNTB. "Could we, in fact, start to utilize existing parking lot facilities within, say, a 15-minute walk, and even start to talk with the 49ers about a shuttle bus system?" says Cahill, recalling the thought process. "There are a lot of office buildings there that are empty on Sunday, and environmentally it's the right thing to do."
And it's being done more often these days. "I've been doing this for more than 30 years, and I think the approach to parking has really changed," Cahill says. "It used to be that we looked at the ratios required. We took the venue capacity, divided by the number of passengers per car and said that's how many spaces we need on the site. But I'm not seeing where we're being asked to add these acres and acres of parking anymore."


SPACE TRAVEL
Baylor University is getting a new stadium this year, too. Unlike the Santa Clara case study, however, new parking has been a necessary design consideration. "Experience is our number-one focus," says Andrew Elmer, landscape architect and planner at Populous, which designed the stadium. "We strive to design extraordinary venues, but a huge part of an event or venue is the parking piece of it. Most of the time, it takes up a significant amount of acreage on any parcel that we're working on."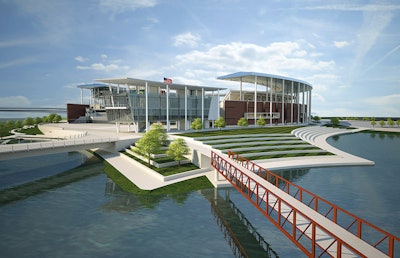 At Baylor, 120 acres are devoted to the stadium and other athletics venues across the Brazos River from campus, with the 45,000-seat football stadium consuming 13 acres of the site. As a general rule of thumb, between three and four people are expected to occupy every car coming to a spectator sports venue. "It would be great if you could say, 'Okay, if we divide 45,000 seats by 3.5 for vehicle occupancy, we're at about 13,000,' " Elmer says. "That said, you may not have the site area to accommodate 13,000 parking spaces, so you have to work with the ownership, and work with the municipalities in which the stadium, ballpark or arena is sited to determine how you're going to get patrons to the venue."
Baylor's stadium will be fed by a new $10 million pedestrian bridge. "Whether it be foot traffic or bicycle or moped, we anticipate that bridge will deliver about 5,600 people from campus on a game day," says Elmer, adding that shuttle ridership will bring the number of patrons arriving by vehicle down further to approximately 37,000, which in turn lowers the parking space requirement to roughly 10,600. "Well, our site won't even fit that in terms of surface parking. And the budget for the project wasn't large enough to accommodate structured parking."
According to Elmer, the typical surface lot parking space (eight or nine feet wide by 18 to 20 feet deep) costs $3,000 to construct (a figure that varies based on market conditions and region of the country). By comparison, a single space in a parking structure costs $30,000. One acre of surface lot can accommodate 100 cars, with at least two points of ingress/egress. "The more ingress and egress points you have, the more efficient your circulation is going to be for arrival and then leaving that parking lot," Elmer says. "That said, you can have too many, and then you don't have a clear order. If you have one surface parking lot, you need at least two points of ingress/egress, as long as they're clearly delineated."
Compensating for Baylor's anticipated onsite parking shortfall will be lots around campus and in downtown Waco, Texas. "You now have to figure out how people who park downtown are going to get to the stadium," Elmer says. "So we've developed a river walk network that runs adjacent to the river and connects to downtown. People can park downtown and walk 15 to 20 minutes along the river, which is a pretty pleasant pedestrian experience. Or they can park on campus and they can walk across the new pedestrian bridge that was part of the project."
MASTERING TRANSIT
Waco doesn't offer a rail system to help further defray vehicular traffic from Baylor's stadium, but another Populous project, the Minnesota Twins' Target Field in Minneapolis, combines an onsite metro station with surface and structured parking to accommodate a seating capacity of just under 40,000. "That site is so small; it's the smallest in Major League Baseball," Elmer says. "But they ran the new light rail station into the park, basically."
Having a light rail system available to fans is one thing; getting them to use it is another. "It's not something that you can predict, but we work with our transportation engineers who study patterns for areas immediately adjacent to the new stadium and how many people are using public transit on a daily basis to get downtown for their jobs or on weekends," Elmer says. "They'll look at precedence."
"It's kind of a guess," adds Cahill. "The owner can certainly utilize firms to do questionnaires and find out from their season-ticket-holder base, etc., just how many people might use light rail. If I'm living in downtown San Francisco and I'm a Niners season-ticket holder, and Santa Clara is 50 minutes away by car, and I'm asked the question — 'Would you take a train to the game?' — that answer now might be a lot different than it was 10 years ago."
Mass transit can become part of the game day experience, according to Cahill. "If I get picked up by a shuttle bus that has personnel from the 49ers on it, I'm already starting to experience gameday activity during that bus ride," he says.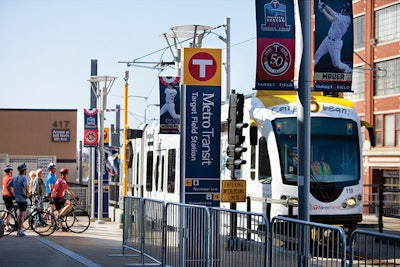 Likewise, pedestrian routes can be designed to enhance event anticipation. HNTB helped design the 8,000-seat Huntington Center in downtown Toledo, Ohio, in 2009, and like Levi's Stadium, no new parking was specified. "There's a city parking garage right next door, and the team negotiated a deal with that parking lot and additional parking lots within a proximity," Cahill says. "People are willing to walk 10 to 15 minutes to just use an existing space. Why build a whole new huge lot? So we didn't build any spaces there, either. Now, what we did start to do is brand the street ways, so as fans are walking to the arena from four or five blocks away, they're already starting to think about banners and street signage and graphics about the team and about the city. That fan experience starts to happen before they get there."

CULTURE CLUBS
Fans of certain professional sports franchises — the Kansas City Chiefs and Royals, who share some but not all parking between their home venues, and the Milwaukee Brewers, to name a few — expect to be able to park their cars and enjoy tailgate parties. In these locales, ticket holders might spend more time in the parking lot than in the venue itself, and in such situations, particularly when fans are cooking food, there is no substitute for surface parking.
"The culture drives the expectation. And that's not to say that you can't redefine that expectation for people, because we're certainly doing that right now with a lot of our venues," Elmer says. "But an example would be Kauffman and Arrowhead stadiums in Kansas City. We're a tailgating culture, and people expect that when they go to Kauffman or Arrowhead, they can get there early so that they can tailgate, and that's part of the overall anticipated experience of going to a Royals or Chiefs game. But then there are other venues where people don't have that expectation, so that's not part of the design process."
Even venues that don't have abundant surface parking adjacent to the stadium, as will be the case in Santa Clara, are carving out special areas for onsite special events, such as the NFL Experience. "You can't take it all way," Cahill concedes. "We're just not doing so much asphalt anymore, and just being more efficient with the utilization of existing parking."
And for those projects that do still require a lot of asphalt, design measures are being taken to lesson the impact. "There are a number of construction methods that we can use to — the word that pops into my head is 'soften' — surface parking," Elmer says. "We have a significant amount of landscaping medians designed into the Baylor surface parking lots, so that you get away from that sea of surface parking."
Whether the experience involves tailgating in advance of a game or arriving right on time, it begins the instant a fan pulls his or her car into a parking space. "We see as a trend in parking that it's not only about having to meet the equation of this amount of spaces for this amount of patrons,' " says Elmer. "It's about designing parking spaces that send the same message of experience and reinforce the brand of the owner and team. It's not just a pragmatic piece, it's an experiential piece of the design equation."
---
TRAFFIC ALERT
Managing the traffic outside the footprint of a large spectator venue is a daunting task. Hence all those neon-vest-wearing attendants spaced every hundred feet or so in the parking lot. Add the threat of vehicular terrorism and it's no wonder parking lots and the stadiums they serve are being designed a bit different than they used to be.
"After 9/11, there's been significant security upgrades to these stadiums," says Andrew Elmer, a landscape architect at Populous. "And a big piece of that is the physical design of the ballpark or the stadium itself. If it has a public right of way that's used for moving auto traffic, they'll have blast-protection walls built into the stadium."
To further protect the venue, cars are typically kept at a safe distance using permanent barricades, "things like bollards that are rated for — you name it — a car going 60 miles an hour loaded with some sort of explosive," Elmer says.
But the venue exterior doesn't have to look like a fortress, Elmer adds. "Stadiums used to be designed where it was just a stadium and then a sea of a hardscape material, and nothing separated them, but now we're doing a better job of incorporating those safety protection measures," he says. "At Arrowhead and Kauffman, we've used two- or three-ton quarried blocks as a site element that separates the vehicle drive lanes from the exterior concourse of the stadium. Aesthetically it's a nice detail, but what that does is reinforces separation between auto traffic, pedestrian traffic and the stadium."
---
This article originally appeared in the February 2014 issue of Athletic Business under the headline, "Casting Lots."