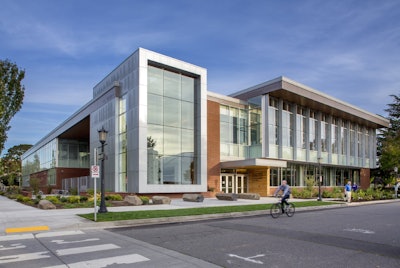 Beauchamp Recreation & Wellness Center Renovation & Addition | University of Portland
Designed to be a "game-changer" for the University of Portland campus community, the Beauchamp Center drew responses such as "stunning," "beautiful," "thoughtful" and "sophisticated" from judges.
The building's generous use of glazing reveals major activity spaces, arranged as fitness neighborhoods to make the center feel more intimate and approachable. Materials selection reflects the existing campus context, while helping establish the building's own identity as the new heart of campus.
Said one judge, "This project is beautifully and consistently detailed on both the exterior and the interior."
View the full photo gallery>>>
---
Judges' Comments:
"The design of this facility lies in efficient planning and internal transparency through thoughtful use of materials. I appreciated the natural approach to local materials." — Jeff Penner
"This is a restrained design, but the composition is stunning."— Tracy Carusi
"Sophisticated form and choice of materials. The facility responds to the pedestrian nature of the adjacent site." — Dave Larson
---
Associate Architect:
HOK | Kansas City, Mo.
Architect of Record:
Soderstrom Architects | Portland, Ore.
Cost: $23.7 million
Square Footage: 73,000
Funded By: Student Fees
Major Facility Components: Gymnasiums, exercise studios, suspended track, climbing wall, outdoor pursuits center, functional training area
---

A big thank you to our seven judges: Katie Barnes, Barker Rinker Seacat Architecture; David Body, David Body Sports Planning Consultant; Tracy Carusi, Collins Cooper Carusui Architects; Greg Houston, Marmon Mok Architecture; Philip Laird, ARC/Architectural Resources Cambridge; Dave Larson, TMP Architecture.; and Jeff Penner, Stantec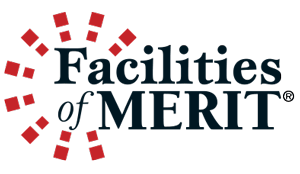 The 2016 Athletic Business® Facilities of Merit® awards were selected by a panel of sports and recreation facility architects during two days of judging in Madison, Wis. The 10 winners are being announced during these two weeks, and profiles of all 10 will appear in the October issue of Athletic Business. The awards will be presented to the facility owners and architects at the Athletic Business Show in Orlando on Friday, Nov. 18.