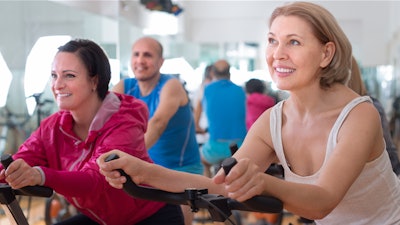 If you've been following my series of posts about factors that are changing the form and function of recreation centers, you'll recall I've covered the importance of holistic planning, the impact of sharing spaces and the drive for self-sufficiency.
Now, it's time to look at a fourth factor: the influence of multiple generations.
Major fundamental differences exist between generations — from racial and ethnic composition to political and ideological orientation.
The recreation industry began warning facility operators some time ago of the changes that would be wrought by the aging of the baby boomers, who were born between 1946 and 1964. They were the first generation to embrace fitness and wellness as a means to live longer, and that's probably why an estimated 50 percent of the U.S. population will be 50 or older this year.
At the other end of the spectrum, we find millennials (typically defined as people born between 1977 and 1994) and members of Generation Z (those born in the mid-to-late 1990s and onward). In 2016, millennials surpassed boomers as the largest living generation in the United States, according to population estimates from the U.S. Census Bureau.
Many may find this surprising, but research suggests that millennials, like boomers before them, embrace fitness and recreation opportunities. In fact, their desire for a healthy lifestyle may exceed that of any other generation in history, which not only is encouraging but also opens the door to all sorts of new facility planning, programming and design strategies.
In the case of millennials, recreation centers face stiff digital competition. They use apps to plan their own workouts, practice yoga, train for marathons and perform other activities that once were a primary role of recreation centers and health clubs. Research suggests that millennials use fitness and health apps twice as much as other age groups.
At the same time, though, even younger people — teenagers and pre-teens — need encouragement to be active like never before, as recreation department officials find themselves on the front lines of the nation's obesity epidemic. This is a critical issue, especially in disadvantaged areas, where obesity rates are highest.
In between the boomers and the millennials are Generation Xers, whose birth dates range from the early 1960s to the early 1980s. Like Millennials, members of this group are likely to place a strong emphasis on living healthful, active lives.
All that said, many communities — and, by extension, their recreation facilities — continue to wrestle with the best way to meet the needs of all these generations.
What's Working?
The most pressing challenges focus on boomers, largely because facility operators don't want members of that group to feel left behind — plus, let's admit it, they often have more time and money to spend.
Less than a decade ago, it seemed as if any investment in senior fitness could be justified, considering boomers' high disposable incomes and ample savings (not to mention their clout at the ballot box). No wonder The Summit in Central Park in Grand Prairie, Texas — a first-of-its-kind "baby boomer center" designed to be a national model in active aging — received multiple industry awards and accolades when it opened in 2010 to specifically accommodate the programming needs of patrons over 50 years old.
That said, the recession of 2008 and 2009 forced many parks and recreation departments to alter the scope of their master plans and adjust their revenue models, which resulted in less emphasis on the senior demographic.
But today, some seven years removed from the Great Recession, it's time for city councils and other decision-making entities to recognize the enormous revenue potential associated with tapping into the needs of older adults. As is often the case, this revenue comes with corresponding capital investment.
An example of one such expense that pays big dividends is the creation of more well-appointed family changing rooms that encourage older adults to bring their grandchildren to the facility for swimming lessons and other activities that require locker space.
Perhaps the most logical way to appeal to all generations is to design a facility that serves the broad constituency typically met by separate facilities in most communities.
Consider the Red Mountain Multigenerational Center in Mesa, Ariz., which offers both massage therapy and birthday parties. There's a Kids Club supervised play area for children ages 6 months to 7 years, a Youth Activity Center for kids ages 8 to 15, a full slate of fitness and wellness classrooms for young adults and parents, family group fitness classes, and space for pickleball and SilverSneakers opportunities for seniors.
Similarly, the Henderson (Nev.) Multigenerational Center — 84,120 square feet of space designed to bring people of all generations together — includes standard rec center components such as an indoor/outdoor aquatics complex, a fitness center and aerobics room, multisport courts and a jogging track, plus a demonstration kitchen, an adult lounge with reading area, a game room and a climbing wall. Three generations of one family can spend the entire day at that facility!
In many cases, these facilities and others anticipated the current desire to design buildings that blend generations. The multigenerational NRH Centre in North Richland Hills, Texas, not only houses a natatorium, gym, fitness spaces and other traditional recreation amenities but also an integrated senior center. And the Mustang (Okla.) Town Center is so named because — as the facility's website explains — "this is a center of activity for every age in our community."
Like the operators of these successful operations, recreation directors and facility planners must determine how best to serve vastly different age groups while also striving for financial self-sufficiency.
Stephen Springs is a senior principal at Brinkley Sargent Wiginton Architects, a Texas-based firm specializing in public architecture with offices in Dallas, Waco and Austin. He is a former parks commissioner and has more than 20 years of experience in public recreation and aquatic design.