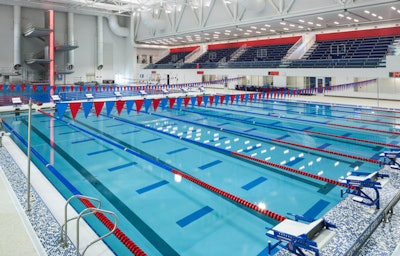 Once upon a time, a so-called green pool sent up a red flag.
Today, with "going green" now commonly recognized as a verb for being environmentally engaged and sustainability savvy, making your pool as green as possible is the goal.
It doesn't matter whether you're building a new aquatics facility, pondering improvements to existing bodies of water or simply looking for ways to be more earth-friendly, here are some ideas to keep going green:
What's wearing out?
As the time to replace a pump or motor nears, shop around for more sustainable options instead of simply purchasing a direct replacement. For example, consider upgrading with a variable frequency drive (VFD), which optimizes power usage by "right-sizing" the power flow to the pump motor. A pump of variable speed uses only the amount of power necessary to maintain the required flow rate. This can save energy usage on any pump, but especially filtration pumps that never turn off.
Other suggestions: Replacement upgrades could also include low-flow plumbing fixtures and high-efficiency LED light fixtures, both above and below the water. LED fixtures have come a long way in recent years, so if you dismissed them in the past due to a particular application or cost, it is worth giving them another look. Older indoor pools, meanwhile, could use a UV system upgrade if you haven't done so already. This not only will help improve air quality but also increases the longevity of HVAC equipment.
Think big
If you're building new or considering a major overhaul, look into regenerative media filtration, which is revolutionizing the industry and gaining market share. This method significantly reduces water usage and waste in the filtration cycle (on the order of 80 percent or more!) and boasts a smaller footprint, thus requiring less floor space. Indoor pool? If you aren't already aware, you'll be stunned to learn how much water goes down the drain from the dehumidification of natatorium air. If local regulations allow you to do so, capture that water and reuse it (typically either as gray water or for irrigation).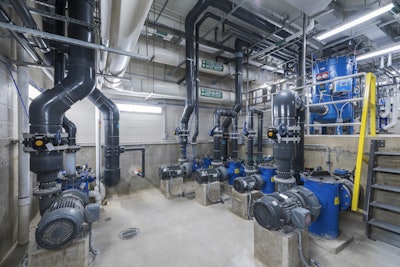 Additionally, keep in mind that although a pool cannot receive LEED certification, buildings that surround outdoor pools or house indoor pools most certainly do qualify for LEED status.
Waste not
Look beyond the obvious. You might be surprised by how much waste is created by not keeping pool components in tip-top shape. Be diligent about routine inspections and maintenance, and repair HVAC, plumbing and irrigation systems quickly — before they suck up further energy that results in increased expenses.
If you don't already have recycling bins in place for patron use, add them. Wherever possible, replace incandescent lamps with energy-efficient ones, weatherstrip and seal doors and windows, and (if the pool is part of a park or larger outdoor facility) compost appropriate waste and incorporate it into the area's landscaping strategy.
Consider your climate
Some sustainability decisions depend on where in the country you're located. For example, in colder climates, diligent use of pool covers that reduce evaporation and maintain pool heat will dramatically save on overall energy usage. Warm and sunny locales, on the other hand, are ideal for solar hot-water pool heating systems and can be a relatively simple upgrade. Both approaches can be relevant in any climate but are particularly meaningful in certain zones.
Granted, these ideas just touch the surface (no pun intended) of ways in which you can make your pool and the surrounding aquatic environment more sustainable and inviting. Consider consulting a design professional for additional advice and ideas for further greening up your facility.
---
Stephen Springs will be speaking at the 2018 AB Show, Nov. 7-10 in New Orleans, La. See his sessions here.