Developing technologies are rapidly increasing the potential for green energy production and resource preservation, creating a higher standard of operational efficiency for organizations that conduct their business in the public eye. Through the implementation of cross-league green sports initiatives, LEED building standards and cutting-edge green technologies, the sports industry has signaled its willingness to make a change for the better — and for the good of the environment.
A higher standard
As LEED (Leadership in Energy and Environmental Design) certification grows more prominent in the industry, many stadiums and other sporting venues are seeking the organization's stamp of approval in their efforts to reduce expenditures, decrease their ecological footprint and garner public support. As new technology and expanded buy-in drive pursuit of sustainability, green building certifications such as LEED have been incrementally moving the bar higher.
The most recent version of LEED (v4), introduced in 2013, implements several updated standards and requires compliance as of fall 2016. According to Julie Hendricks, AIA, LEED fellow and director of Houston-based Kirksey Architecture's EcoServices team, "LEED v4 represents a significant change over the previous version, including brand-new strategies and credits and tougher standards for credits performance. These changes represent a notable challenge to project design teams, who will have a learning curve picking up new skills, and to project owners, who will face increased hard and soft costs for LEED projects."
---
More from AB: SITES Program Promotes Sustainable Landscape Design
---
The recent updates to LEED certification were prompted in part by criticism that the standards were calibrated to push a list of green features, rather than emphasizing integrated strategies for continuous green operations. In 2012, an initiative from the U.S. Green Building Council raised expectations for green operations by requiring building owners to provide energy and water usage data to gauge the effectiveness of current systems and pinpoint areas for improvement. The initiative was another catalyst for the v4 update, and LEED met the challenge by implementing a five-year reapplication process for projects to meet the developing standards.
LEED updates include stricter requirements for analysis of water and energy use as well as long-term environmental impact, runoff management and materials transparency. Hendricks believes that LEED's new credit awarded for the Integrated Process standard helps to address previous criticism of the certification by ensuring that multiple options for water and energy savings are at the very least considered in the early stages of design. "Of course," she adds, "if the credit was actually a prerequisite instead, it would address the issue even better."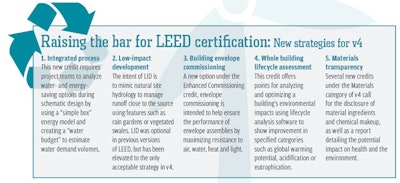 Taking the measure
LEED certification has played a key role in the increasing importance of green building concepts and the improving performance of new buildings. Nowhere is this trend more visible than in professional sports, where two dozen leagues can boast LEED certification, and university athletic programs are following suit.
Venues such as the San Francisco 49ers' Levi's Stadium, the Philadelphia Eagles' Lincoln Financial Field, the Miami Heat's AmericanAirlines Arena, the Minnesota Twins' Target Field and the Atlanta Falcons' Mercedes-Benz Stadium are just a few that have come to the realization that investing in clean energy quickly pays for itself in reduced operating and maintenance costs. In fact, some stadiums are able to generate so much clean energy through the installation of wind turbines and solar panels that they are able to power neighboring buildings when the fields are not in use, resulting in an additional source of revenue.
---
More from AB: Interest in Stadium and Arena Sustainability Continues to Grow
---
The pro-level green push began in the early 2000s with a Natural Resources Defense Council program that sought to collaborate with sports leagues to promote responsible environmental stewardship. Of the main draw to collaborate with sports teams, Allen Hershkowitz, former NRDC senior environmental scientist and founding director of Sport and Sustainability International, says, "In the United States at the time, about 16 percent of Americans followed science and almost 80 percent followed sports. If you want to communicate about environmental issues, using sports to reach people is a great platform."
Through his collaboration with professional sports league commissioners, Hershkowitz was able to implement greening programs within the NHL, NBA, MLB, USTA and MLS. According to Hershkowitz, his humble goal at the time was simply to encourage professional leagues to measure their energy use, water use and waste generation. "You can't enhance something you don't measure," Hershkowitz says. "Probably the single most important thing you could ask anyone to do is measure their energy use, their water use and their waste generation, because that leads to an understanding of how efficient or inefficient they are and helps identify opportunities to enhance efficiency and reduce costs. My experience is that when you ask people to measure, they always find opportunities to become more efficient."
---
More from AB: Four Steps to Link Sponsorships to LEED Certification
---
Hershkowitz has the numbers to back up his theory. As he would tell it, green sports programs have been able to identify tens of millions of dollars' worth of energy savings. Says Hershkowitz, "Getting the sports industry, which is about a $1.3 trillion industry, to measure its carbon and to establish science-based carbon-reductions targets, that's a big deal. And it's all premised on measurement."
Hershkowitz went on to co-found the Green Sports Alliance in 2011 and to launch Sport and Sustainability International in December 2016. "The idea," he says, "is to use sports as a platform to promote sustainability throughout the countries in which sports are played, as well as at the sports venues."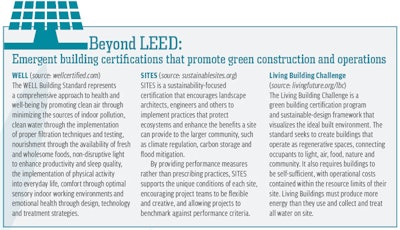 Advancements in science
Among the changes professional sports leagues are implementing at signature stadiums and arenas are ever-improving methods of generating clean energy, such as fixed solar panels and wind turbines, as well as a number of less obtrusive changes in materials and operations. Low-flow fixtures and aerators can reduce a venue's water usage by more than 30 percent, while LED lighting paired with timers and motion sensors has the potential to save more than 14,000 kilowatt-hours of energy per year.
In fact, LED lighting made the top of Hershkowitz's list of most-influential technological advancements, with the potential to cut expenditures by six figures in just a single stadium. "LED lighting is an opportunity to take even the most highly efficient compact fluorescent lighting and reduce the energy associated with that by 50 percent," he says. "Also, you don't have to replace LED lights for years, so the maintenance costs are much lower."
---
More from AB: One on One: Environmentalist Allen Hershkowitz Says Sports Can Aid Climate Change
---
Other newly available technologies with the potential to make a significant impact on operations include air-purification systems, which reduce the energy demand of HVAC systems, as well as decarbonization and continuous recommissioning, which evaluates energy production technologies to assess whether they are performing to the design standard. Again, measurement is key. "Energy usage technologies that used to be evaluated every three to five years are now being evaluated every three to five seconds," Hershkowitz says. "That's not an exaggeration."

All of these new technologies and standards represent not only a new opportunity for sports organizations and facilities to reach higher, boosted by scientific advancement, but they also represent the new standard against which the sports industry will be measured. "Ecological pressures on sports are growing," says Hershkowitz. "They're disrupting participation, they're affecting events, they're raising costs, they're presenting the sports industry with operational and design challenges that impact the viewers."
---
This article originally appeared in the June 2017 issue of Athletic Business with the title "Measuring the sports industry against environmental challenges" Athletic Business is a free magazine for professionals in the athletic, fitness and recreation industry. Click here to subscribe.