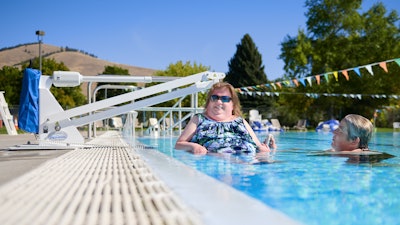 This content was provided by Aqua Creek Products. What is sponsored content?
It's been 32 years since the Americans with Disabilities Act was implemented, and although many great strides have been made in the name of accessibility, there is still much to be done to truly give people with disabilities the equity they deserve. A recent study by the Lakeshore foundation, a non-profit organization that advocates for disabled athletes around the world, found that 81% of people with disabilities don't feel welcome in fitness spaces. Despite initiatives to encourage more adaptive spaces, such as the Degree Deodorant campaign that first cited the Lakeshore study in an attempt to "change the face of the fitness industry" (New York Times, print edition, September 2021), we are far from where we need to be in creating truly inclusive recreation environments.
So what can athletic departments do to be a part of the solution? The answer is situational and often loaded with variables, but we believe it begins with something simple: commitment to inclusion. Because everyone's experience is unique, giving the people with disabilities who use your facilities the chance to voice their own suggestions is a great way to start, and a better way to understand the barriers that each individual might face. More importantly, invest in quality access equipment that people can use with confidence, implement regular maintenance practices to ensure they continue to operate like a well-oiled machine, and train your staff to be helpful and inclusive to people of all abilities. When you have unreliable adaptive equipment that isn't maintained, you encounter those devastating moments that create core memories and discourage people from fitness areas – like when a person with disabilities shows up to use the pool, only to find out the pool lift isn't functional.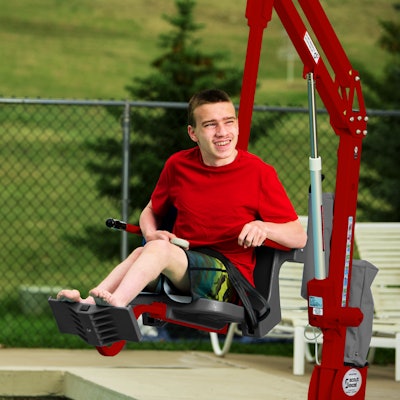 At Aqua Creek Products, our mission is simple: To design and manufacture high-quality equipment that allows people of all abilities to access life-changing recreation activities, and therefore improving their quality of life. This year, we are celebrating 20 years of operation; staying true to our values as a small, family-owned, Montana-born-and-raised business that truly understands the gravity of what we do, and the lives that we change with the equipment we make. Over the years, Aqua Creek has pioneered many developments in the world of pool access beginning with being the first pool lift manufacturer to have its lifts independently verified to meet ADA Regulations. We were on the UL Standards Panel that created the Pool Lifts Safety Standard, and now have the most models that are UL Compliant with this new standard. We are the first and only manufacturer to offer solar-capable pool lifts, as well as the first manufacturer to offer its lifts in custom colors — something that has been hugely popular, especially amongst high schools and universities that are now able to order pool lifts in their own school colors! We are proud to say we now offer the most color options and combinations of any pool lift manufacturer in the world.
One of the many benefits of being a small company jam-packed with industry professionals and in-house engineers: We have the quality control required to be able to offer highly customizable equipment to suit an incredible variety of pools, and décor. Our product line has now expanded to offer even more adaptive equipment, including the ProTone; a total fitness machine designed specifically to give wheelchair users the ability to work out independently without assistance from others.
If making your campus recreation areas more inclusive has been on your mind, or you aren't sure where to begin, give us a call today. We have an incredible team of professionals ready to assist you and help you move forward. Call us toll free 888-687-3552 or visit aquacreek.com to learn more.