Breaking Ground
A new $8.8 million indoor tennis complex is under construction at the University of Nebraska at Kearney. The 62,000-square-foot complex will feature six indoor courts, offices, locker space, restrooms and an elevated mezzanine with spectator seating. The Ernest Grundy Tennis Center will be owned and operated by the city, and UNK will provide operational and maintenance support. The new facility will benefit UNK Lopers, tennis association and parks tennis players. Primarily funded through private contributions and a $1.125 million grant, the complex is expected to be substantially complete in February 2022
Work began recently on a $7.4 million expansion to the team building at Donald R. Dizney Stadium at the University of Florida. The expansion will provide new team spaces for Gator soccer and upgrades to lacrosse areas, including enhancements to locker and training areas for Gator lacrosse, visiting and official team locker rooms, lacrosse equipment storage and conference rooms. The project renovates 2,000 square feet and adds 13,800 gross square feet to the existing facility. Completion is scheduled for March 2022.
---
First Pitch
A new multimillion dollar aquatics training facility is coming to the Air Force's Joint Base San Antonio-Lackland in Texas. The $66.6 million project will build a mission-critical aquatics training facility in support of the Battlefield Airmen Training demands. The 76,000-square-foot building will consist of two enclosed, climate-controlled indoor swimming pools of varying depths geared to meet the training needs for the Air Force's global combat operations. The new facility will accommodate training for more than 3,000 Airmen annually. The Air Force Civil Engineer Center will oversee the project, the United States Army Corps of Engineers will manage the design and construction, and Clark Construction Group and Bryne Construction Service will collaborate on the build.
The City of Miami Beach and the Sabrina Cohen Foundation are creating a state-of-the-art recreation and wellness facility for all abilities. The City of Miami Beach Commission voted in June to provide $2.5 million toward the project, while the SCF is working to raise the remaining $8 million. The 16,000-square-foot, three-story Adaptive Recreation Center will combine physical fitness that advances human ability through the latest in robotics and technology with daily activities that promote wellness in a safe, all-inclusive environment. Kobi Karp Architects designed the center with two stories of program and fitness space, a rooftop deck and an understory with storage space for adaptive beach equipment. Beachside adaptations will allow for wheelchair movement over sand.
---
Grand Openings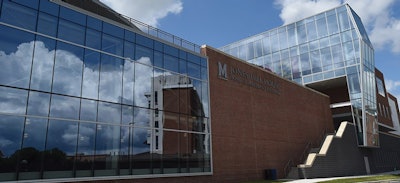 The new home of Terrapin football has opened at the University of Maryland, College Park. The state-of-the-art Jones-Hill House facility in Cole Field House upgrades the student-athlete experience with a 24,000-square-foot strength and conditioning area with 22 custom weight racks that include Perch video technology to capture reps and speed of movement, as well as facial recognition software to track student-athletes. Custom flooring from PLAE includes 40 yards of turf where athletes can work on speed development, acceleration and plyometric activity. Each of 126 lockers in the locker room features a recliner with ottoman, wireless phone charger and vents to cool and dry clothing and equipment. The sports medicine space — triple the size of the previous area — offers hydrotherapy pools and two 45-foot plunge pools.
Eastern Kentucky University in Richmond will debut its three new playing surfaces and two lighting projects in mid-September. Roy Kidd Stadium and Tom Samuels Track received new LED lighting this summer, while Roy Kidd Stadium and Earle Combs Stadium are getting new synthetic turf. The Hanger Field surface at Roy Kidd Stadium will be replaced, while the infield surface will be replaced at Earle Combs Stadium. Vescio's Sports Fields is working on the turf projects. Both lighting projects are being completed by Musco Sports Lighting.
---
This article originally appeared in the September 2021 issue of Athletic Business with the title "Forward Progress." Athletic Business is a free magazine for professionals in the athletic, fitness and recreation industry. Click here to subscribe.