A $17.3 million project at Penn State DuBois in University Park, Pa., will transform the Physical Fitness, Athletics and Wellness -- or PAW -- Center on campus into a state-of-the-art facility with a focus on athletics, health and recreation.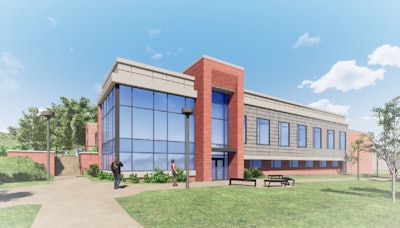 The gymnasium and fitness center will be updated and additional practice space as well as offices for athletics staff also will be housed within the updated building. New heating and air conditioning systems will be installed for improved efficiencies.
The physical therapy assistant and the wildlife technology academic programs will be relocated to the Smeal Building, which will also receive renovations to accommodate the program moves.
Ten percent of the project has been funded by philanthropic giving and an additional 6% of funds will come from a student fee.
Construction on the PAW Center is scheduled to begin in August 2021. The wildlife technology and physical therapy assistant programs are scheduled to move into their new home in January 2022 and completion of the PAW Center is expected at the beginning of the fall 2022 semester. – Penn State News
https://t.co/GO8sR3wDTJ

The renovation and addition to the Physical Fitness, Athletics and Wellness (PAW) Center at Penn State DuBois received final approval from the Penn State Board of Trustees today (July 15). pic.twitter.com/hrGBJuo9Ck

— PennStateDuBois (PennStateDuBois) July 15, 2021
A South Carolina community will expand its recreation complex in a nearly $6 million project. The Anderson Recreation Center will add concessions, restrooms, bleacher seating, walking track greenway and 98,000 square feet of synthetic turf.
Eleven acres of land will also be added. The project will finish out the ARC complex, and it will be the largest rec project since the facility opened in 2006.
The city will also add an open-air pavilion and area for picnic tables. There will also be bleachers with nearly 500 seats.
The City of Anderson said it expects to start construction in mid-August, and it could take at least 10 months to complete.
Officials said special obligation bonds will be used for the project, and the payments will be paid back through hospitality fees from dining in the city. – WSPA-TV
Renovations are well underway at Oral Roberts University's Mabee Center in Tulsa, Okla.
The arena will have a "whole new look" by the start of the coming basketball season. The goal is to transition into a more "modern" facility inside and out, including new blue seats, a new floor, new suites and a new concourse.
The men's basketball team's winning streak during the NCAA Sweet Sixteen tournament prompted donations and support from donors.
The university also introduced two other multimillion dollar projects. The south lobby will be re-purposed into a new sports medicine complex and a new locker room and lounge for the players. The southwest corner of the arena will feature a new athletic center named after Mike Carter, ORU's former athletic director.
The project is estimated to cost around $25 million.
The Mabee Center is scheduled to be completed by November. The other facilities will be completed between October and December of next year. – kjrh.com
Construction is underway on ORU's new Welcome Center, the 1st in a number of new buildings to come, including a new Library, Media-Arts Center, and Athletics Center. pic.twitter.com/3Grvi1jh2P

— OralRobertsU (OralRobertsU) July 21, 2021
Construction on an $8 million park aquatic facility project in Amarillo, Texas, is ending, and after multiple delays, the facility is expected to open this month.
The new Thompson Park Pool will include a zero-edge entry leisure pool with sun-shelf deck; dozens of deck side spray features; a lazy river with vortex pool; two run-out slides; a Party Pavilion; two pool-side basketball hoops and toddler water table and play features.
The new Thompson Park Pool will be one of the largest public pools of its kind in the Texas Panhandle. The original Thompson Park Pool opened its doors in 1931 and was closed due to structural issues in December 2018.
Along the way, the project faced delays related to weather and "unforeseen material issues," the city said. Crews lost 42 construction days, including Saturdays, because of weather.
The Thompson Park aquatic facility is an $8 million, six-acre site constructed by the Wiley Hicks Construction Co.
State and federal grants helped fund the project; $1,264,924 was received from the Federal Transit Administration and $518,225 came from the Texas Department of Transportation. – Amarillo.com, Amarillo.gov