Following a media spotlight on vermin violations, some venues take steps to prevent rodent infestation.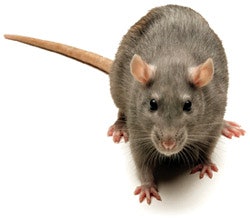 Stadiums can be sloppy places. Most fans know going in that they're likely to encounter condiment-besmirched concourses and wind-blown hot dog wrappers before they even reach their seats. But such detritus, if left unchecked, may invite a variety of vermin - from cockroaches to rats - once the game has ended and the human beings have headed for home.
An Aug. 5 Orange County Register article revealed that Angel Stadium of Anaheim had become particularly hospitable to visitors beyond the average 42,000 bipeds per game that have tripped the turnstiles at Los Angeles Angels games this season. The paper cited 118 vermin violations over the past two-and-a-half years, including 33 "major" violations in which rodent activity was observed by Orange County health inspectors in a "critical area" of 18 stadium food venues. Two have occurred this year, despite recommendations made by the health agency in March 2006. "We just noticed a pattern," says Gwen Driscoll, who authored the Register exposé after poring over restaurant inspection reports.
The true eye-opener came during a site visit, as Register staff reported seeing "nachos, peanuts, melted ice cream and ketchup-stained wrappers" strewn about the stadium seating bowl a full 12 hours after the conclusion of the previous day's game. In the Diamond Club, described on the Angels' web site as "an upscale restaurant," dirty dishes and pots were stacked on tables and in sinks, and lettuce and other food products were found atop "greasy" counters. The resulting national media attention shone a bright light on concessions cleanliness in stadiums nationwide. Bloggers on opposite sides of Chicago argued which park was more conducive to infestation - U.S. Cellular Field or Wrigley - as if the rivalry between their respective human inhabitants wasn't rabid enough.
Back in California, the Riverside Press-Enterprise subsequently uncovered past pest problems at three area minor league parks. According to a 2006 report cited by the paper, inspectors reviewing one concessions stand within the 6,500-seat Lake Elsinore Diamond, home of the Class A Storm, observed rodent droppings on top of and underneath shelving in one concessions stand, where rodents had eaten through several relish packages. The stand was promptly shut down and just as promptly reopened a day later after a pest-control company was summoned and the stand thoroughly cleaned.
If cleanliness is next to godliness, then the Angels took a big step toward vermin-free heaven when the organization announced it was dropping a years-old policy of waiting until 6 a.m. the morning after games to clean Angel Stadium. Within days of the Register article's appearance, the team began ridding the seating bowl of rubbish immediately after games, as is the practice at L.A.'s Dodger Stadium (seven vermin violations during the same reporting period) and San Diego's Petco Park (two violations). The half-dozen games at Angel Stadium immediately following publication drew more fans than the six-game home stand that preceded it.
Whether fans had lost their appetite for ballpark fare is more difficult to quantify. Says Driscoll, "Immediately after the story broke, we had anecdotal reports from readers saying that when they went to games they didn't see lines in front of the concessions stands." But Angels spokesperson Tim Meade tells a different story. "In fact, we went six figures over our target number for concessions the next night," Meade says, though he admits much of the traffic took the form of beer sales.
Healthy attendance and sales figures notwithstanding, Meade says the transition to post-game cleanup has cost the Angels five of its 70-plus union workers, since they couldn't acclimate to the inconsistent work shifts. "When it comes down to public safety or health, we're not going to offer up business reasons as an excuse," he says. "Keeping that workforce filled is part of the challenge, but that's not something that impeded us from doing this. It was a recommendation from the health department. People feel more comfortable now that we've done it, and we're going to continue to do it. We're going for zero violations."
Orange County environmental health director Richard Sanchez says prompt cleanup of the seating bowl is only part of the infestation prevention battle. "As much as possible, try to build rodents out of the food facilities," he says, pointing to concessions stand doors that fit tightly into doorjambs (or feature sweeps that effectively seal the threshold) and solid screens that securely close stand windows. Rodents typically can squeeze through an opening the size of a quarter, Sanchez adds. "If you deny them access to just one of the three things they need - food, water and shelter - they won't come around."