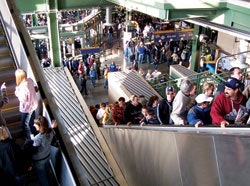 When Shea Stadium debuted 44 years ago, it was the first stadium of its size (five decks, 55,000-plus seats) with an extensive escalator system. Twenty-one escalators were designed to move as many as 56,000 individuals an hour, according to the New York Mets' 1964 yearbook.
That's assuming the escalators are operating. In this, Shea's final season before the Mets move into Citi Field, escalators are turned off in the seventh inning to encourage fans to exit using stadium ramps, according to the New York Daily News. Whether fans are sufficiently discouraged from using the static escalators as de facto staircases is open to debate, especially in the wake of the tragedy that unfolded after a Mets game April 15.
Antonio Narainasami, a 36-year-old HVAC installer from Brooklyn, fell from his perch atop the rail of a motionless mezzanine-level escalator to another escalator approximately four stories below and was pronounced dead at a hospital a half-hour later. Several family members witnessed the fall, including Narainasami's two daughters, ages 14 and 8. His wife, pregnant with their first son, did not attend the game.
The question of why Narainasami, or anyone else, had access to the escalator remained unanswered as of this writing; the Mets declined AB's interview request. Says Dotty Stanlaske, executive director of the National Association of Elevator Safety Authorities (which also serves the escalator industry), "There's no legislation or code that says escalators that are not running cannot be used as stairways, but typically an escalator that is not running is cordoned off."
Would any stadium be designed to funnel thousands of fans down an actual stairway as long as 120 feet (the length of the Shea escalator in question) or as narrow as 22 to 48 inches (the industry's standard range for tread width)? Are functioning escalators a must-have means of fan transport in the first place? AB contacted two leading stadium and arena architecture firms to find out. Both declined comment.
The standard height of an escalator handrail (40 inches) predates the opening of Shea, according to Stanlaske, who contends, "Most accidents on escalators are caused by misuse. When they're maintained and used properly, they're a very safe conveyance."
Narainasami's fall is not the first of its kind in Shea Stadium's history (a fan fell to his death from an escalator railing in 1985), and it's the third for New York (a railing fall claimed a fan at Yankee Stadium in 1999). And stadium escalator accidents have continued to mount. In December, a 60-foot escalator carrying fans down from the upper levels of Giants Stadium in New Jersey suddenly sped up, then stopped, sending fans hurtling toward a mass of buckled metal steps at the bottom. Five individuals were hospitalized. Others reportedly jumped or were thrown by companions to avoid the pileup. Eight individuals have since filed notice that they intend to sue the New Jersey Sports and Exposition Authority over their injuries. A similar incident occurred on a Giants Stadium escalator in 2000, injuring four. At that point, NJSEA officials ordered a safety review of the stadium's 24 escalators and launched a $3.7 million escalator refurbishment project. To this day, escalators are inspected semiannually by the state. The one that malfunctioned in December had passed an August inspection.
Overloading was blamed in both failures. However, an investigation into a July 2003 incident at Coors Field in Denver dismissed that possibility, determining instead that malfunctioning or missing components caused an escalator carrying fans from the stadium's third deck to stop, then speed up. Thirty-five individuals were injured, including one woman who claimed in a lawsuit against the Colorado Rockies, the baseball stadium district and the escalator manufacturer that the accident cost her $723,000 and much of her left leg, which was amputated four inches below the knee. An independent inspection found that the escalator's speed-monitoring control had failed and that a sensor designed to engage the escalator's brakes in the event of a rapid speed increase was missing from the control panel entirely. The escalator was upgraded, and the Rockies announced in 2004 that the two largest escalators at Coors Field would operate only in "up" mode.
In September 2000, a speeding escalator at Pro Player Stadium in Miami sent some 200 fans attending a Dolphins game on a harrowing downward ride, injuring 30 of them. A subsequent court response to a lawsuit held the escalator manufacturer 90 percent liable, and Pro Player Stadium 10 percent liable. Plaintiffs' attorneys argued that the manufacturer had marketed the escalator as capable of holding two individuals on each tread, though its brakes were only designed to hold one person per tread. Moreover, stadium officials had posted signs allowing two riders per tread, without determining whether the escalator could in fact handle the load.
These cases represent only the most conspicuous examples of stadium escalator catastrophe. They fail to account for the severe injuries suffered by individual fans, often children, whose extremities are caught in stadium escalators that are otherwise functioning as designed. The NAESA's Stanlaske is quick to point out that the Elevator Escalator Safety Foundation offers educational materials ranging from videos to coloring books that target youths with tips on proper escalator use. "I know a lot of stadiums have family days," she says. "This might be a perfect fit."
When taken in the context of the many millions of sports fans who ride stadium escalators each year, these incidents may seem isolated. No solid data on escalator safety are currently kept. "Statistics are elusive," wrote Nick Paumgarten in a recent article on elevators published by The New Yorker, "but the claim, routinely advanced by elevator professionals, that elevators are 10 times as safe as escalators seems to arise from 15-year-old numbers showing that, while there are roughly 20 times as many elevators as escalators, there are only a third more elevator accidents."
When the Mets debut Citi Field next spring, they will offer fans entering any of the stadium's main gates the option to ride escalators to their seats. But they will also offer 18 elevators (two at each entrance), 14 more than can be currently found at Shea.