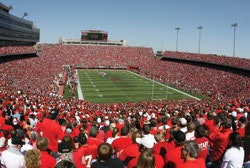 As recently as two years ago, five bucks guaranteed you a seat in Memorial Stadium for the University of Nebraska football team's annual spring game. Not any more.
These days, adults wishing to see the Huskers scrimmage can choose $8 general admission tickets, $10 reserved seating or, subject to availability, $15 club seats. Preteens and teens now pay $4 as opposed to $3, while kids ages 6 and younger still get in free. The Nebraska athletic department cut off advance sales at 65,000 a full 10 days before this year's game in order to guarantee free access to university students and staff, former players and junior-high students willing to take a halftime drug-free pledge. Local brokers reported selling tickets at 10 times their face value. In the end, the April 19 game drew 80,149, a figure UNL sports information director Keith Mann characterized as the largest paid attendance in college football spring game history. (The University of Alabama drew the all-time high of 92,138 to its spring game last season, but fans were admitted free.)
Spring games have become more than a big-stage football practice, a last chance for teammates wearing different colored jerseys to run plays before breaking for the summer. They have evolved into everyone's dress rehearsal for the fall.
"There's a great demand for Husker football," Mann says. "Our fans have really embraced the spring game the past five or six years, and our coaches now recognize the value it brings in terms of recruiting. They've brought a lot of kids in on unofficial recruiting visits just because it is a game-like atmosphere."
On (spring) game day in Lincoln, the outdoor track adjacent to Memorial Stadium becomes the same Husker Pavilion fans find there on fall Saturdays, with live music, kids' games, face painting and balloons. Outside the stadium, independent vendors who normally set up shop come September are now feeding the masses in April.
But along with the family-friendly fan fests featuring student-athlete autograph sessions and multisport skills demonstrations come a few negative reminders of what fall is likely to bring. According to the Centre Daily Times in State College, Pa., 31 people, including nine women, were cited by campus police for urinating in public on the day of Penn State's annual Blue/White game, despite the fact that the university had made available 155 portable toilets - 30 more than last year - at Beaver Stadium, which was filled to nearly three-quarters capacity. Tailgating areas, meanwhile, were left strewn with trash. "Blue/White is becoming more and more like a regular football game," Mark Bodenschatz, PSU's associate athletic director for facilities, told the Times.
"It has become the next game day," says Rocko DeLuca, director of the Buff Club, an athletics fundraising arm of the University of Colorado, where this year's attendance tripled that of past spring games in Boulder. "It's the 13th game of the year." DeLuca took advantage of the increased fan interest by selling 50 club seats for the 2008 schedule during a catered open house.
However, in a final ironic mirroring of the regular season, fans don't even need to leave their own living rooms to experience college football's rite of spring. This year, the Big Ten Network broadcast a three-and-a-half-hour spring football special with live look-ins on scrimmages around the conference. A week earlier, ESPN broadcast the Orange and Blue game from the University of Florida's new Ben Hill Griffin Stadium. "It used to be you divided up into two teams, you knocked the crap out of each other and you went home," ESPN football analyst Lee Corso, whose College GameDay crew was in Gainesville to conduct a two-hour pregame show, told the Palm Beach Post. "It's become show business."