High-tech upgrades to aging spectator facilities are essential to their survival in a competitive marketplace.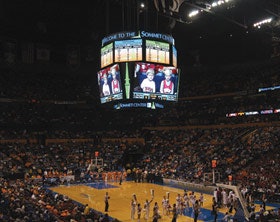 An all-digital center-hung scoreboard system installed last year rejuvenated Nashville's 10-year-old Sommet Center.
At only 10 years old, Nashville's Sommet Center, home of the NHL's Predators and host to numerous concerts and other spectator events, has already undergone a significant facelift. Last year, an eight-sided center-hung scoreboard was replaced by what the operations staff there affectionately refers to as a "megatron." Featuring four widescreen, high-resolution video displays surrounded by numerous ancillary LED display surfaces, the $3.6 million system took 20 days to install and requires a combined 800 amps of power to operate. Its $2.4 million control room rivals those found in most television studios.
Purchasing and installing such a graphic display system isn't done for the sake of ornamentation; it's done to stay competitive in what has essentially become an ongoing race to remain in the state of the art. And since it's not feasible for many athletics facility owners - from high schools to major sports franchises - to completely rebuild or renovate their facility each time a technological innovation infiltrates the marketplace, there are currently a range of technologically advanced a la carte upgrades available to help facilities stay competitive. They also, by the way, enhance the spectator experience, something HOK Sport senior principal Russ Simons believes facility owners should always strive to do.
"You can't control the outcome of a game," says Simons, head of the architecture firm's facility operation, evaluation and analysis group. "But you can control an environment, so that the business client or the family of four leaves the facility and thinks, 'That really was worth the money and time spent.' "
Sommet Center general manager Hugh Lombardi sees the new scoreboard's payoff in the reactions of first-time observers as they enter the vomitories. "They just say, 'Wow!' " he says. "The picture is so clear, it's like you're looking at a huge high-definition TV. You can clearly see the puck."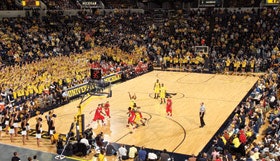 At the University of Michigan, last year's upgrade to Crisler Arena's lighting system - accomplished in three weeks - improved the viewing experience for fans watching televised games.
While a center-hung scoreboard does have a certain "wow" factor, it is just one example of what Simons describes as technology's primary function in spectator facilities - to keep fans intimately connected to the events taking place on the playing surface or stage. "Particularly in the past 10 years or so, there has been a conscious effort to create an environment in stadiums and arenas in which fans are always in touch with the game," says Simons. Physical changes - such as open concourses with sightlines to the action within the bowl - have helped, but such structural reconfigurations are not nearly as affordable as adding and integrating communications systems.
Sound, for example, is a critical means through which fans stay connected to the game or event, and the restructuring of sound systems within existing facilities can be achieved with relative ease. Simons notes an interesting trend-reversal in in-bowl sound renovations. "There was a short period of time in the arena business where we were contemplating putting in more high-end systems, because there was this idea that touring shows might use them," he says. "But that wasn't really well thought out. Touring shows invest a lot of money into creating their look, feel, sound and overall package. So, if you have a good in-house system, they might use it for reinforcement, but I don't think you could put one sound system in that would account for all the needs and desires of all touring talent."
That said, facility operators are also trending away from simply providing the kind of baseline public address system that for decades was the industry norm. "You do want a very sophisticated sound system with distributed sound," says Simons. "You want to make sure you're covering the whole facility with significant presence in all ranges of sound."
Says Jack Wrightson, a principal at Wrightson, Johnson, Haddon & Williams Inc., a design consultancy with expertise in a range of communications systems, "The push is for more musical systems that can convey low-frequency energy, or bass, to the spectators." Wrightson adds that concert-style line arrays of speakers have become popular as additions to existing facilities, despite the fact that they are more expensive than traditional public address setups. "For renovation work, line arrays can typically be installed more quickly, making them an attractive option for very busy venues," he says.
While operators are more likely to devote resources to acoustical upgrades in the bowl area, Simons reminds them that quality sound distribution in ancillary areas of facilities, such as concourses and restrooms, can have just as much impact on the fan experience. "It has happened to everyone - you sit and sit and sit, and as soon as you go to the restroom, you hear the big roar of the crowd, and you missed the whole thing," he says. "You don't want to create a scenario in which fans are hesitant to leave their seats. You should, at a minimum, have audio with announcers keeping fans in touch with the game."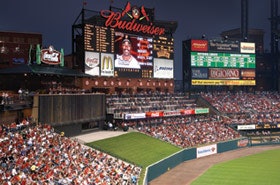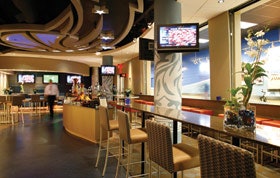 Upgrades to lighting within the bowl area and, specifically, to the field or court, can likewise make fans feel more connected to the action. In particular, many arena operators have devoted resources to lighting upgrades, not only for the sake of players and fans, but also for viewers at home. Prior to the 2007 basketball season, the University of Michigan invested more than a half-million dollars into a new interior lighting system at 42-year-old Crisler Arena. "I don't think anyone realized how bad it was until we had the new lights put in," says Rob Rudemacher, the university's director of facilities and games. "We needed the upgrade - it hadn't been done in 20 years."
The investment also helped the arena meet the NCAA's "best lighting practices" for national-broadcast games. The university borrowed from the lighting expertise of a faculty member to help oversee the installation, which was done in just three weeks.
As with new speakers and lights, televisions are relatively easy to incorporate into an existing spectator facility. And while game-feed televisions aimed at fans in line at concessions stands have been the norm for years, owners are now turning to more sophisticated television systems - both in terms of display quality and programming capability - throughout concourse, club, concessions and other ancillary areas.
The reason is twofold. For starters, larger and higher-resolution images of game action heighten fans' connection to it. But facility owners are also starting to realize that investing in newer high-tech television and monitor systems can create new channels of revenue, such as in-house sales. "We're seeing a lot of TV in the retail experience, and we're now seeing video menu boards where you can have picture-in-picture with the game," says Simons. "If you have great photography showing a plate of nachos in a high-resolution video format, perhaps you can induce fans to buy more, to say, 'Maybe I'll have some nachos with my beer or soda.' "
Wrightson says many facility operators are just now starting to see the revenue possibilities created by Internet-Protocol-based TV systems, which allow for the facility-wide integration of digital messaging. "These can be consolidated into a single distribution-and-control system over the facility's data network to allow the event or facility operator, along with the food-service staff, to control what content at what time is seen on any TV display in the building," he says.
The use of this technology not only creates the potential to boost in-house sales, but it can also provide revenue from sponsors and advertisers. "Operators are excited about the ability to more easily insert content into the game action, both during commercial breaks and as an adjunct to the game broadcast," says Wrightson, adding that particularly savvy operators are finding success in creating for sponsors and advertisers a "moment of exclusivity" in which all displays tied into the network display the same image or images simultaneously.
Considering the potential costs involved in outfitting all corners of a spectator facility with, say, high-definition monitors, and given the fact that many facility owners may be wary of new operational requirements involved with an integrated IP approach, Wrightson says the industry is only beginning to see the opportunities for revenue that the technology can create.
In the meantime, there are some other high-tech upgrades that are reasonably affordable, and regarded as almost essential to meeting fans' needs. "Wi-Fi should be a consideration in any communications or data network improvements," says Wrightson. Even fans in America's oldest major league baseball stadium, Boston's Fenway Park, can now roam the Internet as they roam the hallowed stadium concourses. Enabling Wi-Fi not only meets fans' needs, but it can also better position facility owners for future high-tech developments in communications. "As more fans have Wi-Fi-enabled mobile devices in their pockets and purses, there will be more opportunities to provide in-venue information, specialized content and team intranet access, without the need for the facility to inventory and manage the display devices," says Wrightson. "All new facilities are designing for this service."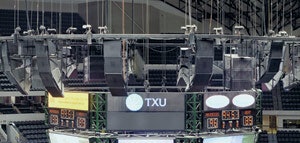 Line arrays of speakers are popular choices for communications renovations because of their high-quality output and relative ease of installation.
It would have been impossible for Fenway's architects to predict in 1911 that the facility, with its quaint manual left-field scoreboard, would one day need any brick-and-mortar accommodations for network systems. That understandable lack of foresight is precisely why technological upgrades to existing facilities can introduce a host of unforeseen renovation costs, or "hidden problems," as Wrightson calls them. Most often, those problems are related to structural integrity - whether, for example, the roof can support a heavier hanging scoreboard - or to providing the cabling for adequate AC power. Facility operators looking to renovate high-tech systems must also consider what kind of structural needs may arise for support spaces such as server rooms. "We find that it is often just as costly to upgrade the infrastructure to accommodate the new displays and electronic systems as it is to upgrade the systems themselves," says Wrightson.
Staffing is also an important consideration in a high-tech upgrade, especially when visual images are being integrated with other systems such as lighting and sound to create a holistic fan experience. And the live element of sports and concerts only multiplies the operational requirements. "In a gameday environment, unlike, say, a convention center or a cinema environment, there is a level of dynamic response to the game action, crowd response, and sponsor and marketing department requests, that is simply impossible to automate," says Wrightson. "It requires a skilled operator to respond to those conditions on the fly."
Possessing the technical skill to operate a scoreboard or other graphical and/or acoustical systems may not even be enough. "Our guests want interspersing video, they want humor, they want creative people at the controls," says Simons. "The organ at a hockey or baseball game is intended to inspire the crowd. We're doing the same thing, but now it's being done with a whole host of sophisticated technological tools."
Though technology continues to make the integration of various high-tech communications systems easier, the final product still requires skill among operators helming the controls. "As facilities upgrade and as fans' expectations are raised, there is a commensurate increase in talent and time required to meet those expectations," Wrightson says.
The fact that sports fans now travel more to facilities outside their local market only heightens their expectations for their home teams' digs. "Experientially, you're not just on an island somewhere where what you have is what you have," says Simons. "Our customers now look at the technology within the bowl and the television distribution technology in the concourses and other spaces as what we talk about when we talk about state-of-the-art."