High-definition video technology is enhancing the sports spectator experience on a grand scale.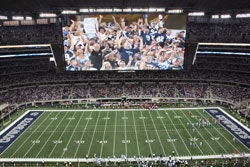 Fans had not experienced football like this - anywhere, ever. When the Dallas Cowboys opened Cowboys Stadium on Sept. 20 in Arlington, Texas, they subjected an NFL regular-season record crowd of 105,121 spectators to a sensory bull rush. For many, the battle for attention was won not by the players toiling on the gridiron, but by the facility's center-hung video display - a Sony-controlled, Mitsubishi-manufactured unit weighing in at 1.2 million pounds and capable of producing high-definition images that stretched from one 25-yard line clear to the other.
"It was so big that I found myself watching the screen as opposed to the action on the field. It was like having a giant television in your living room," says Steve Stubert, who as Sony's director of sales and marketing for systems solutions was seated in a suite near midfield on opening night. "It creates a new experience. You can see things that you've never seen before in a stadium."
Like what? "Well, 70-foot-tall players."
"Cheerleaders, too," chimes in Chris Sullivan, national sales manager for sports venues at Sony. "I thought it was spectacular. The visual image is just breathtaking the first time you see it."
It would be another eight days before the two sideline-facing screens in the Cowboys' four-sided video configuration would be witnessed and certified by Guinness representatives as the world's largest HD displays. At nearly 11,500 square feet, each sideline screen is more than twice the size of the once-Guinness-recognized video board that Mitsubishi installed at the Atlanta Braves' Turner Field in 2005. "Because that board is in center field, chances are you're more than 300 feet away from it," says Todd Stih, Mitsubishi's East Coast regional sales manager. "It's a different experience with the Cowboys. Because it is center-hung, you are so close to it. There's no other installation where you have that big of a board - and at that close of a distance, it's just incredibly impactful."
While both Sony colleagues agree that the scale and positioning of the video hardware in Cowboys Stadium may never be replicated, high-definition technology in more typical sports venue applications is clearly here to stay. Says Sullivan, who formerly managed sales of Sony's once ubiquitous brand of video board, Jumbotron, the last of which was installed in 2001 and replaced two years ago, "It's never going to go back to standard definition."
For professional franchises, colleges and even high schools eyeing HD video as a venue upgrade, it pays to know just what comes with the seven-figure investment. For a board to be considered HD-ready, it must accommodate either 720 or 1,080 horizontal lines of pixels. Common configurations include 720p (the "p" represents progressive video scanning in which all 720 lines are scanned and displayed at once) and 1080i (in which separate sets of 540 "interlaced" lines of scanned video are shown alternately in such rapid succession as to present one solid picture to the naked eye).
A pixel is any light source capable of producing the full spectrum of color. This could mean a single cluster of through-hole red, green and blue light-emitting diode bulbs, or what's called a surface-mount device - one lens, roughly the size of a single LED bulb, that does the light-emitting work of all three. Their smaller size allows surface-mount devices to be spaced much closer together on a board than is possible with clusters of discrete through-hole LEDs (the distance between pixels is referred to as pixel pitch), and thus makes SMDs the only choice for indoor applications with pixel pitches ranging between 3 and 9 millimeters.
A minimum pixel pitch of 10 millimeters is required to accommodate discrete LEDs, whose brightness advantage over SMDs makes them better suited to outdoor applications anyway, particularly at pitches greater than 12 millimeters. Plus, viewing distances between fans and end-zone displays in football stadiums or outfield boards in baseball parks don't require tight pixel pitches to maintain image quality. Minimum viewing distance - the point at which a backpedaling person no longer sees individual dots on the display, but rather a complete and pleasant video image - may be as little as 10 feet from a board with a 3-millimeter pixel pitch, or somewhere between 150 and 300 feet on one with a 20-millimeter pitch.
"Resolution is only what the eye can resolve," Sullivan says. "I could show you boards with pixel pitches of 16 millimeters and 6 millimeters, and if you're standing several hundred feet away you couldn't tell the difference. As you get closer, you're going to start to see the resolution change."
The tightest pixel pitches are often prohibitively expensive, with only a few 3-millimeter installations in the world. "The LED density is just too high on them," says Marty Brown, video products marketing manager for display manufacturer Daktronics. "What you see a lot more of is 4 and 6 millimeter, and while that might not sound like a big difference, cutting your pixel pitch in half increases your LED count four times, because you're increasing density both vertically and horizontally."
The LEDs themselves can impact image quality. Earlier this decade, technology advanced to where each red, green and blue subcomponent within a discrete cluster is controlled independently as opposed to as a single unit. This has made possible the display of smoother curves and diagonal lines. But because discrete LED bulbs protrude from the face of the board, they begin to block each other when viewed at extreme angles - a phenomenon known as shouldering. The result is color shift, which can turn the whites of a video image pink, for example. This can be combated to some degree by staggering the pixel placements line by line across the board. Inevitably, though, viewing becomes prohibitive the farther the viewer is toward the side of the display. The best boards produce a quality image for fans within a radius of roughly 160 degrees, leaving a "blind spot" of only 10 degrees on either side.
Because the appearance of an HD image depends greatly on a board's brightness and contrast capabilities, several additional measures can be taken to enhance both. The board's background surface area between pixel lines can be coated in a black matte finish to help diffuse ambient light. Direct sunlight (and to a lesser extent ambient light) is combated with continuous or segmented louvers over each pixel row. "Louvers in general are necessary in direct sunlight, and that's all about contrast," says Brown. "You want your display face to be as black as possible."
The reason that through-hole LED shells are colored red, green and blue, other than they're easier to identify if spilled on the floor, is that they blend into the background of the video board better and reflect less light than would clear shells, Brown adds. Steps have likewise been taken to improve image quality in high-density indoor SMD installations by replacing the typically white lens covering each three-in-one pixel with a lens that is gray in color. But while this "improves contrast tremendously," according to Stih, extra current is required to ensure brightness levels remain unchanged.
Brightness and contrast are both measured in nits, which is the number of candelas per square meter of display surface. "You still can't beat through-hole LEDs for brightness," Brown says. "Through-hole LEDs are capable of driving a display to 7,000 nits, whereas even the high-bright surface-mount devices will get you to about 5,000 nits." Meanwhile, a desirable contrast ratio - the difference in brightness between a board's white video imagery and its black imagery - is 1,000 nits to one, though Brown cautions that contrast ratio is "the most abused spec in the video industry, whether you're talking about LED displays, plasmas or LCDs."
High-definition television, of course, is where this video revolution began, and the entire progression has been witnessed within certain sports venues. "If as a business person you're going to pay for a luxury suite to entertain clients, you have an expectation that the quality of the image in that suite is going to be similar, at least, to what you have at home - high definition," says Sony's Stubert. "Well, since in-arena or in-stadium production is done for both the scoreboard and for all of the displays within suites and concourses, then the venue has to upgrade its production capability to high definition in order to feed both. So it was actually the televisions that started to drive a lot of the transition."
Unlike the state-of-the-art Cowboys Stadium, which was designed for high-definition signals to drive its nearly 4,000 television screens and its large-scale video boards from the outset, some venues may upgrade their television capabilities first and replace their video boards later. Even in that scenario, video imagery on the big boards will noticeably improve, according to Stubert. "The signal quality that they feed the existing board has now gone up significantly, so the board looks better," he says. "You're sending it more information, and the board probably has the ability to resolve more information."
Perhaps the most important consideration when updating a board to receive HD video is seemingly the simplest - its physical dimensions. Like film, an HD signal carries an aspect ratio of 16 to 9 (standard video is 4 to 3), meaning if the board's dimensions aren't proportional to that wider format, the video will have to be reformatted to fit the screen. "Especially in football, you rarely see a 16-by-9 screen," says Paul Kalil, a 30-year veteran of the in-game entertainment industry whose company, Big Screen Network Productions, has produced video shows for some of the highest-profile sporting events in the world. "They may be 720 or 1080 in quality, but they've gone to a screen that's 50 feet wide by 20 feet high. So when you're getting the camera shots, you either have to conform to that and sort of pan and scan like the movies do when they put them on TV, or you have to segment your screen and put sponsors on one side and video on the other."
An HD control room can cost as much as the video boards themselves - millions of dollars worth of switchers, routers, tape decks and cameras - and yet the irregularly-sized boards may dictate that masking tape be applied to camera viewfinders so that their operators know exactly how to frame a shot for translation to the big screen.
Some hardware sizing decisions hinge on the amount of space vacated by the previous board. "Daktronics at times is as much a construction company as we are an LED display maker," says Brown. "We have teams of project managers and civil, mechanical and electrical engineers figuring out how to tie all this equipment into existing infrastructure. The client is going to say, 'We have this much structure, how do you propose we do this?'"
An upgrade to HD depends first and foremost on whether the space offers adequate height to accommodate either 720 or 1,080 pixel lines at the desired pitch. Width is less regimented, with some boards measuring twice as wide as the ratio dictates in those rare facilities where space allows. "You can have two signals, side by side, full HD," Sullivan says.
Dimensional concerns notwithstanding, today's large-scale HD technology - available only for the past eight years - has liberated the creativity of people like Kalil, who has been producing in-game entertainment since Dodger Stadium debuted the first full-color scoreboard in 1980. "Before, you had to make your fonts a certain size, you had to pick your colors a little bit more carefully - a blue next to red maybe doesn't read as well because of the resolution of those screens," says Kalil, who will produce the 2010 Vancouver Olympics, the first Games to be staged using only high-definition digital imagery. "Nowadays, it's like sitting in your living room watching your plasma screen. The clarity is amazing, and you're able to cheat down a little bit on font sizes and do a lot more with the colors and depths of graphics because of how they translate to these high-def screens."
Cowboys Stadium presents Kalil, whose firm is slated to work Super Bowl XLV there in 2011, with some unique challenges. Having not yet experienced the center-hung boards firsthand, he anticipates a potential need to pull back from tight camera shots of players' faces and scale down otherwise large, complex titles and explosive graphics. "What that does is it allows you to take in more of the experience of the picture," he says. "Some of the fans are so close to that screen that they're not going to get a full sense of everything that's going on, so we may have to back down a little bit to make it appealing to everybody, whether they're close or far. It's not unlike sitting in the first couple of rows in a movie theater. Nobody really likes to be that close, because it can feel overwhelming."
Feeling somewhat overwhelmed by the Cowboys sideline screen on opening night, Stubert abandoned his midfield suite for one farther down toward an end zone. "Actually, I thought it was a much better experience," he says, "because then I could see both the action on the field and take in the screen at the same time."
Even if the Cowboys Stadium video model is never replicated, it should serve as exhibit A for what is possible with large-scale HD technology for the foreseeable future. Exhibit B, another Mitsubishi installation, can be found at the new Yankee Stadium, where the video board packs 8,601,600 LED lamps onto a 5,925-square-foot screen, compared to the 486,000 lamps in the 816-square-foot board that served the old stadium. "It's much denser, much more tightly packed with LEDs and can actually produce much brighter, much higher-resolution images," Stubert says. "The new LED boards represent generations of tremendous improvement over previous ones."
In fact, obsolescence represents the biggest threat to any investment in high-end, high-definition video technology. Industry insiders predict more widespread use of outdoor SMDs; expanded use of HD to include more scorer's tables, ribbon boards and even floor-mounted boards; and a deeper exploration of three-dimensional effects. "The technology will become obsolete long before the LEDs ever fail," says Mitsubishi's Stih. "We typically tell people that you're looking at a 10- to 12-year life of the product. That's when you should start looking at replacing it, because there will be other technologies and resolutions and image qualities - all these things that will change - and those will be the reasons to invest in a new board."