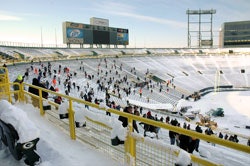 As a mid-December storm blanketed much of the East Coast, snow-removal crews scrambled into action. Nowhere was the action more frenetic than in NFL stadiums where games were to be played within days. The Baltimore Ravens and Philadelphia Eagles both delayed their Dec. 20 kickoffs by three hours to clear more time for snow clearing, and Washington might have done the same if the Redskins hadn't been scheduled to play on Monday night.
As it was, some 1,200 shovelers were dispatched to Landover, Md., to rid FedExField of an estimated 12,500 tons of snow - the most removed from a Redskins stadium in franchise history. Thirty-two miles to the northeast, 1,754 workers, including 1,550 assigned to shovel duty, had been called on to ready Baltimore's M&T Stadium for a (late) Sunday meeting with Chicago, eliciting a game-day thank-you from the Ravens, who spent nearly half a million dollars on the effort.
Who exactly earned the Ravens' gratitude? Baltimore-area temporary employment and community service agencies and their charges mostly, but also 250 prisoners borrowed from the Maryland Department of Corrections.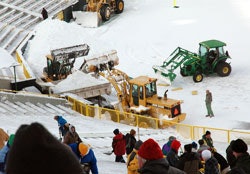 At least in the latter case, the team knew exactly what it was getting. Not so for the New England Patriots less than three weeks later. On Jan. 6, four days out from the team's playoff date with Baltimore, 60 Guatemalan workers supplied by a Providence, R.I., placement firm traveled the 25 miles to Foxboro, Mass., to assist with snow removal at Gillette Stadium, only to be greeted by federal immigration agents targeting specific fugitives from deportation. According to The Providence Journal, nine individuals were taken into custody, while the rest were told to appear at future immigration proceedings and cleared to enter the stadium.
The public relations blow to the Patriots might have been less severe had all 60 temps been busted. Journal writer Karen Lee Ziner painted a picture of individuals ill-prepared for the elements at Gillette or the task at hand, resulting in frozen sneakers, ice-encrusted socks and pants soaked to the knees on some individuals. A 14-year-old boy toiled among the workers, as did a pregnant woman. One had picked up trash at Gillette in the past, but had never shoveled snow in her life. She didn't even own a winter coat.
Workers say they were paid a subminimum-wage $5 to $7 an hour (while being charged up to $7 a day for transportation) by the firm, and offered hot chocolate and a hot dog as lunch by the Patriots, but breaks were short and water scarce. A supervisor wearing a Gillette jacket discouraged talking, one worker relayed to the Journal. (Back in Providence, workers seeking legal and humanitarian aid also shared their experiences with community groups and the Guatemalan Consulate. According to one attorney, those with deportable offenses had agreed to leave the country.)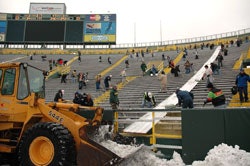 Within days, the Patriots severed its year-old ties with the agency in question, the ironically named Legal Pro-Temps, based south of Boston and run by a former employee of the temp agency with which the team had previously partnered for trash and snow removal. The Legal Pro-Temps office was subsequently vacated, the Journal reported.
A team spokesperson told the paper that if the workers were undocumented, ill-equipped or exploited, it was the agency's responsibility. He added that the Patriots organization is considering safeguards to avoid such situations in the future.
Do temp agencies even need to be the go-to source for snow removal? Not in Green Bay, Wis., where all it takes is online, newspaper and radio notices to bring more than enough labor from the counties surrounding Lambeau Field - and even the occasional visitor from out of state. Dozens of volunteers are turned away virtually every time the team asks for help (five separate calls to action were made as recently as the 2008 season). Some hang around just in case they're needed in relief. All the Packers require in exchange for their promise of $8 an hour in cash is that workers are at least 15 and, if de-icing is involved, that they can lift 40-pound bags. Four hundred plastic shovels are distributed and separate teams scoop snow onto two aluminum chutes that stretch from row 60 to field level, where it is loaded into dump trucks and piled in the parking lot.
Rarely is it more than a one-day process - an exception coming late last December when a 14-inch snowfall required extra cleanup the following morning. "We've got it down to a science," says team spokesperson Aaron Popkey, adding that snow removal is a line item on the stadium operations budget and that volunteers are considered independent contractors who essentially shovel at their own risk. "Some are fans who simply want to be able to tell their friends and family, 'Hey, I shoveled out Lambeau Field.'"