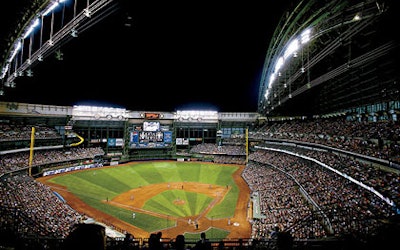 As we close one year and open a new one, a few thoughts on retractable roofs.
In June, the first Wimbledon tennis match was played indoors, thanks to a retractable roof installed over centre court at the All England Lawn Tennis & Croquet Club. Not only does the structure repel rain, it reflects light - allowing matches to be completed after dark for the first time in the 87-year history of the stadium. Cowboys Stadium, the Jerry Jones tribute to largesse that debuted in August, features something reminiscent of the curious hole in the roof of old Texas Stadium, except the gap in the new ceiling - 292 feet above the playing surface - can be sealed shut.
All things considered, it's been a pretty decent decade for retractable roofs, with convertible stadiums coming online in Milwaukee (2003), Phoenix (2006) and Indianapolis (2008). Fans in Houston can sit comfortably indoors (or out) at both Minute Made Park (2000) and Reliant Stadium (2003).
Wikipedia counts 36 operational or proposed retractable-roofed stadiums worldwide, and the list is destined to expand. In October, the British Columbia government announced a deal had been struck to replace the air-supported dome on BC Place Stadium with a $458 million (Canadian) retractable roof.
But teams still struggle to make an open-and-shut case for such technology. In Minneapolis, the Twins and Golden Gophers have opted to step out of the Metrodome's dark ages and into open-air stadiums, while the Vikings vie for their own new playing venue - preferably one with a retractable roof. (Barring that, the team may find its new home in balmy Los Angeles.) TCF Bank Stadium debuted this fall on the University of Minnesota campus to rave reviews, and the Twins will open their 2010 Target Field schedule April 12 (average Minneapolis temperature: 46 degrees Fahrenheit) - to the delight of purists who appreciate panoramic views and a perceived cold-weather home-field advantage, but much to the chagrin of folks who travel from as far away as the Dakotas to see their favorite team play in person.
My home team plays Major League Baseball a mere 40-minute drive away, under a retractable roof. But my first impressions of Miller Park during that inaugural 2003 season were not good. Sitting behind the visitors' dugout, I felt like I was watching baseball inside a coffee can - and that was with the lid open. The Brewers took the 10 minutes necessary that night (and after every home game that year) to move the five fan-shaped panels into closed position simply to show the process off.
The novelty has since worn thin, the roof has suffered countless glitches (I witnessed leaking as recently as 2008), and it is closed for far too many games (even ones played on otherwise non-threatening, 60-plus-degree days in Milwaukee). That said, I've come full circle in terms of the retractable roof's practicality. Tailgating in a steady mist is a scenario made much easier to swallow knowing full well that it will be "game on" regardless of outside conditions.
I've also tailgated outside Lambeau Field (two hours to the north), had beers freeze before I could finish the bottle, and then sat on a metal plank in Green Bay temperatures that never exceeded minus-3. Ideal? No. Would I have preferred to watch the Packers play for (and eventually lose) the 2007 NFC Championship in enclosed 70-degree comfort? Not on your sorry lives, Vikings fans.