A week from today our football-crazed nation will be buzzing over the drama that unfolded on the field during the Super Bowl. Will the weather play a significant factor? Will Peyton Manning be able to thwart the NFL's best defense? We'll soon find out. However, today the Super Bowl drama has nothing to do with the teams on the field, but rather the playing field itself.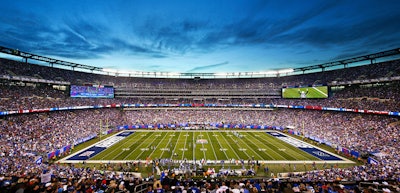 According to the Associated Press, St. Louis-based Taylor Turf Installation Inc. is suing MetLife Stadium's operators and the company that hired Taylor Turf for $292,000. The installation company claims it was never paid after installing the Super Bowl venue's playing surface last summer.

The lawsuit, filed in New Jersey's Bergen County Superior Court names New Meadowlands Stadium Co. LLC and Dalton, Ga.-based Turf Industry Inc., doing business as UBU Sports.

From the AP:

A MetLIfe Stadium spokeswoman said in an emailed statement that Taylor Turf's beef shouldn't be with the venue's operators, insisting New Meadowlands Stadium Co. LLC merely tapped the Georgia company to head the turf-installation project and has "no direct knowledge of the parties' contractual issues."

"However, we have been in contact with UBU and have indicated that we expect them to resolve this matter quickly and amicably." the stadium's spokeswoman said.

Winning the bid to install the turf for the 82,500-seat MetLife Stadium was huge coup for Taylor Turf.

"We were beaming with pride, and we were excited about the opportunity," company president Kelly Taylor told the AP. His company even expedited work at MetLife, completing the $417,000 job in just 11 days, about half the time an install usually takes. Taylor Turf was paid $125,000 early on and then told more compensation would follow. However, that payment never came.

"All along, [chief contractor UBU Sports] kept saying, 'The payment's coming, but keep on working,'" Taylor told the AP. "There should have been red flags from the beginning. At some point we should have stopped," stressing that "it doesn't matter how big or important this job is, we've got to get paid. But we didn't stop."

Taylor concluded that the incessant demand by the project's overseers for paperwork "was just a stall tactic."

It's not clear whether a court hearing on the lawsuit has been scheduled.

MetLife Stadium is home to the NFL's New York Jets and New York Giants. The $998 million stadium opened in 2010 and was a 2011 Athletic Business Facilities of Merit winner.
Log in to view the full article