Texas A&M is going all out with its makeover of Kyle Field. Already a revered stadium in college football with a capacity of 82,589, Texas A&M is spending $450 million to expand and improve the venue.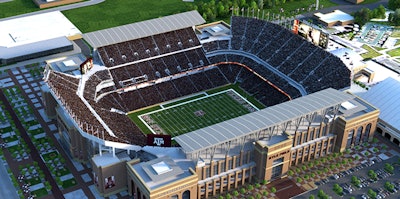 Never mind the fact that $450 million is more than several entirely new college stadiums cost (such as Minnesota's TCF Bank Stadium, which opened in 2009, or Baylor's McLane Stadium, which opens this year) the Aggies want to have the "Greatest venue in the history of college football," according to their website. And part of accomplishing that goal will be including a 47-by-163-foot video board, the largest in college athletics. For comparison, each side of the video board in Dallas' AT&T Stadium is 72-by-160-feet.

According to the Houston Chronicle, Texas A&M chancellor John Sharp announced the addition of the video board on Tuesday. The 7,661-square-foot board will be about twice the size of A&M's previous video board.

"It's another intimidating feature of the redevelopment of Kyle Field," sharp told the Chronicle.

Other intimidating features will include the addition of about 20,000 seats, boosting capacity to 102,500. That will make Kyle Field the largest stadium in Texas and in the Southeastern Conference. Additionally, Populous, the architectural firm designing the renovation, will add two canopies on the stadium's east and west sides for the purpose of amplifying crowd noise.

"These canopies will not only offer shade to patrons, but also reflect the crowd noise back down into the stands and onto the field," said Craig Kaufman, a senior associate with Populous.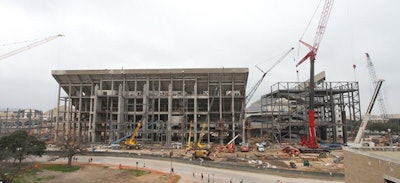 The stadium renovation began immediately following A&M's final home game in November 2013 and is "on schedule" to be finished in time for the 2014 home opener. Capacity in 2014 will be 106,511. New suites added for the 2015 season will drop the final number to 102,500. As for filling all those seats? Texas A&M has already sold out of seating options for the 2015 season.