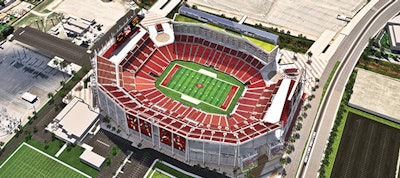 Once upon a time, a professional football stadium was a place to take in a sporting event. Not anymore. Today's stadiums must be a multi-purpose entertainment palaces complete with luxury suites, club seats, loge boxes, VIP levels and more food and beverage options than a Manhattan city block. A stadium must be, as the Minnesota Vikings' website says, "an epicenter of excitement, opportunity and pride."
And on top of all that, the stadium must be energy efficient. As The Wall Street Journal outlined in this article, teams are going to greater lengths than ever to make their stadiums "green."

Take for example Levi's Stadium, the new home of the San Francisco 49ers, set to open later this year: It will be the first stadium in the NFL with a "living roof," a forest of plants and flowers set on top of the stadium's eight-story luxury suite tower. The green roof will reduce the building's energy use and provide natural insulation. Then there's the solar-powered pedestrian bridges outside the stadium that will not only connect fans to the facility, but also offer them a place to charge their electric vehicles.

As The Wall Street Journal explains, the 49ers are among the teams "who are at the vanguard of a growing trend: NFL clubs, world famous for their hard knocks on the gridiron, are trying to show a gentler side through emerging green programs to reduce energy emissions. They are using solar panels, wind turbines, electric charging stations and other low-carbon alternatives in America's most watched sport."

According to the article, 10 of the NFL's 32 teams are "embarking on formal green-energy programs, led by the New York Jets and Giants, Philadelphia Eagles, New England Patriots and the Seattle Seahawks." The 49ers will join that group with the opening of Levi's Stadium.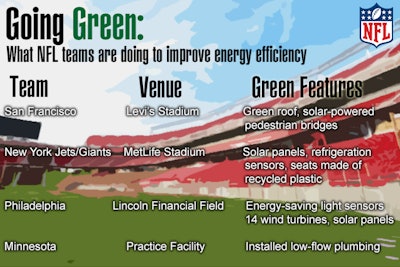 Among the first to green, and we're not just talking team colors, were the Eagles. The franchise installed energy-saving timers and sensors for lighting and cooling equipment to Lincoln Financial Field which opened in 2003. Since then, the Eagles installed 11,000 solar panels around the stadium and added 14 wind turbines in 2012.

But before we celebrate the NFL's efforts, critics point out the measures to go green are overdue. The WSJ article goes as far as to say the NFL has been considered a "laggard in green measures" compared to other sporting leagues around the world.

Daniel Reiche, an assistant professor of comparative politics at American University of Beirut is quoted in the story saying the NFL "is doing nothing" to get clubs to change apart from disseminating information.

For a full look at the NFL's successes and struggles to go green, including their partnerships with other U.S. professional sports leagues, check out the full article.