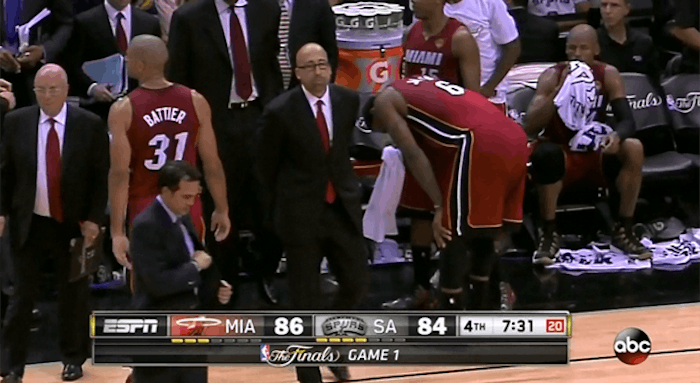 The San Antonio Spurs handled the heat, then went on to handle the Heat in Game 1 of the NBA Finals Thursday night.
While temperatures outdoors sat in the 80s, temps inside San Antonio's AT&T Center were even hotter after an air-conditioning failure turned the arena into a sauna. ABC sideline reporter Doris Burke said the on-court temperature in the second half reached as high as 90 degrees.
With the AC malfunctioning, it's over 90 degrees inside the AT&T Center right now pic.twitter.com/jYTWQbwFA6

— Beyond The Buzzer (@BeyondTheBuzzer) June 6, 2014
"It was tough on both teams," Spurs coach Gregg Popovich said after the game. "They were pretty dead. We tried to get guys in and out... It was really hot out there."
In what was a very entertaining basketball game, the heat — not the team from Miami — became the major storyline. Miami's LeBron James cramped up late in the fourth quarter and missed the game's finishing stretch as the Spurs pulled away. Earlier in the game, cameras caught James joking, "They're trying to smoke us out of there."
The culprit of the temperature problem was a power failure, arena officials said. "An electrical failure for the power that runs the AC system in the AT&T Center has occurred," Spurs Sports and Entertainment said in a statement distributed in the second half. "We are continuing to work on resolving the problem. We apologize for any inconvenience."
Many fans removed the black t-shirts handed out in the arena in an effort to cool down and most were seen fanning themselves for the duration of the game. Meanwhile, the stadium blared several songs with "hot" in the lyrics, seeming to poke fun at the situation.
By the end of the game, the fans were chanting "Beat the Heat!" which had taken on new meaning.
12:00 p.m. Update:
Spurs now say AC is now working at AT&T Center: "Game 2 of the NBA Finals on Sunday will go on as scheduled."

— darren rovell (@darrenrovell) June 6, 2014