Improving the fan experience.
Such has been the motive of nearly every major decision in sports venues as of late — premium seating and club areas, improved Wi-Fi connectivity, increasingly eye-catching LED video displays — it's all about creating an atmosphere that tops the comfort and convenience of watching a game at home in a way that no fan can resist.
With that focus in mind, many venue operators are turning their attention to concessions operations. Over the past few years, concessions offerings have evolved to be more tantalizing to fans, from gourmet food items to signature concoctions that are a memorable gameday experience in and of themselves. Now, the problem is getting those food items into consumers' hands in the most efficient way possible.
Just as venues are battling to get fans out of their seats at home, they are also struggling to get them out of their seats at the game. "Fans have spent all this money and time getting to the game, getting into the game, getting to their seats," says Eric Hill, cofounder and COO of SportSnax, an Ocean Springs, Miss.-based mobile concessions software provider. "The last thing they want to do is get up and go stand in line for food."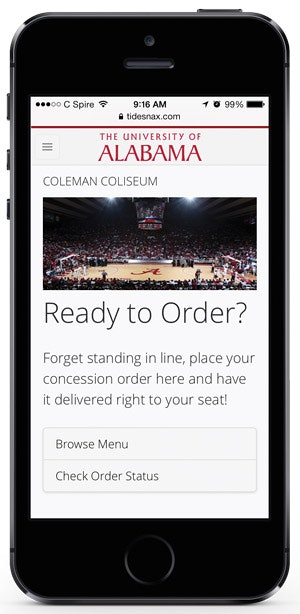 A LINE WITHOUT A LINE
SportSnax is just one of a growing list of mobile software services capitalizing not just on the demand to improve convenience, but to improve the entire concessions operation. The company launched a pilot program during the 2013 baseball season at Mississippi State University's Dudy Noble Field, expanding last fall to serve Humphrey Coliseum and landing contracts with several venues at the University of Alabama. Using the app — branded as DawgSnax for MSU venues and TideSnax at Alabama — fans peruse a menu and select the items they want, enter their credit card information and a seat number, then sit back and enjoy the game while concessions workers prepare and deliver their food.
RELATED: Buccaneers to Pour $7M into Concessions Infrastructure
"Venues are essentially opening another line without opening another line," says Hill. "When times are slow or staff is underutilized, this gives them an option to use that staff with a line that doesn't exist. And when lines are very long, that's when the software gets most used."
The format is one of the many iterations of mobile ordering available. When Stanford University's athletic department began improving technology at its stadium a few years ago, administrators looked at several options before selecting Austin, Tex.-based Bypass Mobile. "We went and looked at one of their stadiums in Texas and were so impressed with the way it worked," says deputy director of athletics Ray Purpur. "You download the app, pick what you want and order it. You get a text back when the order is ready, and then you go up to the concessions stand through a special line and pick up your food."
Though some versions still require fans to leave their seats to pick up an order, they spend no time waiting in line, and an exclusive pickup lane is one way to make fans feel like they're getting special treatment. Concessions operators can also push out exclusive combos, discounts or other promotions to mobile app users.
Alabama used the app to create a unique solution to a problem at one of the school's venues. "Their baseball field has an outfield area with no seats, no concessions, just a big berm that people could bring their chairs and watch the game," explains Hill. "People had been complaining that there was no food service out there. They experimented with different things, like bringing food carts out. One of the services they now offer is delivery to that area from the app. Anything from the full main menu can be ordered and delivered to a table set up in that area. That was really successful. They didn't have to invest in any infrastructure, except the folding table."
CHARGING AHEAD
Whether it's their intention or not, most venue operators find that investing in mobile concessions technology provides a natural progression toward other improvements. For instance, with all the buzz over high-tech stadiums as of late, it comes as somewhat of a shock to learn that many concessions venues don't accept credit or debit cards. Stanford's new stadium opened in 2006, but it was five years before concessions stands were able to process credit cards. "Two years ago it was cash-only," says Purpur. "It's trickier than people think — there are security issues, and ensuring you have enough Wi-Fi capability."
RELATED: Wi-Fi Service Now a Must-Have Stadium Amenity
But once a venue goes through the steps of accepting credit card transactions for mobile orders, installing the same functionality in their concessions stands is almost a given. There is some work involved, and some risk, but the payout is worth it, says Bypass Mobile cofounder and president Brandon Lloyd. "If we walk into a venue that's operating all-cash concessions, the first thing we're going to do is make sure they can accept credit cards in the greatest number of locations. That's going to immediately increase their sales."
Launched in 2010, Bypass has since evolved into a comprehensive commerce and point-of-sale software and service provider for sports and entertainment venues, currently serving more than 85 venues across the country. Says Lloyd, "Think of fan self-service ordering as one of 40 to 50 features of the system as a whole — from food and beverage concessions point of sale to retail to parking to in-seat service to hawkers walking up and down the aisles."
That system starts to grow when a venue's menu and inventory are digitized, opening the door to track any number of statistics. SportSnax allows operators to track things like most-popular products, average order size, peak order times and average wait time.
"In the student section, we know they're going to buy certain things," says Purpur of Stanford's experiences. "We can take things off the menu if they don't sell, or add things that only sell in certain spots, like offering coffee on the shadier side of the stadium where it's cooler."
As part of the improvements at Stanford, digital menu boards were installed for the concessions stands, giving concessions operators even more control over their offerings. "We can adjust prices, change or highlight menu items," says Purpur. "Say toward the end of the game we have a lot of hot dogs left, we could lower the price. Or if we run out of something, we can take it off the menu board right away."
Moreover, the same technology that gives operators more control over the items on the menu has the potential to prevent surpluses and shortages from happening in the first place. "What we're doing now that is most game-changing is we're taking all of the data that happens inside of a concessions business and filtering it to find the most-relevant info for the operators," says Lloyd. "Real-time inventory alerts project when they'll run out an item so they can get that info to the warehouse and move products. This is happening across all industries — using data in an intelligent fashion."
The real-time tracking of concessions sales also allows concessions operators to spot problems and deal with them quickly, before the impact on revenue becomes significant. "Let's say the game has started," says Lloyd. "It's sold out. You have two of your POS tablets not producing any revenue. Why is that? There's so much going on during the game that it's very easy to get distracted and miss those things otherwise."
MENU SELECTIONS
So what does it take to get started on a concessions operations upgrade? It depends on how much you want to bite off. "Some organizations might be focused exclusively on in-seat service," says Lloyd. " 'How do I take a server into the bowl where the guests are sitting, take an order and efficiently run that food back to that person?' Or they'll come to us and say, 'For everywhere we sell food and beverage, we need you to recommend a solution.' Then there are those venues even further down the line that are looking to use the data that their system already produces to improve the guest experience."
Though a full concessions technology overhaul is a bit more complicated, adding a mobile ordering service or improving point-of-sale technology is not necessarily time-consuming or cost-intensive. While a major focus of many larger sports venues is to upgrade Wi-Fi and cellular networks to support thousands of smartphone users simultaneously, such an investment is not a necessary prerequisite for improving concessions technology, says Lloyd. "Connectivity in these environments matters, but there's plenty of connectivity in these venues to accomplish core commerce objectives."
As for hardware costs, they will vary depending on what a venue wants to accomplish. "It can be as little as a couple thousand dollars if all you want to do is be able to accept credit cards," says Lloyd.
To use an app like SportSnax, a concessions stand only needs to have a PC or Internet-connected device to receive orders. All credit card transactions occur offsite, or "in the cloud," depositing directly into the concessions operator's existing account. "When we struck the deal with Alabama, we went onsite, pitched in December and had the pilot program running by January," says Hill. "The bottleneck tends to be getting the right people involved."
The "right people" depend on the venue. MSU and Alabama contract out their concessions operations to Aramark and Centerplate, respectively, while Stanford's concessions are operated by its campus dining services. "The arrangement is between our company, the concessions manager if there is one, the athletic department, and in some cases, a marketing group," says Hill. "The buy-in from all parties is essential."
REFINED TASTES
While there is no doubt that investing in improved concessions technology will be a boon for any venue, don't expect such technology to result in an instant payoff. "Think of mobile commerce as being two-pronged," explains Lloyd. "The first part is someone typically behind the counter taking a guest order moving out and becoming mobile — the hawker carrying a handheld that can ring up a sale using a credit card. That's growing at an incredibly fast rate. It's being driven by consumers who want to use their card to make that purchase but don't want to get up to do so.
"The other piece of the business is fan self-service," he continues. "That could be a kiosk, or a fan using a mobile device. That's growing at a slower rate, but I think that as we see ticketing moving to mobile, and you can use the same credit card to purchase a ticket in that transaction, you'll see an acceleration."
Hill says fan adoption of the SportSnax apps is about what they expect of any new technology — starting small before taking off. "We have been pleased to see repeat customers — 20 to 30 percent of users order every game that they're in attendance," he says, noting that adoption in the two basketball arenas the app serves may have been further impacted by low overall game attendance. "Attendance greatly drives use of the apps. Once the stadium gets over 80 percent, that's when adoption takes off.
"If you look at the banking industry, 20 years ago people would have said there's no way you'd do banking over the phone, it's too insecure," adds Hill. "But everything is moving in that direction, it only makes sense that concessions will, as well."
---
This article originally appeared in the July 2014 issue of Athletic Business under the headline, "Speedy Delivery."