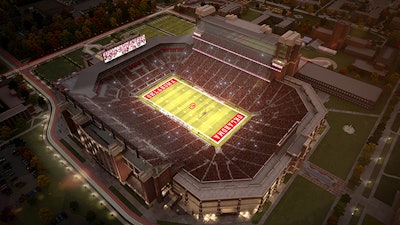 The University of Oklahoma will move forward with a major renovation and modernization of its football stadium the school announced Wednesday.
The improvements to Gaylord Family — Oklahoma Memorial Stadium, which AB initially reported last month, will now become a reality after approval from the school's Board of Regents. The $370 million dollar renovation will enhance every level of the stadium. Oklahoma will pay for the project with bonds and private fundraising. The university's release says that no state-appropriated funds and no funds from student tuition will be used.
Populous is the architect designing the renovation. From the looks of the renderings, the improvements will give a whole new meaning to the stadium's "Palace on the Prairie" nickname.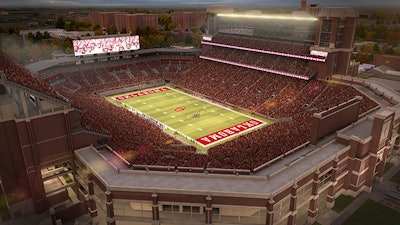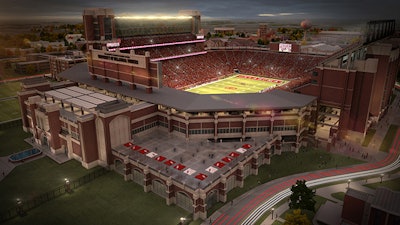 The upgrades will include added seats in the south end zone that will fully connect the east and west stands, 43 additional restrooms, 69 additional points of sale for concessions, a 46,000-sqaure foot fan plaza, a covered upper concourse and a redevelopment of the Barry Switzer Center that will add nearly 50,000 square feet of space for student-athletes. Weight room and training facilities are also slated to be enlarged adding an additional 30,852-square feet for a "conditioning and speed enhancement center."

And that's not all.

Escalators are proposed for installation adding 16 moving stairways and 18 new elevators to expedite fan movement. Chair-back seating options, expanded concourses and fan cooling rooms are also areas addressed the project. A new west stadium concourse will nearly double the existing fan space in that area, while media, broadcast and game operations areas on the west side of the facility will be completely reconstructed, adding more than 32,000 square feet to those areas that will be equipped with the latest technology. The south end zone will also get a new 8,750-square foot video board.

The project is not expected to significantly change the stadium's capacity which is currently 82,112. Gaylord Family — Oklahoma Memorial Stadium opened in 1923. Construction on the project is set to begin following the Sooners' final home game in 2015.