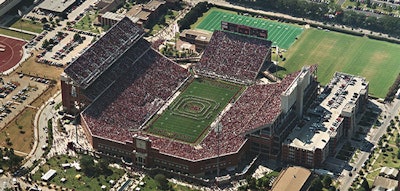 The facilities arms race in college football just keeps getting turned up. The University of Oklahoma is the latest school planning to announce massive expansion plans to its current football stadium.
According to Oklahoma City's CBS affiliate, News 9, the Master Expansion Plan for Gaylord Family Oklahoma Memorial Stadium has been approved and is expected to be announced at a future OU Board of Regents meeting. Sources tell News 9 the cost of the expansion will be between $350 and $400 million.
That pricetag puts OU's renovation in the same ballpark as former Big 12 Conference foe, Texas A&M, which is spending $450 million to renovate and expand Kyle Field from a capacity of 82,589 to more than 100,000. Meanwhile, Baylor University, also from the Big 12, will open a new, 45,000-seat riverfront stadium this fall at a cost of $250 million.
According to News 9, the project at Oklahoma will begin following the Sooners' final home game in 2014 and will be completed in time for the 2015 season. The expansion will add seats to the south end zone enclosing the stadium forming a complete lower bowl. Current suites will be upgraded and new suites will be added to the stadium's south side. Additionally, a new press box will be added that will run the length of the stadium's west sideline. The stadium's capacity will reportedly be bumped from 82,112 to more than 90,000.
While the photo below is nothing more than the work of a talented message board poster, it provides an interesting visual. (That looks like a few more than 90,000 seats in our opinion.)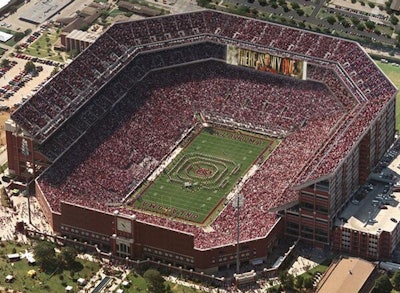 Additional upgrades include improving facilities in the south end zone where the players currently dress and have team meeting rooms. News 9 says a weight room and training facilities will also be improved. OU's stadium would remain the second-largest in the 10-member Big 12 conference, trailing only Texas' Darrell K. Royal-Texas Memorial Stadium which seats just more than 100,000.
Oklahoma currently has a 92-game sellout streak dating back to 1999 and 15,000 people remain on the waiting list for season tickets. The last major addition to the stadium came 10 years ago when the school added suites to the stadium's east side. The Sooners are coming off of an 11-2 season and are expected to be preseason favorites in the Big 12 this year.
UPDATE: Video and Photos of Announced $370 Million Renovation Plan