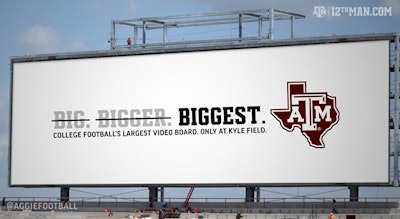 Holding true to the "everything is bigger in Texas" mantra, the Texas A&M Aggies now have the biggest video board in college athletics. The new Daktronics board was finished on Tuesday and gives the Aggies the title over the University of Texas, which will have to settle for having the second biggest board.
As AB reported back in February, A&M's video board is part of a $450 million renovation of Kyle Field that will add about 20,000 seats, boost capacity to 102,500 and make it the largest venue in the Southeastern Conference. (Tennessee and LSU are not far behind close with capacities of 102,455 and 102,321 respectively.)

RELATED: Texas A&M Adding Largest Video Board Among Colleges

According to ESPN's Edward Aschoff, "The Daktronics 13HD LED video board will be the first in college football to have 1080 resolution (that's 1,080 lines that create the image). It will sit in the south end zone, measure 47-by-163 and have nearly 300 more square feet (7,661) than Texas' board.
She's complete. Here's your first look at THE LARGEST SCOREBOARD IN COLLEGE FOOTBALL @SEC_Logo @espn @GabeBock #gigem pic.twitter.com/pisWW2L5gn

— Kyle Cokinos (@KiD_CoKi) July 8, 2014

For comparison, A&M's new board will be nearly as big as the famous video board in Dallas' AT&T Stadium which measures 72-by-160-feet.

"It's another intimidating feature of the redevelopment of Kyle Field," Texas A&M chancellor John Sharp told the Houston Chronicle in February.

Populous is the architectural firm designing the Kyle Field renovation. It began following the Aggies' final home game in November 2013 and is set to be completed in time for the 2014 home opener. Capacity in 2014 will be 106,511, but new suites that will be added for the 2015 season will drop that number to 102,500. The school has already sold out of seating options for the 2015 season.