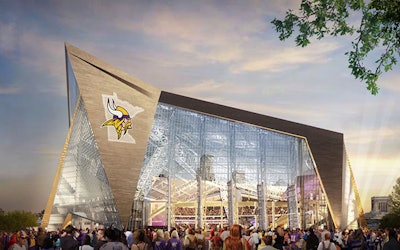 The new home of the Minnesota Vikings, set to open in 2016, will feature 200,000 square feet of glass. In fact, its 95-foot high pivoting doors at the main entrance will be among the largest moving glass doors in the world. All that glass, plus the world's largest transparent ethylene-tetraflouroethylene (ETFE) roof, is designed to give spectators the feeling of being outdoors, while still enjoying a climate-controlled environment.
Great design, or one for the birds? Yes and no.
Audubon Minnesota, the world's largest bird-focused conservation group, sent out a press release on Wednesday, calling the stadium a "death trap" for birds and asking the Minnesota Sports Facilities Authority to make changes to the stadium's design.
"Hundreds of millions of dollars of public money is going to build this stadium, and we know the people of Minnesota do not want their money killing birds," said Audubon Minnesota executive director Matthew Anderson in the release. "The Vikings recently approved spending millions and millions of additional dollars to make sure the stadium is 'iconic' – surely they also want to make sure it's not a death trap. We're asking them to change their minds and do the right thing."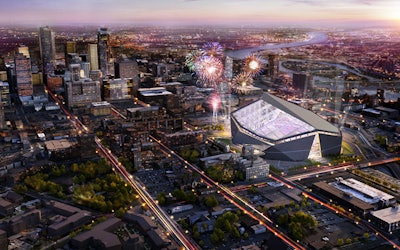 RELATED: 11 Facts About Minnesota and its New Stadium Set to Host the Super Bowl
Audubon cites state guidelines that require bird-safe glass on projects built with bonding money. At least half of the stadium's billion-dollar bill is being footed by the city of Minneapolis.
According to the Star Tribune, the Vikings say they're working with Audobon on lighting design and procedures to help, but they can't afford the special glass Audobon is requesting. The MSFA says the stadium design was started before the adoption of the state guidelines on bird-safe glass, so it isn't subject to those rules.
"One of the design goals was to create a building that was more connected and integrated with the community than the Metrodome had been," said MSFA chairwoman Michele Kelm-Helgen. "The ability to see in and out of the stadium was what led us to the design."
Audubon says that migratory birds, representing 125 different species, have died from flying into glass panels in the Twin Cities since 2007. Some researchers estimate approximately 988 million birds die annually from crashing into buildings.


RELATED: NFL's Super Bowl Hosting Demands Lengthy, Expensive