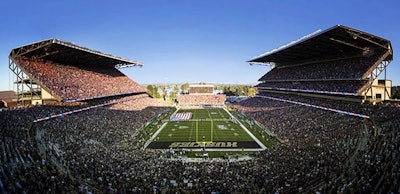 Washington Husky fans are being given a longer leash at home football games this year.
The University of Washington announced a new feature at Husky Stadium: The Off-Leash Deck. For $25, fans can buy a standing room only ticket on the northwest deck of the stadium that will serve beer, wine and snacks before and throughout the game. Tickets can be used for admission to the game, or in addition to an existing ticket. All beverages must be consumed in the section. Capacity of this new area is limited to 500 people.
If UW sells out the "Off-Leash" tickets for its seven home games, and each person bought four beers, the school would bring in nearly $200,000 in revenue according to KREM.com. UW had previously limited beer and wine sales to suites and its club seating area, Club Husky.
Alcohol policies at college sports venues is a topic that has been in the news a lot lately. There are now 21 on-campus football stadiums — twice as many as five years ago — where any fan of legal age can buy a beer. This article, written by USA Today's Dan Wolken says alcohol sales is the new trend at college venues.
RELATED: For 21 Colleges, Alcohol Sales Drive Concessions Revenue
---
College Football Stadiums Where Alcohol Will Be Sold This Season
(Besides suites and special seating areas)
On-Campus Stadiums:
Akron, Bowling Green, Cincinnati, Colorado State, Houston, Kent State, Louisiana-Lafayette, Louisiana-Monroe, Louisville, Minnesota, Nevada, North Texas, SMU, Syracuse, Toledo, Troy, Tulane, UNLV, UTEP, Western Kentucky, West Virgina
Off-Campus Stadiums:
Connecticut, Georgia State, Hawaii, Massachusetts (three games at Gillette Stadium), Memphis, Miami, San Diego State, South Alabama, South Florida, Temple, Texas-San Antonio
---
West Virginia is among the schools that sells alcohol at its stadium. Game day beer revenue has totaled about $750,000 per year and incidents involving police inside the stadium have dropped by 30 percent.
"With all due respect to folks who say it's a slippery slope, there is already a lot of alcohol, beer, and hard liquor, wine whatever, at college football games," West Virginia athletic director Oliver Luck told KREM. "Anyone who doesn't acknowledge that is probably not being straight forward." Luck says he applauds the move by UW to add this section to Husky Stadium.
As for security concerns, UW police commander Steve Rittereiser says the athletic department consulted with police before making the alcohol change.
"I think it's manageable," Rittereiser said.
Husky fans can officially break free from their leashes on September 6, when the Huskies host Eastern Washington in their home opener. We're curious what you think. Are alcohol sales at college venues a good idea?


{module Alcohol Sales at College Venues}